Dr. Sue Laslie Kimball (1921-2018)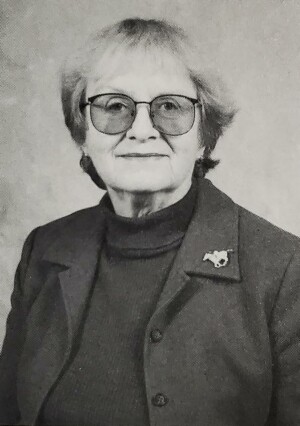 Dr. Sue L. Kimball earned an A.B. degree, summa cum laude, in English at the University of Kentucky, and an M.S. degree in Education at Saint Mary's College in Leavenworth, Kansas. After a career teaching Middle and High School English, raising seven children, and as a devoted army wife, moving the family every couple of years, she enrolled at the University of Alabama and at age 58 earned her Ph.D. degree in English.
Kimball joined the faculty at Methodist College (now Methodist University) in 1979 and remained a dynamic presence on campus for twenty years, retiring in 1999. One of her most significant achievements was founding and directing Methodist's Southern Writers Symposium, featuring distinguished Southern writers such as Reynolds Price, Doris Betts, Lee Smith, Jill McCorkle and others. As a professor, she earned seven fellowships from the National Endowment for the Humanities.
Kimball was a superb colleague—congenial, always professional, warm, kind, gracious, cooperative, highly intelligent, creative, innovative. As a teacher, she was popular, respected and loved by her student, always well informed and totally interesting. She enjoyed setting her tests and exams up like a game and doing other clever things in the classroom as well. For instance, each year when she taught poetry by Emily Dickinson, Kimball would dress like Dickinson, wearing an auburn wig, gold-rimmed spectacles and a white wedding dress like the poet frequently wore.
Soon after Kimball retired from Methodist, she was invited to give a commencement address which she entitled "Everything You Need to Know You Learned at Methodist College" including the following rules:
Rule 1: BE CURIOUS. WANT TO KNOW MORE THAN YOU KNOW.
Rule 2: NEVER GO ANYWHERE WITHOUT A BALL POINT PEN. You will then be prepared to jot down some really great ideas of your own.
Rule 3: NEVER GO ANYWHERE WITHOUT A PAPERBACK BOOK OR MAGAZINE. Read something every day of your life. Read. Read. Read.
Rule 4: DON'T WORRY ABOUT WHAT OTHER PEOPLE THINK OF YOU.
Rule 5: HAVE A DREAM.
Rule 6: LOVE YOURSELF. Don't be too hard on yourself. Everyone has faults. Knowing that, don't be too hard on family or friends either.
Rule 7: FIND A CAUSE, something you believe in, and get behind it.
Rule 8: LISTEN WITH AN OPEN HEART AND MIND TO THOSE WHO LOVE YOU THE MOST.
Kimball's commencement address, filled with sage advice and good humor, was warmly and enthusiastically received by the audience.
All who knew and loved Kimball marveled at her intelligence, her many accomplishments, and her unbounded energy. She pursued a myriad of wide-ranging interests—winning the grand prize in the Southern Living cookbook contest with her Shanghai Duck recipe, achieving the ranking of Diamond Life Master from the American Contract Bridge League, and visiting 59 countries. Kimball made the most of every single moment. Her example inspired us all to try a little harder and be a little better.
Kimball would often express her deep gratitude for her family and friends, for God's grace in her life, and for all the wonderful experiences she'd had with the refrain, "I've loved my life." We also celebrate her memory. May her spirit live on in our minds and hearts.