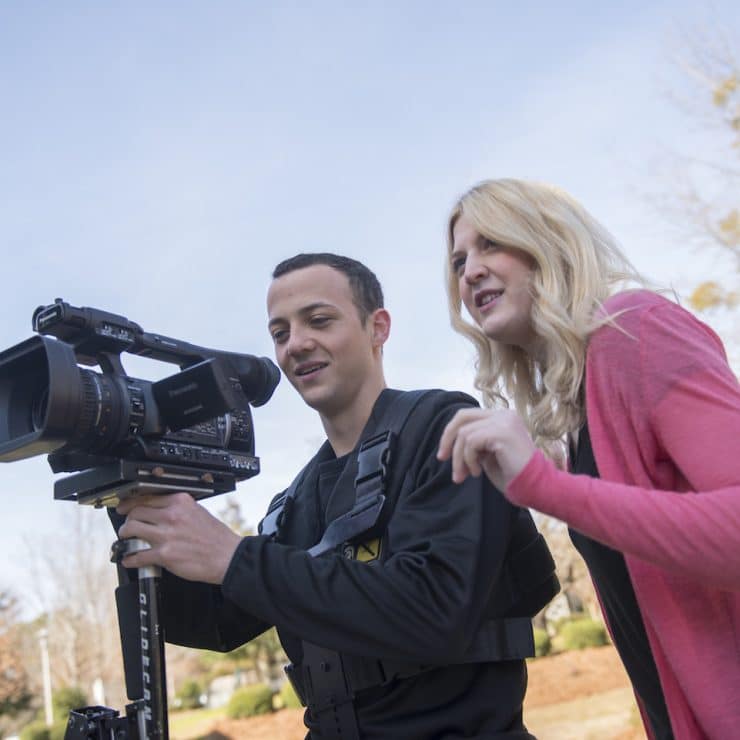 The TV/Video/Multimedia concentration at Methodist University is tailor-made to prepare students for entry level work in media production in many capacities. With the computer revolution in full swing, the skills and specific programs used to create television also apply to independent film and even webpage design. Students in this concentration will be expected to learn graphics skills, edit digital video, and master a variety of other skills that will enable them to produce media products. Students may apply these skills to independent video production, television work on any level, advertising, web page design and web management, and a variety of newer opportunities that are just appearing. These include things like virtual reality development and social media.
Common Career Paths
Communication is a growing field and there are more opportunities arising from it every day. Those who choose the TV/Multimedia concentration are likely interested in the visual arts, story telling, camera work, and the computer side of communication. Here there are many opportunities, far more than can be summarized here. What follows are a few broad areas where many of these students may expect to find opportunities to shine.
Independent Film
Not all films are made in Hollywood by massive film companies. With the rise of inexpensive digital video equipment and computer-based editing, the craft of story telling and cinematography has become much more available to everybody. Many smaller film companies have opened up all over the world where independent films are being made. In fact, there are significant opportunities in North Carolina. Story tellers can expect to find like-minded artists in a number of social media networks utilized by our department. Opportunities to learn abound and there are even several local NC film festivals in which you may gain recognition. The great film makers of every generation had to start somewhere, and none of them were born as film makers. Perhaps we can help.
Local & National Television
Television was simpler when it was a question of only a few major networks, but the opportunities were far more limited as well. Today there are many more ways of defining what television actually means. Aside from the national broadcast networks we also have cable networks. Beyond this we also have Internet-based broadcasting and even broadcasts designed to be delivered to your smart phone. All of these have one thing in common. They still need people to operate cameras, write scripts, handle lights, and edit. As long as there is television, there will be careers in television, both in front of and behind the camera. Why not get your start here?
Corporate Communication
Corporations have long used video as a means of communicating both internally and with their various audiences. Training videos are nothing new, but multimedia has breathed new life into this art form. As a corporate communications expert, you can use your skills to design messages for corporations. Processed can be demonstrated through video and animation in an interactive format that could appear on DVD or on the web. Using basic desktop publishing skills, you can also design reference material and corporate journalism. The potential is virtually endless.
Advertising & Desktop Publishing
Video and multimedia are useful components for any type of communication strategy, but they are not the only ones. Simple photography can sometimes be far more useful and cost effective. In the context of desktop publishing, all the skills you learn in the area of 2-D design can be applied to print in the form of advertising messages and other useful purposes. Somebody who can design an efficient visual argument will be a marketable person in the advertising world. A basic understanding of desktop publishing will be a valuable basis for such a career.
Web Page Design
The Internet is perhaps the greatest frontier of all for multimedia work, which is to say that everything found on the Internet can be considered multimedia. Everything from animations to web-based videos to interactive messages found on every website are all created on computers with relatively simple programs. A multimedia designer can easily take one design and apply it to many different applications. Multimedia designers can become web masters, web page designers, animators, and any number of other professions. Looking ahead to the rise of smart phones and virtual reality, these skills become far more essential.
Common Salary Ranges for Graduates
There's a long list of career opportunities for those with TV/Video/Multimedia degrees. But, the U.S. Bureau of Labor Statistics reports the average annual salary for the following positions in North Carolina in 2021:
Campera operators: $58,150

Film and video editors: $53,830

Audio and video technicians: $47,340
Average Tuition Cost
The average cost for an incoming residential freshman to attend MU is less than $18,000 – similar to the cost of attending one of the big-box public schools, but with the enhanced value of a highly-regarded private school with a 12:1 student-to-faculty ratio.
While tuition varies, depending on a student's financial aid package, it's important to know that the average financial award for an incoming residential freshman at MU is more than $34,000.
Financial Aid & Scholarships
More than 97% of MU students receive some form of financial aid, with the University offering more than $24 million annually to students for scholarships. If a student is active military, family of active military, or a veteran, they may also qualify for MU's military education benefits.
Interested in Methodist University's TV, Video & Multimedia program?
If you have questions, reach out to Dr. Kevin Swift using the contact info at the bottom of the page. If you're ready to apply today, visit the link below!
Frequently Asked Questions
Methodist University's TV/Video/Multimedia concentration can prepare you for a career in video editing or video production, if that is an area you are interested in. Although our concentration has the ability to expand your knowledge in a number of areas, we can certainly prepare you for a career focused on video editing or video production . Our knowledge and equipment will put you in the best position possible to succeed in these areas.
While it's possible to earn a master's degree in video production, many jobs within the career path do not require a master's degree. A bachelor's degree in TV/Video/Multimedia will place you in a position to start your working career immediately after graduation.
Major Requirements
The Mass Communications major with a Concentration in TV/Video/Multimedia consists of 52 credits distributed as follows:
Requirements for the Bachelor of Arts Degree
Nine credit hours not taken in the general education core from any of the following areas: ENG, PHI, PSC, REL, ART, HIS, MUS, THE, or any foreign language course.
Requirements for the Bachelor of Science Degree
Nine credit hours not taken in the general education core from any of the following areas: CSC, PSC, PSY, BUS, ECO, MAT, SCI, or MKT.
Required Core Courses
COM 1050 Introduction to Mass Communications (3 credits)
COM 2570 Writing for Mass Communications Media I (3 credits)
COM 2800 Mass Communications Theory (3 credits)
COM 3110 Mass Communications Law (3 credits)
COM 3120 Ethics in Mass Media and Society (3 credits)
COM 4700 Senior Seminar (1 credit)
SOC 3320 Methods of Social Research (3 credits) (or any approved research methods course)
One upper level ACL course (3 credits)
TV/Video/Multimedia Courses
COM 3030 Basic Television Techniques and Procedures (3 credits)
COM 3410 HTML Publishing and Web Page Design OR COM 3530 Desktop Publishing (3 credits)
Communication Electives
Select 5 courses (15 credits) from the following which can include, but are not limited to:
COM 3020 Basic Radio Production (3 credits)
COM 3040 HDTV Editing/Independent Film Production (3 credits)
COM 3050 Production (3 credits)
COM 3060 Computer Generated Graphics and Animation (3 credits)
COM 3210 Independent Video Production (3 credits)
COM 3310 Advertising Production (3 credits)
COM 3350 Public Relations (3 credits)
COM 3640 Cinema Appreciation (3 credits)
COM 3660 Performance for the Camera (3 credits)
COM 4060 Advanced Computer Animation (3 credits) or COM 4410 Advanced Web Page Design (3 credits)
---
Our Philosophy Regarding TV/Multimedia Projects
Our communications faculty have all come from professional backgrounds and enforce professional standards. We feel that our students should be treated like professionals and given appropriate responsibilities. Students in our communications courses are encouraged to approach their classwork the same way an independent producer would approach a contract. Students are allowed and encouraged to choose their own project ideas and develop them to suit their needs. Our hope is that our students will find their own creative voices and develop the confidence necessary to approach the job market effectively and with a strong portfolio of professional level work.
Creative and Academic Freedom
We believe in freedom of expression. With freedom comes responsibility, however. Students are allowed to choose the projects they wish to work on and may produce anything they want to within reason. The only restrictions we maintain are that all projects must be legal, professional, and appropriate to an academic setting. We do not allow hate speech, pornography, or projects that appear to be deliberately offensive. Other than this, we do not restrict students' political views, religious freedom, or any other philosophies.
Copyright Laws
Students are required to respect copyright laws when producing their work. This is to say that all student work must be original. If a particular project uses or relies on elements that are the intellectual property of somebody else, this work must be used with permission. If appropriate permission has not been obtained, the work can not be posted on our websites or submitted for public display in any way. This restriction does not apply to creative commons or public domain properties. Students are also strongly encouraged to register for copyright protection for their own work at all times.
Our Facilities
We build and maintain our own facilities for shooting and editing video projects. To this end we insist on state-of-the-art equipment whenever possible and complete access to students at all times. Students may sign out field equipment at any time it is not in use and may keep it for any reasonable period of time. Students are encouraged to use the equipment as long as they need it so long as they are responsible for its safe return for other student's use. Likewise, our editing facilities include two state-of-the-art workstations that are available 24 hours a day. We do not restrict access to our facilities to students for any reason so long as the students do not abuse this privilege. This has been a philosophy of the department for over 15 years and we have never had a reason to question it.
Group Projects
Students working on video projects are expected to work in teams just as it is done in the professional world. Working professionals in the video field have specialties and honed skills, each of which is essential for the success of the production team. These skills and specialties begin here. Communication students sample a number of different roles in the production of video projects and become aware of their own strengths as well as how to recognize those of others. The end result is a greater understanding of leadership and teamwork as well as proper appreciation of responsibility.
Web Projects
The world wide web is the greatest tool for free expression ever to exist in the civilized world. For the first time in history everybody has a potential voice that can reach a truly global audience. Students in our web page design classes are free to create content of their own choosing and to publish it on the Internet. Students are given complete creative control of their server space and full responsibility for what they create. Students may not violate laws through their server space and may not publish anything indecent, but their personal freedom of speech is respected. Many students choose to maintain their sites after the conclusion of the class and some of them have attracted loyal followings.
---
---
TV/Multimedia Facilities
Communications technology has advanced significantly within the past decade and the Methodist University Communications Department prides itself on remaining current. We have seen the age of magnetic video tape come to an end and we have seen the physical become the virtual.
Computer-based video equipment has made incredible things possible, and things are now possible that weren't just a few years ago. We provide both HD and standard video cameras, all of which record digitally and are ideal for computer-based editing. These include both Cannon and Sony cameras all of which are available to the students at all times. We also provide quality tripods and lighting equipment and many specialized items as well, such as a Glidecam and a portable camera crane. We also provide high quality digital still cameras.
Our editing room consists of two main workstations, each with a video storage capacity of roughly 4 terabytes. We offer both Newtek VT5 editing software (Now better known as the Tricaster) and Adobe Premiere. Both systems have ergonomically designed display systems and are integrated into the studio as a whole. Both systems are equipped with After Effects and other software for video manipulation and high quality graphics production. We have 10 workstations capable of creating 3-D graphics and animation using Lightwave 3D.
Both in studio and on-location, we are capable of setting up live video recording using multiple cameras. Our Tricaster can be setup within minutes and creates outstanding quality. Cameras used in studio shoots are equipped with rear controls and comfortable viewfinders. We regularly shoot live events on campus with the cooperation of other departments.
As you well know, VHS tapes have gone by the wayside and deservedly so. The future is in producing interactive video experiences. Our students, using the latest in computer technology, can produce their own high quality DVD and Blu-Ray programs complete with special features, alternate audio tracks, subtitles, and complex menu-graphics. This is truly a great skill to have, and our facilities are set up to teach it effectively. Beyond this, we also regularly publish on the Internet and can create complex interactive video presentations online
Students learning desktop publishing and webpage design enjoy a 20 seat computer lab with up-to-date software. We print in high resolution in full color and can create any kind of print product imaginable. We also produce 3-D graphics that can be used in video, print, and on the Internet. We also have an arrangement with the Environmental Simulation Lab and can provide 3-D graphics for a true VR simulation and can showcase student work in a true 3-D environment.
Contact
Associate Professor of Mass Communications