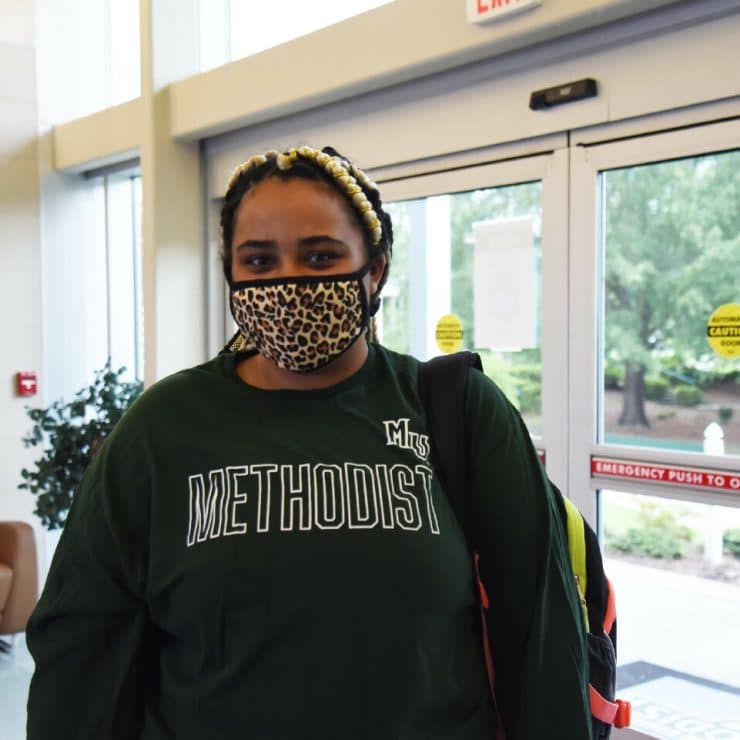 About Quarantining or Isolating
Based on scientific evidence, COVID-19 is a quarantinable communicable disease in the United States. Given that you have been in contact with someone who tested positive for the virus, or who is presumed positive for the virus, you may need to "self-quarantine" or "lie low" and monitor your symptoms. The Methodist University Health Center, Housing and Residence Life, Student Affairs, and Human Resources are here to support you as you quarantine.
Hearing that you are being "quarantined/isolated" and restricted from connection on campus may feel kind of scary, but the goal of this potential period of time is to simply ensure that you are healthy, while also protecting others from exposure to illness. Some students may self-quarantine in their own off-campus room/house; others may need to relocate. In some circumstances, students may be quarantined together.
When do I quarantine or isolate?
Click here to view or print an easy-to-follow chart.
If you've tested positive for COVID-19, have come in contact with someone who has tested positive for COVID-19 (depending on your vaccination status below) your first two action steps are to self-quarantine and call the MU Health Center at 910.630.7164. This professional staff will advise you on next steps (please note the Health Services and Support section below), which may include contacting faculty about potential remote arrangements.
For information about testing, please visit the Testing page on this site for the latest detail and instructions.
How do I know if it is COVID-19 or just allergies?
COVID-19 vs. Allergies Symptoms Chart
On-Campus Quarantine & Isolation Guidelines
You must isolate for five days and will be released on day six. Please email all of your professors, so they are aware and can email you any assignments.
If you receive any packages in the Student Center Mailroom or pre-purchased books from the Student Bookstore, let me know so they can be delivered to you.
You are allowed to enter the Green & Gold Dining Hall once daily and only during the specified 30-minute window 4:30 pm-5:00 pm to choose your dinner meal.  Prepackaged breakfast and lunch meals (to enjoy the next day) will be waiting for you to pick up at that time. You must also wear a mask while inside the cafeteria. Please ask an Aramark employee if you have any questions. If you have any food restrictions please let me know.. If you do not want these provided meals, let me know, as they will be applied to your meal plan. Remember to bring your MU ID card to swipe.
Your trash will be picked up once a day, so you must put any trash in a trash bag and place it outside your door by 4:00 pm every day. Weekend schedule – There is no trash collection Saturday. Sunday trash is collected at 9 am. The next collection occurs, Monday afternoon.
You may utilize Virtual Care services for medical support at:

 

thevirtualcaregroup.com/methodist. This is a telehealth service.
During

 

business hours, Monday-Friday 8:00 am-5:00 pm, feel free to email or call me with any concerns. MU Police and Security Officers are always on duty to assist you. If you have an emergency, call

910.630.7577. If you have a non-emergency but need assistance

 

after

 

regular business hours call

910.630.7098.
Upon your release, please follow these check-out instructions. These pertain to those in the isolation house:
Place all linens in a plastic trash bag, and tie the bag closed. Leave the bag on the bed. Bags should be in your room in the Village House.
Open all windows in the room..
Clean out the micro fridge/freezer.
Leave the following in the room:
Any cleaning supplies originally in the room, Micro fridge and bag of linens
Double check for all personal belongings. Anything left in the room that is not University property will be destroyed.
Dispose of all trash in the outside dumpster.
Close your room door and leave the key and swipe card in the room.
We will do our best to make sure you are cared for and comfortable.
Support is a Call or Email Away!
Your contacts: