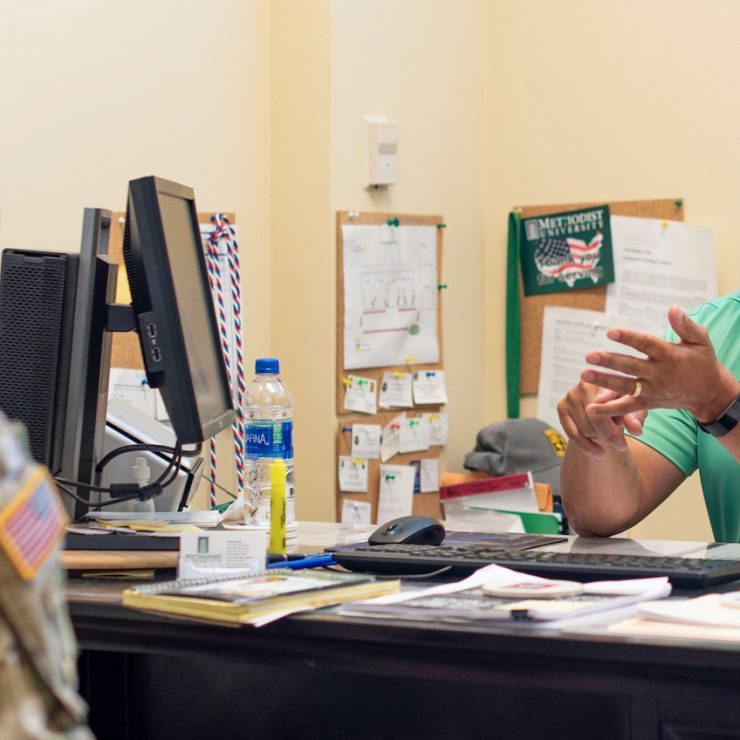 Welcome
With several Veteran staff and faculty members, there is no private, liberal arts, top-tier university in the U.S. more connected and understanding of the wants and needs of active-duty service members, veterans, and their families.
Methodist University offers affordable, in-person and 100% online degrees to active duty service members and veterans, their spouses, and their children. Our generous transfer credit policy for military education and training, a suite of career-focused programs, and a dedication to flexibility make it easy to get started and stay committed to earning your degree, even if you get deployed. Learn more.
About Us
The Fort Bragg office's primary role is to support active duty service members in achieving their educational, personal, and professional goals. The Fort Bragg office is located at the Bragg Training and Education Center (BTEC), B Wing, Room 103, 4520 Knox Street, Fort Bragg, NC. The Fort Bragg office oversees university military and workforce training programs and manages the Department of Defense Tuition Assistance programs for active duty service members. The Methodist University Military Programs also oversees the My Career Advancement Account Scholarship (MyCAA) program for eligible spouses and Army Credentialing Assistance Program (CA) for active duty Soldiers to earn a variety of national-industry certifications. Service members using TA and CA and spouses using the MyCAA program should contact the Fort Bragg office to learn more about programs and to get started. The Fort Bragg office staff supports admissions, academic support, student services, and academic & career advising for military connected students.

Announcements
ArmyIgnitED
In late August 2022, the Army launched its upgraded ArmyIgnitED Portal making it a more dependable, smoothly functioning system, and a better experience for soldiers. The Fort Bragg office staff is working closely with Army counselors at the BTEC to resolve Historic Tuition Assistance Requests (HTARS), missing grades, duplicate course, and several issues associated with the migration from ArmyIgnited 1.0 to ArmyIgnitED Upgraded. We ask soldiers to be patient and know we are working quickly and hard to resolve outstanding issues so that they do not negatively impact your ability to attend courses or delay your education goal.
The first step to beginning your education journey is to stop by the BTEC and speak with an Army counselor. They will assist you in identifying your education goal, opportunities, as well as assist you in establishing your ArmyIgnitED account. The BTEC hosts an ArmyIgnitED Lab on Monday, Wednesday, and Friday each week to assist soldiers with account issues.
To request Tuition Assistance, Soldiers must first create an account by visiting the upgraded ArmyIgnitED website, www.armyignited.army.mil, and click on "Login." This will register your CAC to ArmyIgnitED. Second, soldiers must create an Education Goal (major) in ArmyIgnitED and get it approved by an Army education counselor before they can request TA. Lastly, soldiers must upload their Evaluated Degree Plan (EDP) to the portal. The Fort Bragg office staff will prepare EDPs and will forward plans to soldiers. Although uploading the EDP is a requirement, the Army has relaxed this rule for now to allow time for Academic Institutions to prepare plans. However, we suggest soldiers submit all required official transcripts to include your Joint Service or Community College of the Air Force (CCAF) transcripts as soon as possible so that we can complete you transfer credit evaluation. Once this evaluation is completed, we can prepare EDPs as needed. Transfer credits are awarded for military education and training.
Attached is a Soldier Tip Sheet: Upgraded ArmyIgnitED System for your use/information.
Reminder! The Army is migrating FY21 and FY22 data to the upgraded portal and once completed, more information will follow concerning outstanding tuition assistance issues such as missing grades, outstanding TA payments, Historical TA requests, etc.
If you have any questions, please do not hesitate to contact the Fort Bragg office at 910.482.5425 or email at bbuckner@methodist.edu or ctorre@methodist.edu.
Methodist University Online
Thanks to a wide range of online programs, you can start or advance your career at Methodist University without visiting campus. Enjoy an online learning environment that offers the same quality as in-person courses, including dedicated faculty members and an overall caring, friendly atmosphere for achieving your professional and personal goals.
You'll also have access to all academic support services. This means you'll get personalized assistance you need, such as access to the tutoring and writing centers for receiving feedback on your work. Experience a distinctive education in a flexible environment that fits your schedule. For more information, see the flier or contact online@methodist.edu or 910.212.4956.
Apply Now
Summer 2022-2023 Semester (Main Campus, Evening, Online, & Fort Bragg)
Summer Day Session: May 15 – August 4 (12 Weeks)
Summer Day Session I: May 15 – June 9 (4 Weeks)
Summer Day Session II: June 12 – July 8 (4 Weeks)
Summer Day Session IV: May 15 – July 8 (8 Weeks)
Methodist University Summer Online (100 % Online) Term I: May 1 – June 23 (8 Weeks)
Methodist University Summer Online (100% Online) Term II: June 26 – August 18 (8 Weeks)
Fall 2023-2024 Semester (main Campus, Evening, Online, & Fort Bragg)
Fall Day: August 14 – December 8 (16 Weeks)
Fall Term I – August 14 – October 6 (8 Weeks)
Fall Term II – October 16 – December 8
Methodist University Fall Online (100 % Online) Term I: August 21 – October 13 (8 Weeks)
Methodist University Fall Online (100% Online) Term II: October 16 – December 8 (8 Weeks)
Methodist University is Military Friendly®
Methodist University has been named a current Military Friendly® School (Gold) and a Military Friendly® Spouse School, and Military Times recently awarded us their Best for Vets designation.

Contact Our Staff
Call our main office number below or email us. If you know who you need to speak to, you can use the information in our staff directory at the bottom of the page.
Office
Frequently Asked Questions
Admission to the University can be done in three simple steps:
Complete an application for enrollment.
Take the English Placement Exam at the Fort Bragg office. This exam is required of all degree seeking students except those already holding a bachelor's degree. It does not need to be scheduled, but appointments are available if needed. The exam is administered Monday-Friday from 0800-1600.
Submit all official transcripts to the Registrar's Office including high school and all colleges/universities previously attended. Evening students have one semester to submit all transcripts to MU after enrolling.
Fort Bragg Office Staff
Director, Military Programs & Workforce Training