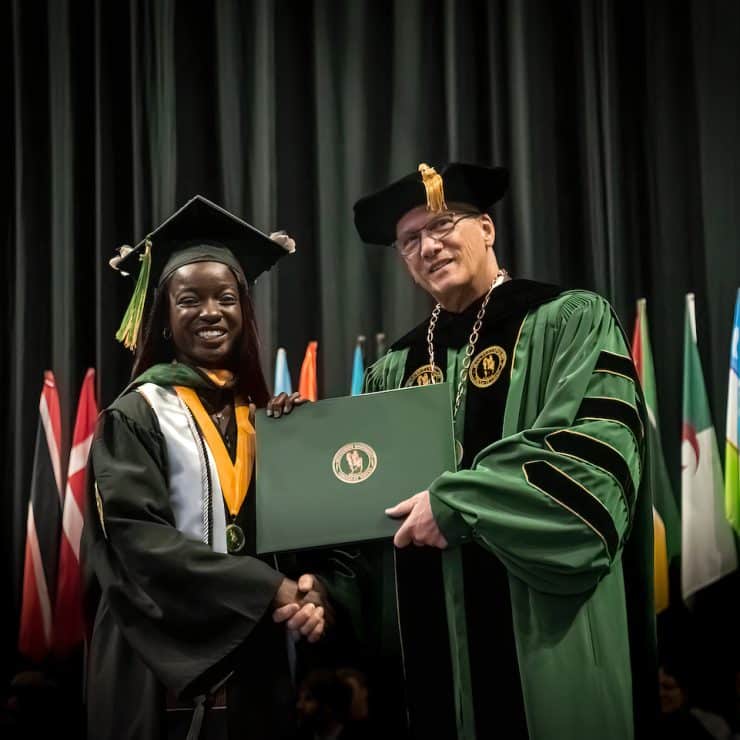 Commencement is a long-standing tradition that celebrates the achievements of our graduates. It is the culmination of our students' hard work over the course of the last four years (and sometimes even longer), and in the case of our graduate students, intensive study over a shorter period of time.
In mid-January, the University announced that starting in May of 2023, it will be holding one "Commencement Weekend" each year:
Graduate Ceremony: Friday, May 5 (2 p.m.) at Huff Concert Hall on the MU campus
Undergraduate Ceremony: Saturday, May 6 (10 a.m.) at Crown Coliseum in Fayetteville
Below is the announcement from MU President Stanley T. Wearden, and additional information – on tickets, ordering gowns, Baccalaureate and more – will be supplied on this page as it becomes available.
Announcement from the President
Dear Members of the Methodist University Community,
As the spring semester is in full swing, I am pleased to announce an exciting change in how we honor our graduates.
So that we may pay tribute to all MU graduates from the same academic year at one time – students who have studied together, lived together, practiced together, worshipped together, enjoyed fellowship together, excelled together – we have decided to have just one "Commencement Weekend" each academic year where we can ALL celebrate together. This year, commencement weekend includes a graduate ceremony on Friday, May 5 at 2 p.m. in Huff Concert Hall and an undergraduate ceremony on Saturday, May 6 at 10 a.m. at the Crown Coliseum.
The placing of medallions and hoods will take place on the commencement stage, and other traditions – such as baccalaureate – will remain as additional means to celebrate the achievements of our graduates. As supplementary details about baccalaureate and other commencement-related events are finalized, they will be posted on the graduation page of the Methodist.edu web site and communicated to graduates.
I've said many times that commencement is my favorite time of the year. Now having the opportunity for all graduates from the same class to celebrate together on the same weekend – after years of so much accomplishment together – is something I look forward to.
Sincerely,
Stanley T. Wearden, Ph.D.
President
Contact mupresident@methodist.edu for more information or if you have questions.
2022 Winter Commencement Video
Methodist University honored 120-plus graduates during its 50th annual Winter Commencement Ceremony at Crown Coliseum on Saturday, December 10, 2022. MU's Board of Trustees immediate past chair John "Mac" Healy served as the commencement speaker, while Jillian Drinkard '22 delivered an address as the Distinguished Graduate. The winter Class of 2022 included 15 graduates who became the first graduates of the University's online degree programs.