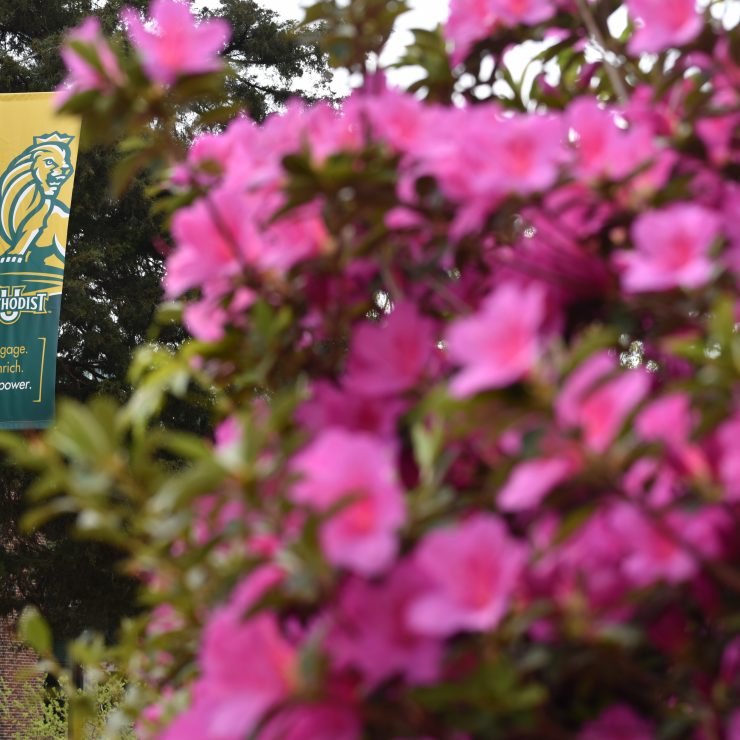 In Brief
Quick Facts about Methodist University
Campus

The 617-acre campus includes over 50 buildings, 16 residence halls, state-of-the-art academic buildings, a renowned art gallery, an amphitheater, a new Green & Gold dining hall, Chick-fil-A, Java City, 18-hole golf course, football/track/lacrosse facility, baseball and softball fields, tennis courts, outdoor volleyball, and indoor and outdoor basketball court. Check out the campus map.

Students are encouraged to join one or more of our 100+ clubs, honor societies, and student organizations. Methodist University offers a vibrant selection of student activities each semester, including intramural sports.

The University offers bachelor's degrees in more than 80 fields of study (majors and concentrations) including mass communications, criminal justice, business administration, engineering, forensic science, graphic design, psychology, education, and social work. The University offers several master's degree programs and three doctoral-level programs in nursing practice (DNP), physical therapy (DPT) and occupational therapy (OTD).

The University can house 1,170 students in its 16 residence halls. All residence halls include air conditioning, free cable TV, laundry facilities, and Internet access. All freshmen are a part of a First Year Experience Program.

The University is a NCAA Division III member offering 20 intercollegiate sports. The University competes in the USA South Athletic Conference. Several years ago, the University formed the Methodist University Monarch Booster Club and the Methodist University Athletic Hall of Fame.

The city of Fayetteville is North Carolina's sixth largest metropolitan area and is home to over 210,000 people, minor league hockey and baseball teams, and numerous cultural and entertainment facilities.

Diversity

Today, the University today serves more than 2,000 students . The student-to-faculty ratio is 12:1. The student body consists of diverse ages and nationalities, representing much of the United States and numerous countries around the world. Approximately 40% of our students come from out of state. Almost $24 million of institutional scholarships and grants are awarded to our students annually.

Since 1964, the University has graduated more than 12,000 students. Alumni have excelled in many ways; they have earned graduate degrees, advanced professionally, started their own businesses, and become leaders in their chosen fields and communities.

Methodist College opened to students in the fall of 1960. In the Fall of 2006, in conjunction with the institution's 50th anniversary celebration, Methodist College officially became Methodist University. Read the highlights from the University's history.