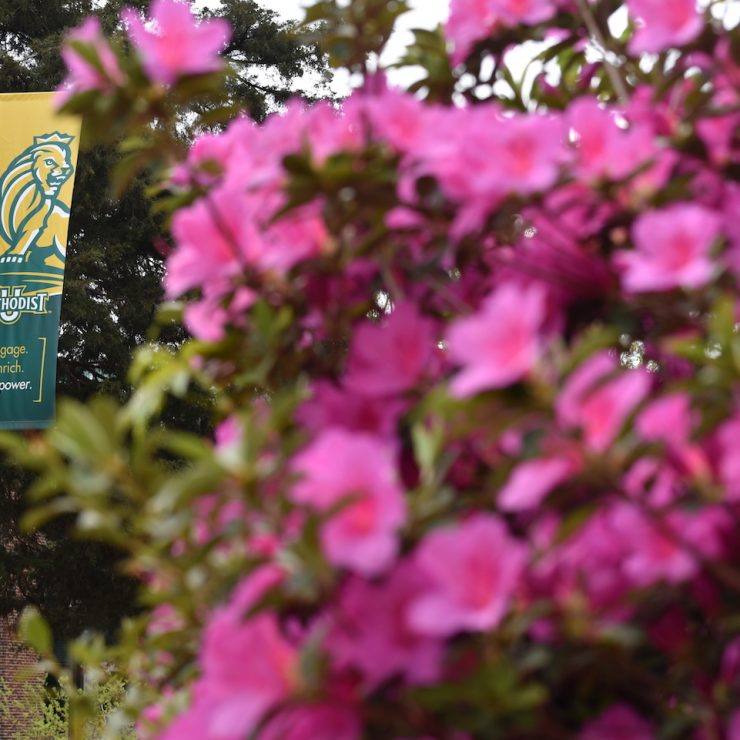 Financial Aid & Scholarships
We know financial aid and scholarship information play a critical part in determining which institution you want to go to. At Methodist University, we are confident you will receive the attention and assistance you need to fully participate in financial aid and scholarships. In fact, check out the infographic and financial aid calculator below to see how you can combine excellence with affordability at Methodist University!
25%-30%

MU graduates consistently rank in the top 25 to 30 percent from North Carolina four-year colleges and universities when measuring average salary 10 years after enrollment

25%

Freshmen who receive a Presidential Scholarship

$37,788

Average financial aid award for incoming freshmen

$23,772

Average first-year Presidential Scholarship award

97%

MU students who qualify for financial assistance

$15,421

Average net cost after financial aid for incoming residential freshmen
Financial Aid Calculator
Do you want to calculate approximate educational costs? Please feel free to use the Methodist University Net Price Calculator.
News & Updates (2024-25)
The 2024-25 FAFSA is available December at studentaid.gov. If you do not already have an FSA ID, you can create one when logging in to studentaid.gov or any questions and/or assistance refer to the FSA ID website or call 800. 557.7394.
The 2024-25 FAFSA must be completed using your 2022 tax information. We suggest that you use the IRS data retrieval tool (if eligible) to link your 2022 (prior/prior year) IRS information to the FAFSA. The FSA ID-a username and password must be used to log in to certain U.S. Department of Education websites. Your FSA ID confirms your identity when you access your financial aid information and electronically sign Federal Student Aid documents.
Federal sites that require an FSA ID – The National Student Loan Data System (NSLDS), which keeps a record of all the student / parents federal loans; Free Application for Federal Student Aid (FAFSA); FSA ID; and Federal Direct Loan / Pell Grant at studentaid.gov.
The priority deadline for completing the FAFSA (Free Application For Federal Student Aid) at Methodist University is June 1, 2024. Attention all returning students for maximum consideration of all MU's need-based funds (Founders Grant, Work Study, Etc.), The FAFSA must be received, and financial aid file completed by the priority deadline of June 1, 2024.
2024-25 Financial Aid Forms will be available in December on the MU website and the student's myMU Portal!
2024-25 Parent PLUS and Grad PLUS Loans – Applications for MU will open with the Department of Education on May 1, 2024, at studentaid.gov.
Frequently Asked Questions
To obtain an IRS Tax Return Transcript, go to irs.gov. After user authentication, students or parents will provide the reason for the request, select the year(s), type(s) of information requested, and other requested information and the document will be displayed in a PRINTABLE format. Make sure to request the "IRS Tax Return Transcript" and not the "IRS Tax Account Transcript." Use the Social Security Number (or the IRS individual taxpayer identification number) and the date of birth of the first person listed on the IRS income tax return, and the address on file with the IRS (normally this will be the address used on the IRS income tax return). In most cases, for electronic filers, a IRS Tax Return Transcript may be requested from the IRS within 2-3 weeks after the IRS income tax return has been accepted by the IRS. Generally, for filers of paper IRS income tax returns, the IRS Tax Return Transcript may be requested within 8-11 weeks after the paper IRS income tax return has been received by the IRS.
North Carolina residency will be made by the State through its Residency Determination Service (RDS) website. Additional information is located on our North Carolina NC Residency Determination page. Residency Determination must be completed no later than 30 days after the term start.
To track your federal loans, go to studentaid.gov. If you received your first federal student loan after June 30, 2013, there is a limit on the maximum period of time (measured in academic years) that you can receive Direct Subsidized Loans. In general, you may not receive Direct Subsidized Loans for more than 150% of the published length of your program. This is called your "maximum eligibility period."
To track Pell Grant history, go to studentaid.gov. There is a limit to the total amount of Federal Pell Grant that a student may receive, which is equivalent of six school years.
Visit our Satisfactory Academic Progress page. The guidelines have recently been revised.
You can now track your financial aid status in your myMU Portal, (view financial aid offers, missing or received information, or download documents and forms). For timely disbursement of funds, please submit any outstanding information to the Financial Aid Office as soon as possible.
Office Information
Campus Location: Joe W. Stout Hall

Telephone Number:

910.630.7192

/7193

or 800.488.7110 (toll-free)

Office Hours: Monday – Friday, 8:00 a.m. – 5:00 p.m.

Fax Number: 910.630.7285

Mailing Address: Methodist University: Office of Financial Aid, 5400 Ramsey Street, Fayetteville, NC 28311

FAFSA Federal Code: 002946