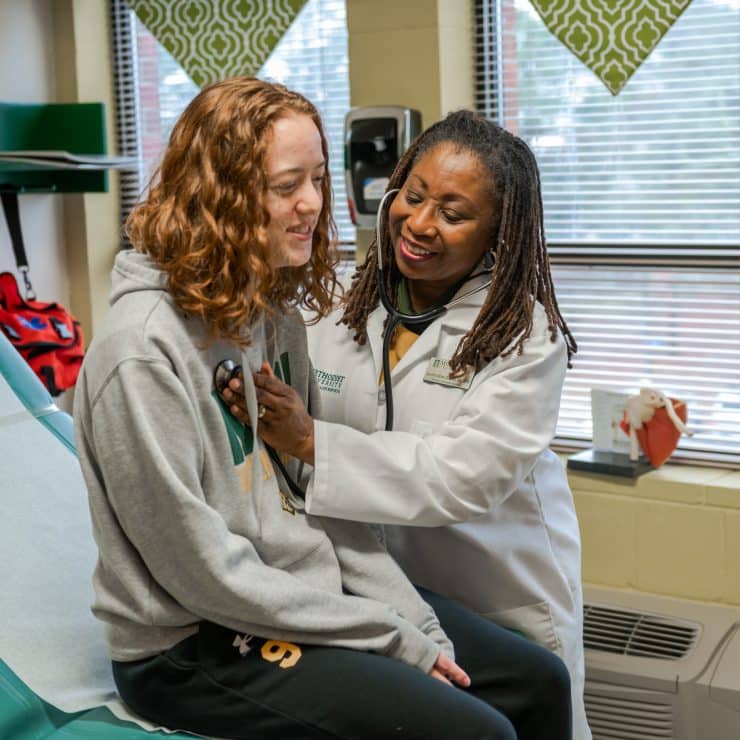 Methodist University's Health Services are available to all students. We treat minor illnesses and injuries along with providing acute, preventative, and wellness care, such as physical examinations, laboratory services, and vaccinations. Most of these services are free to students with a few exceptions. Call or email us today to schedule an appointment.
Our Mission
To provide patient-centered health care through excellence in service, quality, and access to the campus community.
Our Vision
To protect and improve the health of the population we serve.
COVID-19 Information
Uploading Proof of Vaccination
Uploading proof of vaccination is optional.
Students: Click here

 

to upload your COVID-19 documentation.
Faculty & Staff: Please upload your documentation via

 

Paycom

 

under Documents, or deliver a physical copy to Human Resources.
Frequently Asked Questions
Services provided by physician and registered nurse
Acute Primary Care
Referrals to specialist and/or clinics and hospitals as needed.
Laboratory and diagnostic testing * .
Prescribed injections administered.
Health education:
Physical exams for sports, travel , and ROTC
Vaccinations *
Insurance filing
*fees may apply
No Co-Pay
Insurance filed for lab services
Yes, to receive your allergy injections in our office, we ask you submit the following items:
A letter from your allergist stating that he/she will allow you to receive your injections from Methodist University Health Services.
Allergy protocol from your allergist
Serum and dosage information from your allergist
NOTE: Health Services requires you remain under observation by Health Services staff for minutes after receiving your injection.
Students are encouraged to call 911 for assistance in situations when there is a life-threatening illness or injury. Students experiencing an emergency after Health Services hours and/or have called 911 should immediately notify their Resident Assistant (RA). The RA or Residential Coordinator will coordinate services.
On campus police & safety numbers are:
After hours medical attention centers:
Cape Fear Valley Medical Center (available 24/7)
1638 Owen Drive
Fayetteville, NC 28303
910.615.4000
Health Pavilion North (limited hours)
6387 Ramsey Street
Fayetteville, NC 28311
910.615.3890
Highsmith-Rainey Express Care (limited hours)
150 Robeson Street
Fayetteville, NC 28301
910.615.1220
FastMed Urgent Care (limited hours)
150 Francam Drive #120
Fayetteville, NC 28311
910.354.3372
The student is responsible for charges incurred at off-campus medical facilities. Transportation needs are the responsibility of the student.
The University does not offer an insurance plan.
Contact
Director, Health Services