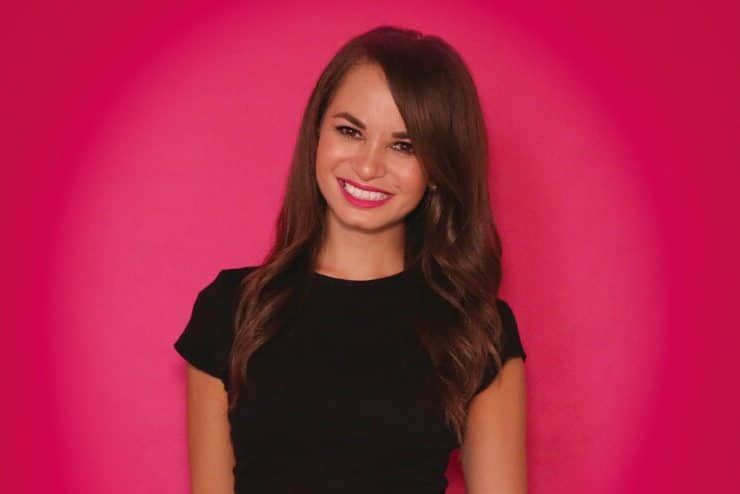 As manager of digital media at the Smithsonian Science Education Center, Ashley Deese '11 is responsible for creating educational apps geared toward children.
From her seventh-floor office window, Ashley Deese '11 has a good view of the bustling streets of downtown Washington, D.C., and the busy people rushing by on their way to work. As manager of digital media at the Smithsonian Science Education Center, she's responsible for creating educational apps geared toward children.
But even with a cutting-edge job in a high-profile setting, she never loses sight of her roots and the people who have inspired her life's work.
Deese is a 2011 Methodist University graduate who grew up in the little Robeson County town of Red Springs. She spends her workweek researching ways to engage with the next generation.
"I am inspired by where I came from," she said. "It's a very underserved area. Not all children have the opportunity to visit the Smithsonian in person. We cater to people who cannot come to the National Mall. It's very expensive for families to come here."
"What we try to do with digital apps for kids is to create these educational experiences that they wouldn't otherwise get and make them available for free," she said. "I like to think of a kid back home playing one of my games, learning something and being inspired by it."
Deese, who was named to the 2019 Forbes 30 Under 30 list for her internationally acclaimed work at the Smithsonian, was Methodist University's Distinguished Young Alumni in 2018. She credits her experience on campus with helping her to such early success. A biology major, she also was a member of the cheerleading team and was active in her sorority.
"My science background has proven to be very useful," she said. "But even more than that, it was my experience in leadership that helped me the most. I had a lot of opportunities to be in extracurricular activities at Methodist. I also learned to be a good team member. Being part of the cheerleading team, plus Alpha Delta Pi, were really great learning opportunities."
Deese originally had her sights set on medical school, but then decided she wanted to work in science media instead. After graduating from Methodist, she worked in media, then went on to graduate school to earn a master's degree in interactive media.
"After graduating with my master's, the Smithsonian was one of my dream companies," she said. "I wanted to make apps, mostly for kids, and it just so happened they were looking for someone with a science background and a digital media background."
When she first took the position at the Smithsonian and moved to Washington six years ago, her husband Dan Eldredge '11 was working in resort management in Pinehurst. He eventually was able to adjust his own career path to join her. The two first met while they were undergraduates at Methodist. He works for Gartner, a research and advisory company based in Washington, and serves on Methodist's alumni board.
"We really love D.C.,'' she said, adding that she enjoys the benefit of being able to walk to work.
Success seems to have come easily for Deese. She has produced internationally acclaimed and bestselling apps for the Smithsonian such as "BumperDucks," "Disaster Detector," and "Showbiz Safari." Deese's app, "Morphy!" received an honoree award from The Webby Awards in 2016. "Aquation: The Freshwater Access Game" was a 2018 nominee for The Webby Awards inaugural games category for Public Service & Activism. Her apps have been used in more than 100 countries and have topped the charts on the Apple App Store worldwide.
Even so, she insists she's learned just as much from the projects that didn't work out so well.
"A lot of people see the success, but I've failed a lot," she said. "I've had projects not really work out; they didn't do too great. But then I've had some that have done extremely well.
"I'm not afraid of failure."