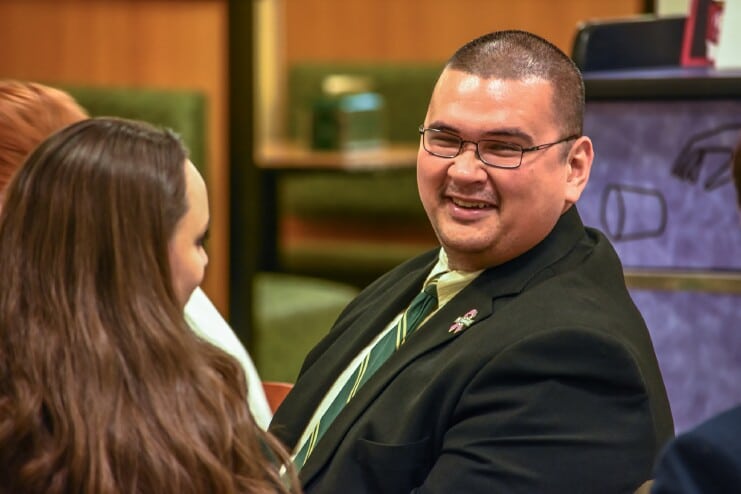 Methodist University alumnus Rhyan Breen '07 knew most of his life he'd become a lawyer, but what he didn't see coming was the community he'd gain along the way.
Methodist University alumnus Rhyan Breen '07 knew most of his life he'd become a lawyer, but what he didn't see coming was the community he'd gain along the way.
While he was born in Tampa, Fla., Breen grew up a little more than an hour away from Fayetteville in Wilson, N.C., and was determined to make a difference from an early age.
"When I was a senior in high school, I told one of my teachers I was going to go to Methodist University, complete law school at North Carolina Central University, and then go back home to practice law," Breen said.
MU was an easy choice for Breen, who adored the Legal Studies program and the football program.
"After speaking with Wendy Vonnegut [director of the Legal Studies program], I realized the small class sizes and the law school placement rate were going to be some of the most advantageous things for me," he said. "I was also recruited by MU's football program, which was certainly on the upswing."
While pursuing his bachelor's degree in Political Science, Breen juggled a variety of extracurricular activities including working as a resident advisor (RA) on campus and actively participating in the University's renowned Honors Program.
"Rhyan was a powerful force on the MU campus…" said Jennifer Rohrer-Walsh, co-director of MU's Honors Program. "His curiosity, desire and determination drove him even further as he joined the Honors Program. As an alumnus, Rhyan continues to support MU and its students, frequently speaking on campus to various groups, including the Honors Program."
Breen added that the Honors Program "provided a solid foundation for law school. By time I started law school, I knew how to do legal research and write."
Breen is also known for his decorated career on the football field. As co-captain and a key offensive lineman for the Monarchs, he helped lead the team to its first USA South Conference championship in 2005.
However, Breen's life took a harsh turn in the spring of 2006 when he tore his ACL, and later that fall, his father died of cancer.
"I went through a lot of bad things during that confined period of time, and I can't fathom a more supportive community and family than the one I had at Methodist University," Breen said. "I don't think I would've been able to get through it without those folks. Thanks to their support, care and love, I ended up graduating in three years."
As he promised to himself, Breen immediately attended North Carolina Central University's School of Law where he earned a Juris Doctor in 2010.
Breen worked as an associate attorney with Farris & Farris PA for nine years before opening his own general litigation firm in Wilson, Breen Law, where he now focuses on criminal defense and small business creation.
"One of the things I get excited about is helping entrepreneurs achieve their dreams," he said. "Often times, they have great ideas, but they don't know the necessary steps to get there. That's where I come in."
When he's not in the courtroom, Breen certainly has his hands full. He spends a lot of his time with his wife, Jessica, and two children, 11-year-old Patrick and 10-year-old Anna, but he's also active in the community. Breen is an elected board member of Wilson County Schools, president of the Imagination Station Science and History Museum, council member of the North Carolina Youth Advisory Council, and board member of the non-profit Feeds for Hopes, among others.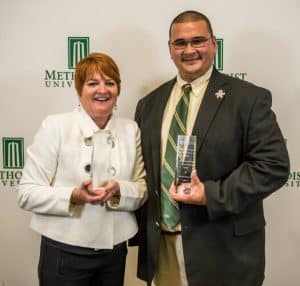 Vonnegut, one of the MU faculty members who played a large role in recruiting Breen, remains close to him to this day – attending both his law school graduation and wedding.
"Rhyan took advantage of every opportunity that Methodist University had to offer," Vonnegut said. "He was the type of student you dream of having in class and now, I get to enjoy watching him do wonderful things in the world. He now provides opportunities to other students at Methodist University; he's such a giver to this University, community and family."
Breen is incredibly thankful of his time at MU, where he garnered numerous awards including the Distinguished Young Alumni Award (2016), Male Scholar Athlete of the Year (2007), Resident Advisor of the Year (2007), and Debater of the Year (2005, 2006, 2007).
"As I've grown up, I've realized that a lot of family are the friends you've made," Breen said. "Methodist University was the first real place where my friends became my family. It's one of the most lasting things I'll take away from my experience at MU. I felt a sense of community while I was at Methodist and that's something I will carry with me. You've got your family, but you can pick your family, too."
Finally, the college student-turned-lawyer has some words of wisdom for current and upcoming Monarchs.
"Read everything you can get your hands on," he said. "Don't watch everything, read everything. Reading for understanding is probably the single greatest skill a person can have. Not only do you gain a greater capacity of empathy for the rest of humanity, but you get an opportunity to understand somebody's different viewpoint."