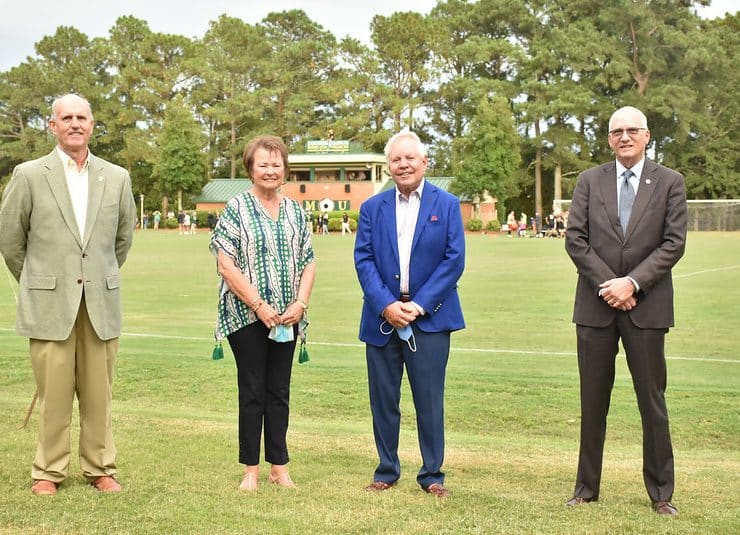 Methodist University has a long-standing tradition of excellence on and off its athletic fields, as well as a tradition of strong alumni support. So, it's little wonder that the top-tier, independent institution in Fayetteville is unveiling its latest facility as "The Nancy and Murray Duggins Soccer Stadium."
Methodist University has a long-standing tradition of excellence on and off its athletic fields, as well as a tradition of strong alumni support. So, it's little wonder that the top-tier, independent institution in Fayetteville is unveiling its latest facility as "The Nancy and Murray Duggins Soccer Stadium."
"The Duggins have a long history of supporting not only Methodist University, but the entire Cumberland County community, and we are very grateful for their generosity," said Dr. Stanley T. Wearden, President at Methodist. "A top-of-the-line stadium that will offer students the opportunity to compete and succeed is perfectly in line with what the Duggins have done for years."
Murray Duggins '66 has been working in real estate in North and South Carolina for 50 years. With one of the largest and most successful apartment portfolios in the region, the Duggins' family of companies expanded into daycare, commercial construction and land development. A project close to the Duggins' hearts is the $110-million Hope VI affordable housing apartments in Fayetteville.
"I was in the third class to graduate at Methodist and I have watched the school grow into an amazing educational institution," said Murray Duggins. "Methodist gave me the foundation to succeed in the business world. For that I am eternally grateful. Methodist University is one of Fayetteville's greatest assets. Nancy and I have been honored to help advance the MU environment in the past and look forward to seeing our student-athletes excel in this stadium."
Even though it won't host its first matches until sometime in 2021, Duggins Stadium is already being lauded as not only one of the best NCAA Division III soccer facilities in the region, but as one of the best in the country.
"This gift will help us to recruit and retain top student-athletes who are strong both athletically and academically," said Wearden. "The Duggins' gift also helped MU to take another giant step in creating a beautiful entrance to the university. We look forward to our first soccer match in 2021, and we hope Murray and Nancy Duggins will be able to attend so that our student-athletes can thank them in person."
The Duggins Soccer Stadium features the addition of 200 permanent seats, a concession stand, ticket office for tournament matches, and restrooms. These improvements add to the two-story soccer fieldhouse and new stadium lights, which were installed in 2017.
"These stadium additions are a historical moment for our program," said Justin Terranova '97, who is in his 19th season as head coach of MU's men's soccer team. "We have been working toward this for many years and are eager to host our first match in this great facility."
Bryan Madej '08, the women's soccer coach at MU, shared additional appreciation: "We are fortunate to have long-standing supporters of the soccer programs," he said. "Alumni, former players… there are just so many people to thank for what they've done for our student-athletes, this program and this university."
The soccer stadium updates are just the latest in an ever-growing list of additions to MU athletic facilities. The university recently installed new stadium lights on the football field and renovated several holes at the Downback Golf Course, a full 18-hole course for students on the MU campus.
"These projects and others were completely funded by gifts and donations," said Vice President and Director of Athletics Dave Eavenson '96. "First and foremost, we would like to thank all of the people whose gracious donations made these projects a reality. All of these improvements will serve our students well and go a long way to help us continue the tradition of excellence that MU athletics has established over the years."
Though COVID restrictions eliminated fall intercollegiate play, the MU soccer teams donned masks and followed all university and NCAA guidelines for practices and social distancing. If those restrictions are lifted in the spring, they will have the opportunity to host matches for the first time in their new stadium.
"As this year has brought many challenges, it has opened our eyes to all that there is to be thankful for," said Daniel Magen '22, a co-captain on the men's soccer team. "We're proud to be playing on this beautiful field and stadium, and can't wait until the first match."