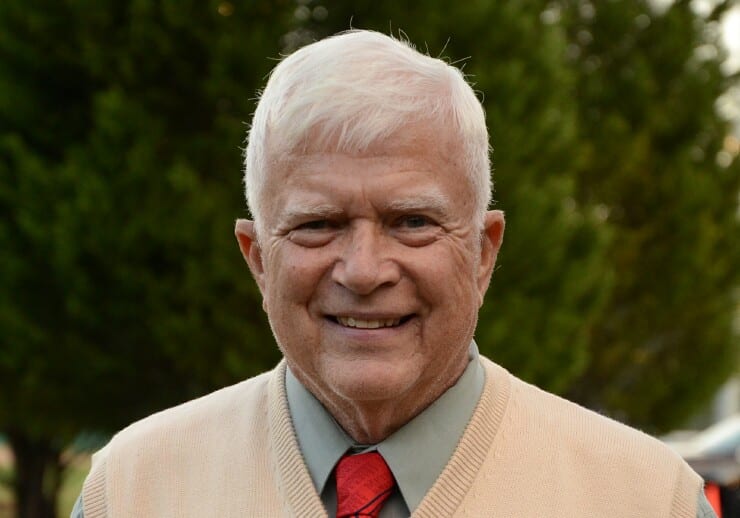 The Methodist University community is saddened to learn of the death of Trustee and Class of 1965 alumnus Jerry Keen on July 30.
The Methodist University community is saddened to learn of the death of Trustee and Class of 1965 alumnus Jerry Keen on July 30. Keen, who owned the Johnson-Sherman sawmill company in Goldsboro, N.C., served on the MU Board of Trustees for more than 20 years and impacted the lives of Methodist students for decades. As a tribute to Keen's impact on the University, MU flags are flying at half-staff this weekend.
"We are all saddened by Jerry's passing," said President Dr. Ben E. Hancock, Jr. "He loved Methodist University and was one of our strongest advocates. He will be missed by all of us who had the privilege of benefitting from his friendship, wise counsel, and compassion for others. Our prayers are extended to his wife Dottie, his family, and friends during this time of loss."
At Homecoming last year, Methodist recognized Keen with the Outstanding Alumni Service Award. He was one of the first residential students at Methodist College, and began his career at the family-owned Johnson-Sherman Co. as a traveling salesman after graduating with his degree in business administration. He joined the U.S. Navy in 1966 and served until 1970, when he rejoined Johnson-Sherman as a service manager. He soon became a partner, and in time became the owner. Keen was a past member of the Alumni Board, Board of Visitors, Lura S. Tally Leadership Board, and received the MU Center for Entrepreneurship's Economics and Business Alumnus of the Year Award in 1976.
The Rev. Dr. Jerry Jackson '75, president of the MU Alumni Association, said Keen was "a true man who cared about people," and that Keen had spent his life trying to repay to others the help he received as a young man from Mr. Johnson at Johnson-Sherman.
"When he took over the business from Mr. Johnson, he just kept right on going, helping others become better people," Jackson said. "One of his life's ambitions was to try and help people do better at what they're doing in life. He was an encourager. That's why he was so involved with Methodist. He gave many scholarships to students through the years to help them get along and get them off the ground, through the Greatest Gift program and with some of his own money."
Jackson said Keen came to almost every Homecoming at Methodist after graduating.
"Methodist was his life," Jackson said. "He was a people person."
Keen was also heavily involved in the United Methodist Church, serving as the Goldsboro District Chairman of the Committee on Superintendency and president of the Goldsboro District Methodist Men, as well as serving in several positions at the St. Paul United Methodist Church in Goldsboro.
There will be a visitation for Keen on Saturday, Aug. 1 from 5 to 7 p.m. at Rich Thompson Funeral Home, 306 Burlington Glenwood Ave., Burlington. There will be a memorial service at 2 p.m. Sunday at Bellemont United Methodist Church, 4039 Markwood Road, Burlington. Rev. Dr. Jerry Jackson will assist at the service.