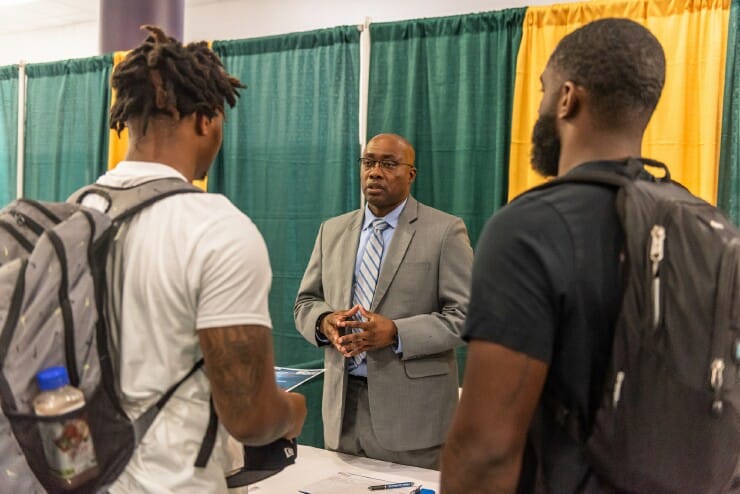 Hundreds of students, alumni and employers filled Methodist University's Nimocks Fitness Center today for the first on-campus career fair in at least a decade.
Hundreds of students, alumni and employers filled Methodist University's Nimocks Fitness Center today for the first on-campus career fair in at least a decade.
In partnership with NCWorks, Methodist University hosted 44 employers across the state including Cape Fear Valley Health, the City of Fayetteville, the Cumberland County Sheriff's Office, the Fayetteville Woodpeckers, the North Carolina Department of Revenue, UNC Health, the U.S. Army and more.
Each employer hosted a booth with information regarding internships, job shadowing and part-time and full-time opportunities.
"This is our first year hosting a career fair on our campus in at least 10 years so this gives our students a fresh, new experience to practice their networking and professionalism skills," said Dr. Taylor Vann, MU's associate director of career advising and employer engagement. "Fayetteville has a lot of local talent in the workforce and great businesses that have job openings. This event brings both together to create a win-win for everyone."
Although the career fair was convenient for Methodist University students and alumni, the event was also open to students from Fayetteville State University, Campbell University, University of North Carolina at Pembroke and six community colleges.
Many students dressed professionally with copies of their resume in hand, ready to discuss a variety of career options – an opportunity junior Evan Plant was grateful for.
"I'm looking for a summer internship in the business or accounting field, and I've specifically tried to target employers who have a history of turning interns into long-time employees. I want to find a job I can grow in," said Plant, a Business Administration and Accounting major. "This event is super-helpful because it gives me a chance to get my name out there and advertise myself."
Even students who are still a few years away from graduation participated in the event, including freshman Joshua Quick, a Business Management major.
"It helped me connect with other professionals who have ties to business and logistics, a field I'm interested in. It's never too early to learn more about careers," he said.
The career fair also greatly benefited the employers who participated, including the Public Works Commission (PWC), which was primarily searching for paid interns.
"Methodist University has the best and brightest students. It's great to have a local university that creates such a strong workforce, and we're hoping to get them to stay in the community to work for PWC," said Human Resources Advisor Rhonda Foe.
Many employers were offering full-time positions, including Blue Ridge Power, a solar power company.
"We need to improve our diversity, and we know that MU was recently named the most diverse university in North Carolina," said Trent Couturier, an instructor for Blue Ridge Power. "We want all people from all aspects of life, and we're grateful this career fair gives us a chance to strive for that."
Methodist University's One Stop organized the event alongside NCWorks. Learn more about One Stop and all of the services they provide, including career advising.