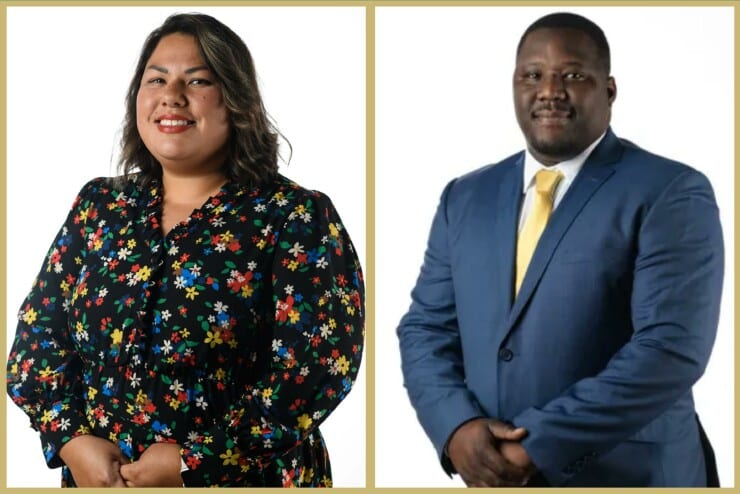 Methodist University is well represented in The Fayetteville Observer's 40 Under 40 Class of 2022.
Methodist University is well represented in The Fayetteville Observer's 40 Under 40 Class of 2022.
The distinction spotlights the newspaper's choices of the area's best and brightest young professionals who excel in their professional roles, as well as in the way they serve their communities.
One of the choices is Methodist University alumna, Sabrina Steigelman '11. During her time at MU, Steigelman earned a bachelor's degree in History. Now, the MU graduate works as the Grants and Project Management Coordinator at Cumberland County Schools. In addition to serving in a number of community and professional groups, Steigelman also volunteers at the Cumberland County Animal Shelter and helps raise funds for veterans' organizations.
Steigelman said, "Methodist University was truly supportive of my military family as I went to school at night while my husband was deployed. Dr. Carl Dyke, especially, was supportive of me through one of my final classes. He insisted that I bring my newborn to the last few nights of class to be able to graduate on time. Now, my husband is a graduate, and our twin sons are currently enrolled at MU. Go Monarchs!"
Also on the list is Jimarr Williams, Methodist University's Director of Academic and Career Advising. In his role, Williams leads and manages department initiatives, including ensuring equitable advising for all MU students. Williams has also spent time as a volunteer for Special Olympics North Carolina and Fayetteville Parks and Recreation as a youth basketball and soccer coach.
"Jimarr embodies what it means to be a leader in our community and serves as a role model for the next generation of leaders," said Dr. Doris Munoz, Assistant Provost for Student Retention and Persistence Initiatives. "He comes to work every day looking for ways to provide students his absolute best. Through his eyes, every student counts, and he never misses an opportunity to help a student learn and grow holistically."
For Williams, the honor isn't something he takes lightly.
"Being nominated is an honor that I share with my family, friends, and the MU community," he said. "The growth and success I have experienced would not have been possible without the individuals in my personal and professional life that have supported me along the way. I hope to continue to grow and make a positive impact in my profession and within the local community."
Photo: Sabrina Steigelman (left) and Jimarr Williams (right). Photos courtesy of Andrew Craft and The Fayetteville Observer