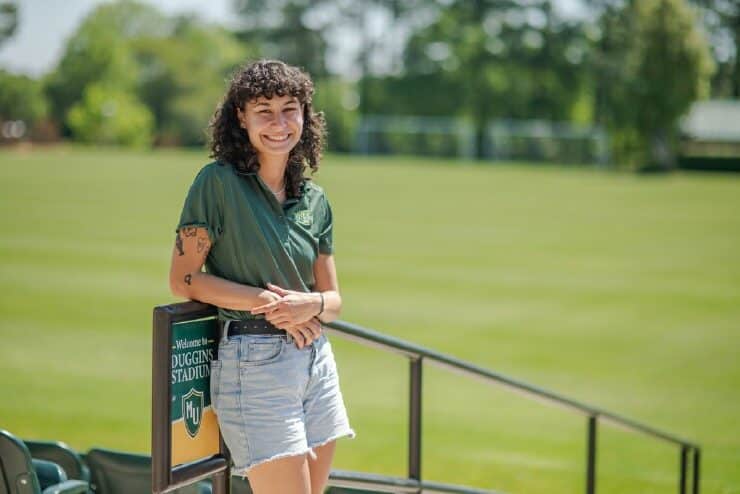 When senior Tatiana Lourenco-Shiber receives her diploma during Methodist University's undergraduate commencement on Saturday, she will be walking off the stage as a champion in more ways than one.
When senior Tatiana Lourenco-Shiber receives her diploma during Methodist University's undergraduate commencement on Saturday, she will be walking off the stage as a champion in more ways than one.
Lourenco-Shiber was born in South Africa, but grew up in Doha, Qatar before her family moved to the United States in 2014. As a child, she developed a passion for soccer. Little did she know the sport would become one of the main reasons her life moved again from Miami, Florida to Fayetteville, North Carolina.
"When [Women's Soccer] Coach Bryan Madej sent me an email about Methodist University, my dad and I decided to take a visit," said Lourenco-Shiber. "I fell in love with the small-town vibes, how everybody knew each other, and I loved that every professor I met wanted to help me achieve here."
Lourenco-Shiber quickly committed to MU and originally pursued a path in Kinesiology. However, after taking a Psychology class, a light bulb went off.
"The class helped me realize how stigmatized therapy has become in society today," she said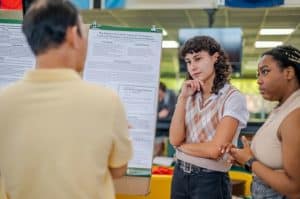 Ever since, Lourenco-Shiber has been stellar in the classroom. Most recently, she was named as one of seven winners of MU's Female Scholar-Athlete of the Year – an award that recognizes student-athletes who post a 4.0 grade-point average in both the fall and spring semesters. She is quick to credit the Head of the Social Sciences Division and Professor of Psychology, Dr. Mark Kline.
"He's helped me figure out the route I want to go in. Originally, I was trying to decide between becoming a psychologist or therapist. Through our conversations, I realized I wanted to become a therapist," said Lourenco-Shiber. "He even helped me with every step of figuring out graduate school – from deciding where to apply to filling out applications to writing recommendations."
On top of all her academic success, Lourenco-Shiber has also shined across the campus – and even off of it. She has worked as a peer advisor for the University's One Stop and Writing Center, participated in Psychology Club, and even spent time as an intern at A4Psychology – a private behavioral health therapy clinic in Fayetteville.
But Lourenco-Shiber would be quick to tell you her biggest commitment, outside of academics, is the MU Women's Soccer team. Across four seasons, the midfielder notched 19 starts, 16 goals, five assists, and five game-winning goals. She also racked up numerous awards including USA South Athletic Conference Rookie of the Week in 2019, a first-team USA South All-East Division selection in 2020-21, and a second-team All-Conference selection in 2022.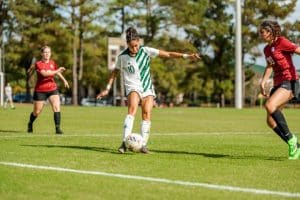 The biggest accomplishment on the pitch for Lourenco-Shiber came in November when the Monarchs won the USA South Athletic Conference Women's Soccer Tournament, defeating Southern Virginia 3-1 at Duggins Soccer Stadium. Lourenco-Shiber notched an assist and the game-winning goal in the 35th minute. The victory clinched a trip to the NCAA DIII Women's Soccer Tournament.
It's a moment Lourenco-Shiber will always cherish.
"It was a true team effort. From the dedication of my teammates to the amazing coaches to the fans, it all made an incredible atmosphere," she said. "The fact that all of the students, faculty, and staff came out to support us was amazing."
It won't be the last time Lourenco-Shiber walks away a champion. On Saturday, she is set to earn her bachelor's degree in Psychology with a concentration in Counseling and a minor in Sociology.
Both of her parents plan to be in attendance for the commencement ceremony, along with Lourenco-Shiber's twin sister Daniella, who will be hooding her.
"Daniella is my best friend and number one supporter," she said. "I feel like the whole moment is going to be so wholesome – not only for me, but for my parents. Eight years ago, I was living in a different country and now I'm graduating from college in America. My parents know that as the American dream. With that said, I'm more excited for my parents than myself because I would not be here without their sacrifice and struggle. It's a full circle moment for us as a family."
After graduation, Lourenco-Shiber plans to earn her master's degree in Clinical Mental Health Counseling from Nova Southeastern University in Florida with hopes of becoming a therapist to marginalized populations one day. She also dreams of owning a non-profit clinic so she can provide affordable therapy to everyone.
From the incredible relationships made to hoisting a championship trophy to finding her niche in therapy, Lourenco-Shiber is thankful for her experience at Methodist University.
"Methodist University changed my life," Lourenco-Shiber said. "I would say these past four years have been a huge milestone in development.  I grew up here. I feel like I would not be this version of myself if I went to any other university."