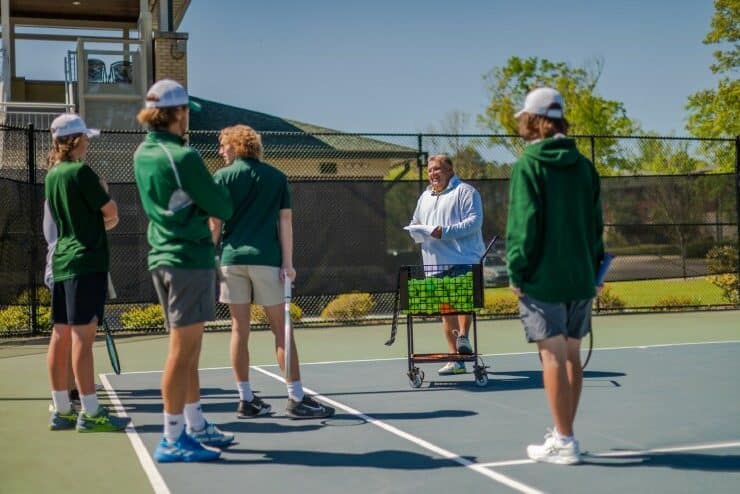 Methodist University is on the cutting edge of the tennis industry as one of only nine universities in the country with a Professional Tennis Management (PTM) program accredited by the United States Tennis Association (USTA).
Methodist University is on the cutting edge of the tennis industry as one of only nine universities in the country with a Professional Tennis Management (PTM) program accredited by the United States Tennis Association (USTA).
Taking it a step further, Methodist University is one of two universities in the nation with accredited PTM and Professional Golf Management (PGM) programs – yet another reason why the institution is considered a top 10 "must-watch" university in North America.
For more than 45 years, Methodist University's PTM program has prepared the next group of successful tennis industry professionals and after a close look at the program, it is easy to see why that is the case.
The PTM program offers three different academic options to students:
Concentration: Students can combine 24 credit hours of PTM coursework with any major in the nationally accredited Reeves School of Business

.

Minor: Students pursuing any major at the University may take 18 credit hours of PTM coursework.
Certificate: Anyone interested in earning a PTM Instructor Certificate must follow the same requirements as the minor, and those interested in the PTM Professional Certificate must follow the same requirements as the concentration.
Job Placement and Quality Internships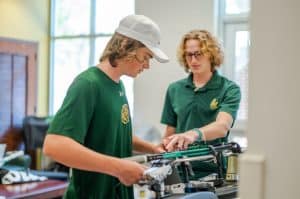 The program boasts a 100% job-placement rate in its longstanding history, nearly guaranteeing each of its students a job following graduation. Many graduates have gone onto successful careers at some of the top tennis clubs in the nation – including Mark Faber '94 at Twos Athletic Club in Ohio, Kevin Caccia '13 at Asheboro Racquet Club in North Carolina, and Carla McKenzie '03, '07M at the Shore & Country Club in Connecticut.
"The industry is really recognizing our graduates and the things they're accomplishing in the industry," said Scott Handback, director and assistant professor of the PTM program at Methodist University. "Our alumni are doing great things and are recent graduates are on the cusp of accomplishing great things. It's a testimony to the strength of this program and all the people who make it happen."
A key factor in the success of the program can be pointed towards the summer internship opportunities afforded to students while in the program. Each year, students have access to more than 200 internship options from around the country such as the USTA national campus to platinum-level country clubs such as Baltimore Country Club and Congressional Country Club in Washington, D.C.
The summer internships allow PTM students to explore career options while making valuable connections in the industry. Many of the internship opportunities range from on-court teaching to working for the USTA to assisting with U.S. Open Series Pro circuit events. Not only do PTM students gain valuable experience and knowledge during their summer internship, but they also earn a respectable wage. On average, Methodist University PTM students can earn between $15,000 and $16,000 in a summer.
Recent graduate Megan Kidd '23 earned her bachelor's degree in Kinesiology with a minor in PTM in May. During her time at Methodist University, Kidd spent two of her summers at a high-end country club in Quogue, New York, and a final summer at the LTP Academy in Charleston, South Carolina. She credits the internship opportunities as pivotal moments in her academic career.
"This program allowed me to grow tremendously as a person, player, and professional," Kidd said. "The internship opportunities forced me to be an adult in the tennis industry, be responsible for my own schedule, and take care of myself while establishing a coaching philosophy. I was able to expand my knowledge and my connections further than I ever expected. I could not imagine who I would be without Methodist University and the PTM program."
Even prior to graduation, Kidd received multiple full-time job offers before accepting a tennis professional position at Chapel Hill Country Club.
Cutting Edge Technology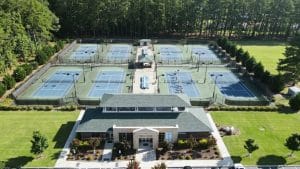 The Methodist University PTM program is also on the cutting edge of property, equipment, and teaching techniques. The program is housed on campus at the Gene Clayton Tennis Center, which features a 10,000 square-foot building and eight lighted asphalt-based hard courts with a central pavilion. On top of the tennis center is a 2,000 square foot veranda overlooking the courts – a unique and relaxing place for many PTM classes, meetings, and seminars.
Inside the Gene Clayton Tennis Center, there is a modern classroom with a student lounge, racket stringer center, locker rooms, and offices. The racket stringer center features three different types of stringer machines – allowing students to learn how to make a tennis racket using both the most up-to-date technology and older machinery in the event they work at a tennis center with outdated equipment.
With the growing use of virtual reality (VR) technology, Handback said the PTM program is ahead of the curve compared to other PTM programs in the nation.
"In five to 10 years, our current students could be giving tennis lessons through VR," he said. "Even if you and your client are in two completely different places in the world, you can still teach them with this technology. It's my job to make sure our students are prepared for the future of the industry and that's why we're utilizing Oculus virtual reality headsets for some of our classes."
Apply Today
As Methodist University boasts a top-notch PTM program, there has never been a better time for students to consider a career as a tennis professional, according to Handback.
"Sixty percent of certified tennis professionals are 50 or older, which tells us that we're going to lose 60% of the labor force in the next 15 years. There's going to be a ton of jobs and it's already happening. I'm getting 15-20 requests a week from tennis clubs struggling to find tennis professionals. It's a job seekers market in the industry and it's only going to increase. The industry provides a lot of opportunities for students right out of college."
If interested in Methodist University's PTM program, apply today or visit the PTM program page to learn more.