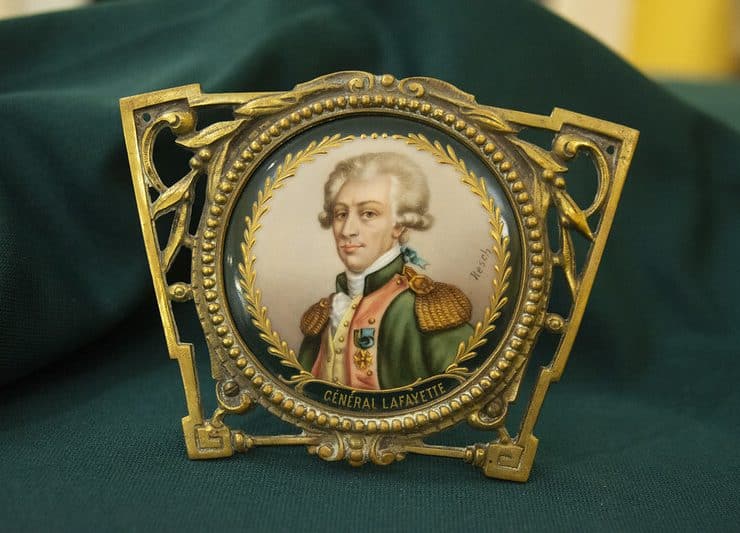 On Friday, Sept. 9, Davis Memorial Library will celebrate the lives and legacies of both Gene Dillman '73 and General Lafayette.
In 2014, Methodist University alumnus Gene Dillman '73 donated the first of what would become over 70 artifacts related to the Marquis de Lafayette to the Methodist University Lafayette Collection.
Lafayette, the young French hero of the American revolution for whom Fayetteville, North Carolina, is named (and "everybody's favorite fighting Frenchman!" from the musical Hamilton) was treated like a rock star on his "grand tour" of the United States in 1824-25.
As with concert merchandising today, Lafayette's likeness was plastered on anything imaginable – from cups and dishes and drawer pulls to hat bands and label ribbons and even fancy kid leather gloves.
On Friday, Sept. 9, the Davis Memorial Library at MU will celebrate the lives and legacies of both Gene Dillman and General Lafayette (as he preferred to be called).
Up until his untimely death in the fall of 2019, Dillman was looking for materials to donate to the Lafayette Collection. The program will honor Dillman, and the presentation will discuss ways that attendees can create, preserve, and transmit their own family legacies – both tangible (photos, letters, diaries, souvenirs) and intangible (family stories, location histories).
This event is free and open to the public. For more information contact Arleen Fields, Archives Librarian at 910.630.7412 or afields@methodist.edu.
Event Details
Friday, Sept. 9, 2022
Davis Memorial Library, Methodist University
6 p.m. Reception and exhibits
7 p.m. Program