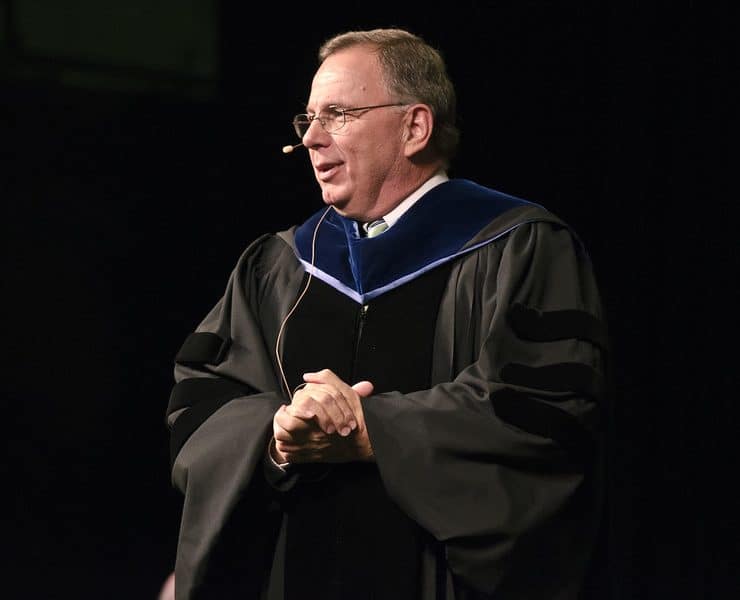 Dr. Ben Hancock today announced that he will retire as President of Methodist University at the end of May 2018.
Dr. Ben Hancock today announced that he will retire as President of Methodist University at the end of May 2018. The announcement was made via a personal email from Hancock to the campus community.
"With my current contract coming to an end in 2018, it seemed to be an appropriate time for Debbie and me to consider our future and that of the University," Hancock wrote. "The best timing for the University to go through a transition in leadership was paramount in our discussions. After much thought and prayer, I have decided to retire as President of Methodist University, effective May 31, 2018."
Hancock said he hoped that his early announcement would give the Board of Trustees sufficient time to complete a successful search for the next president. Hancock is the fourth president of Methodist University.
"I am so grateful to the Board of Trustees for giving me this opportunity to serve, and through the collaborative leadership of the Board and the University, I believe we have successfully moved Methodist forward in so many ways," Hancock said. "This is clearly evident as we witness the success of our students as they pursue their MU Journey, and then graduate to pursue amazing careers and to live lives of meaning and purpose."
Hancock also praised the leadership of the Board of Trustees, chaired by Mac Healy, and the members of the University's Administrative Cabinet. Healy is expected to announce search plans for the position in the coming weeks, with the goal of having a successor in place as soon as possible following Dr. Hancock's departure.
Healy said he has been impressed with Hancock's unlimited energy and enthusiasm for the mission and goals of the University, and that the trustees were thankful for all of Hancock's hard work and dedication.
"Since March 2011, Ben Hancock has guided Methodist University as our president," Healy said. "He has given us seven years of exceptional service and leadership, and been a champion for students and alumni. Under Ben's leadership, Methodist successfully conducted the largest fund-raising campaign in the school's history. Along with the Board of Trustees, he has focused on a strategic plan that has seen Methodist grow our existing programs and add several new program opportunities for our students. Ben will always be part of the Methodist family and we wish him and Debbie a long and happy retirement."
"I want to express how honored I have been to serve as President of this amazing institution and to serve alongside dedicated trustees and University colleagues who share a commitment to a culture of excellence, and most important, are so passionate about our students and their success," Hancock said. "In retirement, the First Lady and I are looking forward to spending time with our family – which includes five children and seven grandchildren – to traveling, and to pursuing the next leg of our personal journey. In the meantime, we hope to be able to express our gratitude personally to the students, faculty, staff, alumni and friends who have touched our lives in so many ways."
About President Hancock
Dr. Hancock has been the president of Methodist University since March 2011. He is currently leading the institution through a second five-year Strategic Plan, which has been highlighted by unprecedented growth in enrollment, programs, and facilities. Record numbers of students have been attained in U.S, international, undergraduate, graduate, and residential enrollments during his tenure. The School of Health Sciences was established, which has led to the creation of the University's first two doctoral programs in physical therapy and occupational therapy. New majors have also been created in kinesiology, engineering, sport management, entrepreneurship, applied forensic science, digital forensics and cybersecurity, and health care administration.
The expansion of campus has included new facilities for Nursing, the Campus Services Building, McLean Health Sciences Building, Armstrong Baseball Fieldhouse, Clayton Tennis Center, a Football Locker Room addition, North Hall, and the expansion of the Greek Village housing. Projects presently under construction include the Matthews Ministry Center and the Price Softball Fieldhouse, which will break ground this coming spring. The Campus Master Plan launched in 2012 also led to new landscaping and improvements to the entrance to the University and updates to the Davis Memorial Library and Trustees Building. He has also placed increased emphasis on student retention, as evidenced by the creation of the Center for Student Success. His focus on student-centered initiatives features the MU Journey, which provides opportunities for students to participate in leadership, research, community engagement, and study abroad, and the MU Advantage, which provides opportunities for an internship or related experience for every Methodist student. The MU athletic program has also experienced success during his presidency, having won national championships in men's and women's golf and national cheer competitions, the USA South President's Cup on three occasions, and a number of conference championships.
During his presidency the University has completed its largest ever fund-raising campaign, the "Building Excellence" campaign, which generated nearly $42 million in support of new facilities, programs, and endowment. Other external initiatives have included expanding University communications, extending alumni events nationally and globally, and creating the Presidential Lecture Series that has brought such noted individuals as Sanjay Gupta, Doris Kearns Goodwin and Cal Ripken, Jr. to campus, along with expanding the Arts and Lecture Series available to the greater community.
President Hancock has been very involved professionally, currently serving as president of the National Association of Schools, Colleges, and Universities of the Methodist Church (NASCUMC). He is on the Executive Committee for the North Carolina Independent Colleges and Universities (NCICU) and the North Carolina Campus Compact, and serves on the Presidents Council for the USA South Athletic Conference. His community involvement has included church leadership, scouting, civic organizations, the United Way, and community leadership organizations. He presently serves on the First Citizens Bank Fayetteville Advisory Board and was the 2013 Chair of the March of Dimes March for Babies. Dr. Hancock received the Ronald E. Carrier Distinguished Alumni Achievement Award from James Madison University in 2011 and the Bravo! Award from Chesterfield Public Education Foundation (Va.) in 2012 as an outstanding alumnus of the school system.
Prior to assuming the presidency at Methodist University, Dr. Hancock served as vice president for University Advancement at Ball State University, vice president for Institutional Advancement at Albion College, and executive director of the Boise State University Foundation. He received his Bachelor of Arts degree in Russian Studies and master's in Education from James Madison University and his doctorate from the University of Virginia. Dr. Hancock has traveled extensively throughout the United States and abroad. He has served as a Fulbright Fellow at the University of Edinburgh, a Russell Mawby Fellow at Oxford University, a Visiting Fellow at the University of Auckland, and a Visiting Fellow at the University of Melbourne. He has led and attended conferences in the United States, the United Kingdom, Australia, and New Zealand.
He and his wife Debbie (a retired teacher of exceptional children) have five children: Jessie, Sarah, Ben, Matthew and Andrew; and seven grandchildren. They enjoy traveling as a family, having attended most of the Olympics, beginning with the games held in Barcelona in 1992, spending time with their family at their summer cottage in Michigan, and raising their two golden doodles.