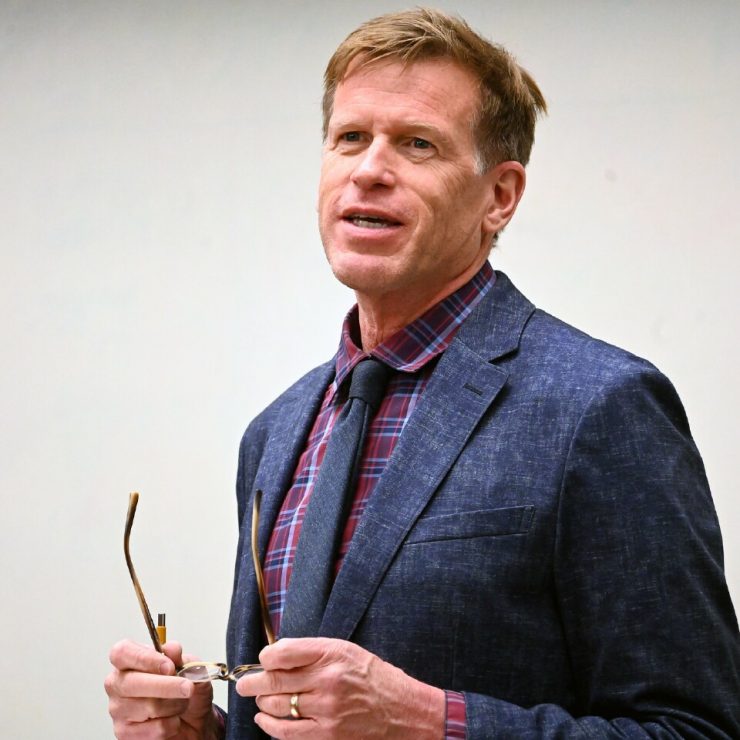 This endowed, annual lecture series intends to promote public awareness of religious scholarship by bringing an expert in the field of religion, philosophy, or ethics to Methodist University to deliver two scholarly lectures. The series recognizes the university's commitment to religion and its ecumenical spirit. The series broadens student's liberal arts education, raises moral and spiritual issues in the public consciousness, and provides an educational and cultural service to the community. The lecture is named for and honors Dr. Samuel J. Womack and Mrs. Norma Womack.
Dr. Samuel J. Womack was Methodist University's first instructor in religion and a member of the original faculty of the college in 1960. He organized the Department of Philosophy and Religion and began its operations. He was the college's first chaplain and the first chair of the Department of Philosophy and Religion. In 1965 he became Academic Dean. He served in that capacity for fourteen years while continuing to teach religion courses. In 1979 he left the Office of the Dean and returned to full-time teaching in philosophy and religion until his retirement in 1984.
Mrs. Norma Womack was a Methodist University alumna. She became a college librarian in 1965 and the head librarian in 1979. She retired in 1988.
Recent Lectures
2023: "The Courage to Build: Black Religion and the Development of HBCUs" and "Why Christianity Needs Critical Race Theory" by Marla Frederick
2022: "Soon, All This Will Be Gone: Climate Crisis, Climate Grief, and Finding Our Way in the Anthropocene" and "We Are the Gods Now: Faith in Transhumanism" by Tim Beal
2019: "Why Eating Matters" and "What Eating is For" by Norman Wirzba
2018: "New Tablets for a New World: The Book of Exodus in Chagall's Moses" and "New Tablets for a New World: The Jewish Modernism of Chagall's Moses" by Brian Britt
2017: "Secularization and Religious Decline" and "The Bible and Western Civilization" by Timothy Larsen
2015: "Jesus of Hollywood" and "Mary Magdalene at the Movies" by Adele Reinhartz
2015: "Healing the World: Tools for Interfaith Peacemaking" by Najeeba Syeed, J.D.
2014: "The Sound of Learning: Creating a Better Campus Soundscape" and "Can Music Save Your Mortal Soul? Christ in Popular Music" by Stephen H. Webb
2013: "Conceiving Ultimate Reality: The Dialectic of Transcendence" and "Engaging Ultimate Reality: The Abundance of Symbols" by Robert C. Neville
2012: "Spirituality: the Enduring Connection of Humanity and the Divine" by Louay M. Safi
2010: "Love and Justice: What's the Problem?" and "Love and Justice: What's the Solution?" by Nicholas Wolterstorff
2009: "Taking Physical Mediumship Seriously" and "Do We Survive Death? The State of the Debate" by Stephen Braude
2008: "Alternative Religious Movements in American History" and "Reflections on the Globalization of American Religion" by Stephen Stein
2007: "The Great Tradition: What It Means to Be an Educated Human Being" by Richard Gamble
2007: "The Golden Rule on Classical Judaism" and "Resources of Religious Toleration in Formative Judaism" by Jacob Neusner
2006: "Walls Come Tumblin' Down: American Protestants and the First Amendment" and "Creationism by Design: The Religious Right's Quest for Academic Legitimacy" by Randall Balmer
2005: "Capturing Jesus on Film: Pictures We Like to See" and "Being the Perfect Audience" by Clayton Jefford
2005: "When Religion Becomes Evil" by Charles Kimball
2004: "All About Eve" and "Hidden Power: Women's Religious Culture in Ancient Israel" by Carol Meyers
2003: "The Advantages of Virtues: Practical and Theoretical" and "Races and Persons" by Jorge L. A. Garcia
2002: "'God the Father': A Critique," "'The Trinity': A Recasting" by Ferederick Ferré
2001: "Human Spirit in the Third Millennium" and "Common Vision of the World's Religions" by Huston Smith
2000: "The Medieval Stained Glass and Sculpture of Chartres Cathedral" by Malcolm Miller
2000: "Jesus in the Culture Wars" and "Why the Humanity of Jesus is Important" by Luke Timothy Johnson
1999: "Solomon and the Global Economy" and "Thinking Otherwise: Elijah's Wild Card" by Walter Brueggemann
1998: "Dying as a Christian in a Post-Christian Age" and "Re-Thinking American Health Care" by H. Tristram Engelhardt, Jr.
1997: "The Dead Sea Scrolls Revisited" and "Luke and Scripture" by James A. Sanders
1996: "The Ethics of War: Realism Reconsidered" and "Pacifism Reconsidered" by Stanley Hauerwas
1995: "Denominationalism: End or Beginning" and "Reforming the Connection" by Russell Earle Richey
1995: "Albert Schweitzer and the Historical Jesus" and "From Schweitzer to the Jesus Seminar" by Walter Weaver