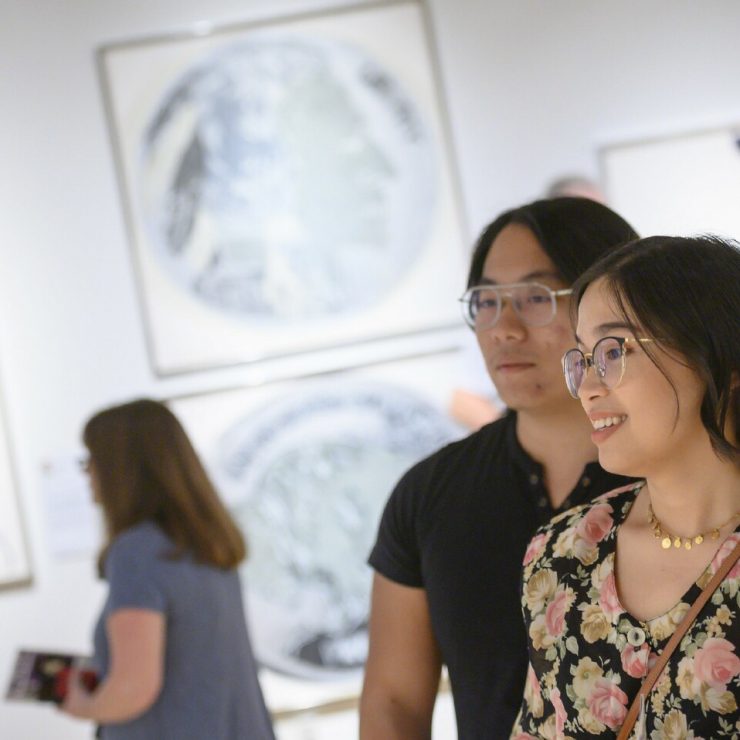 David McCune International Art Gallery
Since its opening in 2010, the David McCune International Art Gallery has been Fayetteville's premier art venue, where works from traveling exhibitions, fine art on loan from museum collections throughout the world, and works by Methodist University students are displayed. Recent shows at the gallery attracted significant crowds and media attention.
Among the gallery's most successful exhibitions include "Rembrandt: The Sign and the Light," featuring etchings by the famous Dutch artist; "gallery goes POP: Warhol," a collection of 34 silkscreened images by Andy Warhol; lithographs of "The Story of the Exodus" by Marc Chagall; bronze sculptures of "Rodin: Portraits of a Lifetime, Selections from the Iris & B. Gerald Cantor Collections;" "Picasso: 25 Years of Edition Ceramics from the Rosenbaum Collection;" and "Igneous Expressions," a collection of glass art by 26 artists from western North Carolina that included work by Harvey Littleton.
Past Exhibitions
Intersection


Featuring the works of

Andrea Keys Connell

,

Zhimin Guan

,

Soni Martin

, and

Winter Rusiloski


Aug. 16 – Dec. 1, 2021

Rembrandt: The Sign and the Light
September 11 – November 18, 2020
Regional Artistry: A Unified Vision
February 6 – April 9, 2020
12 Women Twelve Voices
September 12 – November 9, 2019
gallery goes POP: WARHOL
February 7 – April 12, 2019
Fire from the Mountain: Glass and Steel
September 6 – November 10, 2018
Marc Chagall: The Story of the Exodus
February 8 – April 6, 2018
Kindred Materials: Glass & Clay
September 7 – November 4, 2017
Impressionism to Modernism: Masterworks of Early Photography
February 9 – April 8, 2017
Elemental: Ceramics and Abstract Paintings
September 22 – November 17, 2016
Rodin: Portraits of a Lifetime – Selections from the Iris & B. Gerald Cantor Collections
February 11 – May 7, 2016
Diversified Clay: An Invitational
September 17 – November 14, 2015
Searching for the Real by Mison Kim
February 13 – April 15, 2015
Testament – An Exhibition of Photographs by Chris Hondros
September 11 – November 15, 2014
Picasso: 25 Years of Edition Ceramics from the Rosenbaum Collection
February 13 – April 13, 2014
Igneous Expressions
October 24 – December 12, 2013
Driven by the Heart by Lisa Stroud
September 19 – October 17, 2013
Harvey Littleton & Friends
February 7 – April 7, 2013
A Play on Colors by Sharron Parker
November 2 – December 12, 2012
Exotic Encounters by Paula Fitzpatrick
September 19 – October 24, 2012
Heavy Metal by David McCune
March 14 – April 4, 2011
Last Showing of the Fayetteville Museum

of Art
February 4 – March 4, 2011
Bethune Center & McCune Gallery Dedication
April 27 – May 7, 2010