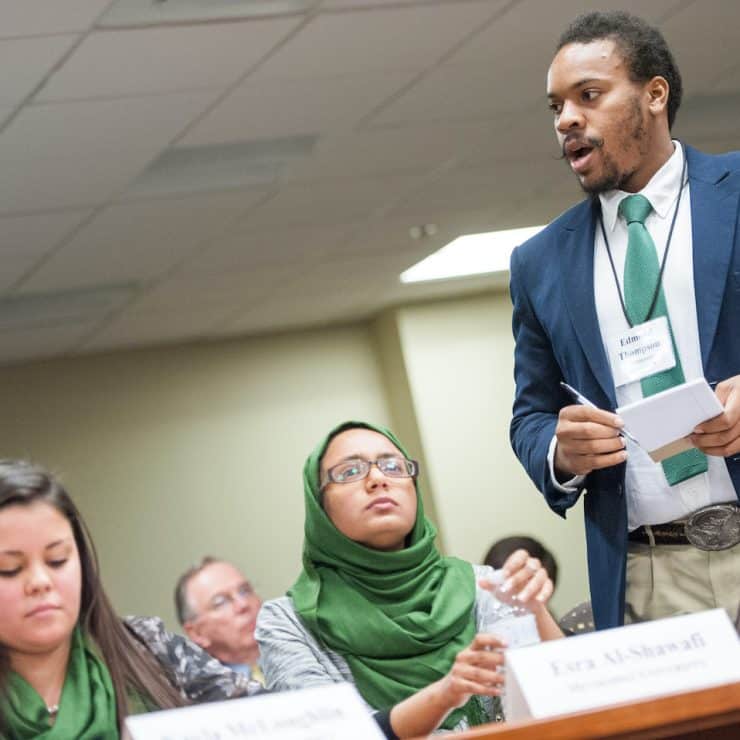 The minor in Ethics is an attractive opportunity the Department of Philosophy & Religion can offer students as a welcome, minor load in a liberal arts education that enriches both their humanity and professional cache. For example, one can imagine a business administrator or physician assistant with a minor in ethics as someone a good employer would especially want on board.
Common Career Paths
Some of the top jobs for those with an Ethics educational background include postsecondary professor, human resources coordinator, social worker, business administrator, philanthropist, and much more.
Common Salary Ranges for Graduates
As mentioned above, there's a long list of career opportunities for those with a background in Ethics. But, the U.S. Bureau of Labor Statistics reports the average annual salary for the following positions (which may require additional education) in North Carolina in 2021:
Financial Managers $161,720

Operations research analyst: $93,460

Budget analyst: $73,910

Accounts and auditors: $84,960
Average Tuition Cost
The average cost for an incoming residential freshman to attend MU is less than $18,000 – similar to the cost of attending one of the big-box public schools, but with the enhanced value of a highly-regarded private school with a 12:1 student-to-faculty ratio.
While tuition varies, depending on a student's financial aid package, it's important to know that the average financial award for an incoming residential freshman at MU is more than $34,000.
Financial Aid & Scholarships
More than 97% of MU students receive some form of financial aid, with the University offering more than $24 million annually to students for scholarships. If a student is active military, family of active military, or a veteran, they may also qualify for MU's military education benefits.
Interested in Methodist University's Ethics minor?
If you have questions, reach out to Dr. Kevin Hoffman using the contact info at the bottom of the page. If you're ready to apply today, visit the link below!
Frequently Asked Questions
The Ethics minor at Methodist University covers moral theories, including fairness, utilitarianism, virtue ethics, common good, and Kantian deontology. Students will not only learn these theories but apply them to a selection of morally ambiguous case studies. Past cases have concerned business ethics, education, and technology.
Methodist University's Ethics minor lives under the Department of Philosophy & Religion, which houses the Religion major. Many Religion majors at Methodist University go onto minor in Ethics since the two easily go hand-in-hand.
Minor Requirements
The minor in Ethics consists of 15 s.h. distributed as follows:
Required Core Course
Choose one of the following:
PHI 2110 Introduction to Philosophy (3 s.h.)
PHI 2200 Moral Philosophy and Contemporary Ethical Problems (3 s.h.)
Elective Courses
Choose 12 s.h. from the following courses:
PHI 2110 Introduction to Philosophy (3 s.h.)
PHI 2200 Moral Philosophy and Contemporary Ethical Problems (3 s.h.)
PHI 2000 Ethics Bowl (3 s.h. for three-year participation)
PHI 3200 Business Ethics (3 s.h.)
PHI 3400 Medical Ethics (3 s.h.)
PHI 3350 Environmental Ethics (3 s.h.)
PHI/REL 3600 The Meaning of Death (3 s.h.)
PHI 4200 Ethical Foundations of Criminal Justice (3 s.h.)
PHI 4850 Seminar in Philosophy (3 s.h.)
PHI 4990 Independent Study in Philosophy (3 s.h.)
REL 1500 Eastern Religions (3 s.h.)
Contact
Associate Professor of Philosophy & Religion