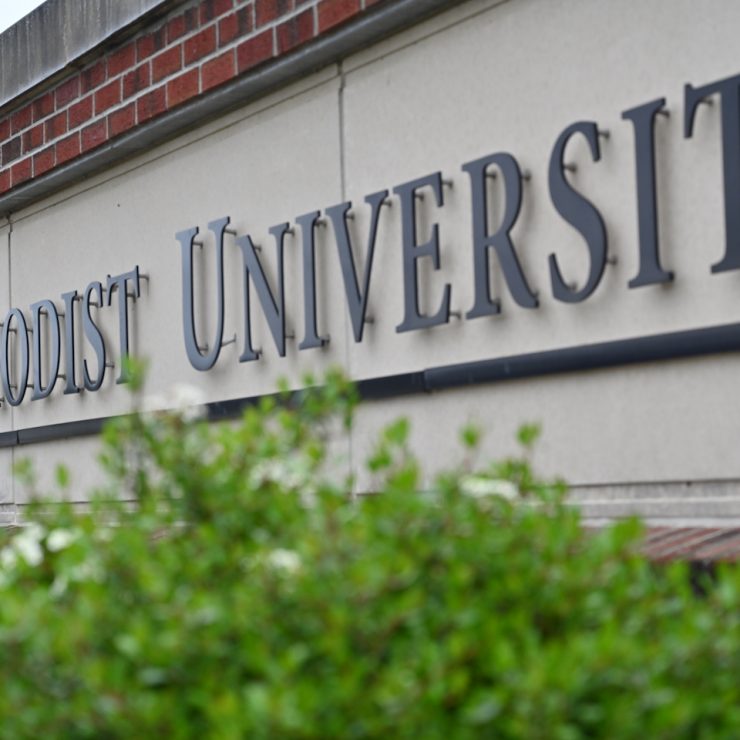 Military Science & Army ROTC
Methodist University's Army ROTC program educates and mentors adaptive leaders with critical thinking skills and the moral character to lead our Nation's Army and win in a complex world. The course prepares college students to be officers and leaders of character in the Total Army. The Army ROTC Program is progressive in nature and is composed of a Basic and Advanced Course. Enrollment in the Basic Course is open to all full time freshmen and sophomores. Completion of the Basic Course is a prerequisite for Advanced Course application. A student who enrolls in the Basic Course does not incur any obligation to serve in the Army. Prior military service or high school JROTC experience may result in direct placement in the Advanced Course if they are an academic junior. Entrance into the Advanced Course is selective and is based upon demonstrated performance and leadership potential. Students who satisfactorily complete the Advanced Course are commissioned Second Lieutenants upon graduation.
United States Army ROTC
Army ROTC is a university elective that teaches you the skills needed for a successful career. You'll combine classroom time with hands-on experience, and learn leadership and management skills. And because it's an elective, you can try it out for up to two years. Whatever you decide, the experience you'll gain in Army ROTC will give you the confidence you need to be a success in college and beyond. Whether you choose to pursue a career in the Army or in the corporate world, Army ROTC is "unlike any other college course you can take."
How ROTC Works
While enrolled at Methodist University, you will participate in 1-9 hours of classroom instruction and leadership labs per week. You'll be in the best physical shape in your life by attending physical training 3-4 days per week. And you will receive first-rate Army training in the field every semester.
Your Commitment
Upon graduation, you will be expected to serve in the Army for a total of eight years. Or you may serve part time in the Army National Guard or Army Reserve with a Guaranteed Reserve Forces Duty commission. You may request an educational delay to attend medical, dental, pharmacy, veterinary, law, or graduate school if you choose.
Interested in Methodist University's Military Science & Army ROTC program?
If you have questions, reach out to the contact info below. If you're ready to apply today, visit the link below!
Average Tuition Cost
The average cost for an incoming residential freshman to attend MU is less than $18,000 – similar to the cost of attending one of the big-box public schools, but with the enhanced value of a highly-regarded private school with a 12:1 student-to-faculty ratio.
While tuition varies, depending on a student's financial aid package, it's important to know that the average financial award for an incoming residential freshman at MU is more than $34,000.
Financial Aid & Scholarships
More than 97% of MU students receive some form of financial aid, with the University offering more than $24 million annually to students for scholarships. If a student is active military, family of active military, or a veteran, they may also qualify for MU's military education benefits.
Institutional Awards for ROTC Students
Students who are awarded full-tuition scholarships through Army ROTC or Air Force ROTC will receive the following awards from Methodist University. These awards will replace any previously awarded institutional scholarship/grant funds.
Commuting ROTC full-tuition scholarship recipients in the campus-based program will be awarded a $3,000 per year ROTC Academic Scholarship each year of their ROTC Scholarship.
ROTC full-tuition scholarship recipients who live in on-campus housing will be awarded an ROTC Room/Board Scholarship for each year of their ROTC Scholarship. This scholarship covers the cost of room and board charges each year. The ROTC Room/Board Scholarship will cover the standard double occupancy cost of any residence hall (if available, private room cost is an extra fee) as well as the full cost of any MU meal plan.
Minor Requirements
The Military Science minor consists of 21 credits distributed as follows:
| | |
| --- | --- |
| HIS 4210 The American Military Experience (3) | MSL 3010 Training Management and the Warfighting Functions (3) |
| MSL 1010 Introduction to the Army and Critical Thinking (1) | MSL 3020 Applied Leadership in Small Unit Operations (3) |
| MSL 1020 Introduction to Tactical Leadership (1) | MSL 4010 Mission Command and the Army Profession (3) |
| MSL 2010 Leadership and Decision Making (2) | MSL 4020 Mission Command and the Company Grade Officer (3) |
| MSL 2020 Foundations of Tactical Leadership (2) | |
Note: Credits for MSL 1010, 1020, 2010, and 2020 may be awarded if the student has completed U.S. Army Basic Training and Advance Individual Training as listed on an official Joint Services Transcript (JST). Credits will be determined by the Office of Transfer Student Services.
Contact
Assistant Professor of Military Science