Keith Hardie '19
Hardie became a pioneer of the Engineering program and contributed to the shaping of the new curriculum.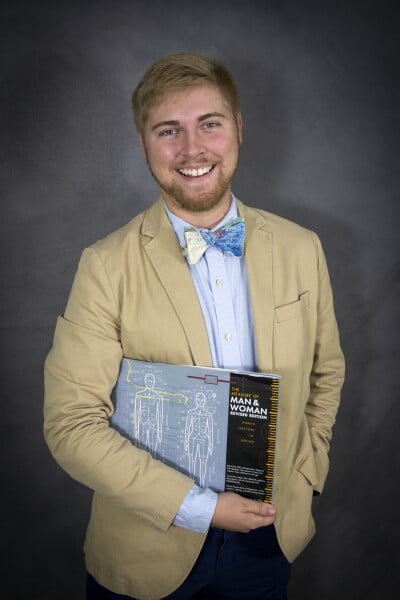 When Keith Hardie '19 first heard of Methodist University, he was reading a pamphlet given to him by Dean of Admissions Jamie Legg during a career fair in Hardie's hometown of Oxford, N.C.
"Jamie convinced me to come down and take a tour. Ever since that day, I've loved Methodist University," Hardie said.
Hardie, who goes by K.J., was an Industrial and Systems Engineering major. He originally came to study Forensic Science, but a conversation in Legg's office changed the direction of his life and brought him to tears. Legg told Hardie about MU's new Engineering Program.
"Jamie asked me what I dreamed of doing. I always wanted to be an engineer and design tennis racquets," said Hardie.
"Well, there's no better place for you than here," replied Legg. "We have one of the few Professional Tennis Management programs in the country, and with our engineering program, you might as well give it a shot," said Legg.
Hardie agreed. There was just one catch, the program didn't start until the following year.
"My first year I was a chemistry major, getting as many classes as I could until the Engineering program began," said Hardie.
Hardie became a pioneer of the Engineering program and contributed to the shaping of the new curriculum. You might recognize Hardie from early MU advertisements for the new program. Dr. Denise Bauer, founding director and chair and associate professor of engineering, called Hardie to discuss what topics and things he would like to take on.
"Dr. Bauer valued my input, and that really made me feel special," Hardie said.
Dr. Bauer has high praise for Hardie.
"He has been a great advocate for the program, a leader among the other students, and took it upon himself to mentor underclassmen in the engineering program he sees may need a little extra guidance," Bauer said. "K.J. was a student we can count on to help the program in any way including sharing his experiences in engineering at Methodist with fellow students, board members, high school students, and parents. K.J.'s engagement from day one has helped the program develop into what it is today."
Hardie was an exemplary student and was heavily involved in campus activities when he wasn't studying or playing tennis.
"The most difficult thing was finding a way to manage my time. There's so much I could have done. I had to pick and choose what I wanted to do," said Hardie.
Hardie was an assistant coach for the tennis program and, after his morning classes, helped run practices. The last four years, he was involved in fraternity and sorority life, in which he served as vice president, and president for his Fraternity, Lambda Chi Alpha. He was also a member of MU's Chorale and Chamber Singers. When asked about Hardie, Dr. Michael Martin, director of the chorale music program said, "'Engaged' is a great word to describe K.J. He was always a contributing member of the Chorale. However, another term for K.J. is 'intentional,'" said Martin.  "There's never been a time where his problem-solving or effort on musical issues was not designed to make us better. He was the epitome of what I expected every member to be in this organization."
Hardie has a passion for music and plays seven different instruments, including the guitar, cello, trumpet, flute, and the not-so-well known mellophone – a mix of trumpet and French horn. He enjoyed listening to music while he studied.
As a graduate of the first engineering class, Hardie cites his two-month internship as one of his proudest and memorable moments. He reported to his internship in Tennessee, where he was put in charge of a $4 million inspection project.
"During my internship, I was there with two engineering students from other schools, one from N.C. State, the other Clemson. I felt equally, if not more, prepared," said Hardie. "I was nervous, but everything my boss asked me to do, I was able to do it. That was eye-opening to see how useful my education was here and how pertinent it was when in practice. My MU education prepared me as well as, if not better than, that of other schools," said Hardie.
Hardie was sent alone to Atlanta to finish out the project and bring it back home to Tennessee.
In class, Hardie and his classmates were assigned the task of solving MU's parking lot congestion. The team designed the color-coded parking system.
"We made presentations to the president of the University, and were able to see our changes the next year. We saw how the program material can make a direct impact. He then laughed and said, "I still got a parking ticket the other day."
Hardie says engaging in Methodist's activities taught him how to communicate effectivity and build relationships.
"I've learned how to lead, especially during my time in fraternity and the marching band, and as an upperclassman on the tennis team. I've learned how to communicate with people and get the results we want. That's a skill – had I not been engaged at Methodist, I don't think I would have learned," said Hardie.
"I've learned to take more of an active role with people, whether it's with my classmates or professors. What determines success is the relationships you make," said Hardie.
"Being able to communicate with others when I need help is something I now do well."