Alex Kachler '20
During his four years at MU, Alex Kachler raised the bar on some of MU's greatest baseball stats.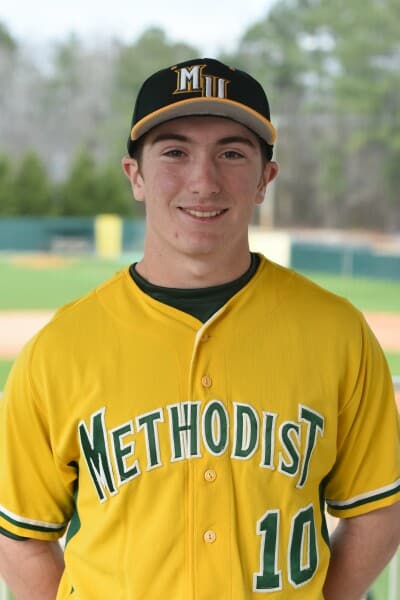 Ask long-time Methodist University Head Baseball Coach Tom Austin about the best players who ever played in his program and he'll recite a who's who of the greats as if calling off the next batting order. Names like Jansen Evans, Jay Kirkpatrick, Mike Brewington, and Danny Hartline roll easily off his tongue. Fresh onto Austin's "greatest lineup" is catcher Alex Kachler '20.
Kachler became the first student-athlete to earn the MU Male Senior Athlete of the Year, the MU Sykes Cup, and the Scholar-Athlete of the Year. While Kachler set new records, he earned the Don Scalf Award, the USA South Athletic Conference's most prestigious award. He was voted CoSIDA First-Team Academic All District, and placed on the Academic All-America Division III Baseball Team. While racking up records on the baseball field, Kachler also earned a 4.0 grade-point average.
Kachler's MU journey started while attending a baseball camp near Charlotte. MU Assistant Baseball Coach Spencer Martin '08 spotted Kachler and invited him to MU's baseball camp. When Kachler set foot on campus, his heart responded with a popular mantra at MU, "It felt like home."
"I know everyone says it, but it's true," said Kachler.
Kachler is described by Austin as thoughtful, analytical, honest, and hard-working. He has a "team-first" attitude, willing to do anything the coach asked him to do. Kachler was a great teammate and player, but what really stuck out to Austin was that Kachler worked hard when nobody was watching. MU's batting cages and facilities are open to any player willing to put in the extra work, and Kachler took full advantage. According to Kachler, one of MU's biggest recruitment attractions was the access to round-the-clock training the program provided.
Kachler started on the MU junior varsity team as a first baseman. But in 2017, the starting catcher went down with a leg injury. Austin knew Kachler had catching experience in high school and called upon him to fill in. What happened next became a part of MU's rich baseball lore. Kachler threw out several base stealers, which surprised everyone (including the coaches). Austin immediately promoted Kachler to varsity and he played the very next weekend.
"You have a professional arm," Austin told Kachler.
Kachler's high school coach had told him that very thing, only Kachler didn't believe it. It wasn't until Austin used those exact words that Kachler believed it.
"It surprised me. He said the words my previous coach said, 'You have a professional arm','' said Kachler.
It was in that moment when Kachler's focus of who he really wanted to become began to shift. He always wanted to play professional baseball, but now he felt validated.
Kachler worked hard and in his second season his batting average jumped from .264 to .397 and his hit total went from 24 to 69. The following year (2019), his batting average climbed to .406 with 67 hits and 54 RBI.
Kachler gives Austin and his staff the credit for his batting IQ. Austin worked pitch selection into every single practice.
"At every plate appearance, Coach Austin taught us to know what the pitcher is trying to do to you and what he may throw, so we're not just swinging blindly out there," said Kachler.
Through Austin, Kachler was connected to the Fayetteville Swampdogs, a collegiate summer league team. There, he learned more footwork and additional catching techniques. He did well, playing in 43 games and finishing with a .333 batting average.
Though the 2020 baseball season was cut short due to the COVID-19 pandemic, Kachler put up numbers that rival professional all-star seasons. Kachler's career 56 doubles is a new MU record. He finished his playing days at MU with a .364 batting average, 183 hits, 147 RBI, and 119 runs scored.
Kachler continues to work hard in the hope of getting his chance to play professional baseball. With his talent and work ethic, the sky's the limit for Alex Kachler.