Rashe Malcolm '05
Rashe Malcolm '05, owner of Rashe's Cuisine in Athens, Ga., is a business owner, community leader, and small-business advocate helping strengthen the food service ecosystem for producers and consumers in her area. But her work started long before she achieved success.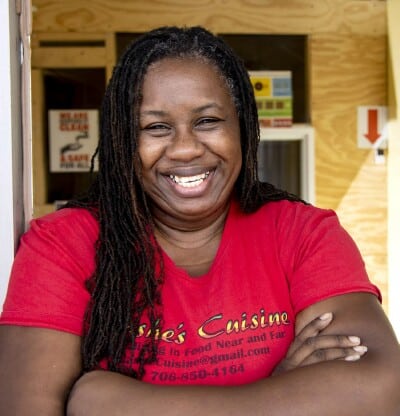 Malcolm grew up in a military family, traveling around the world and eating the local cuisines. As a teenager, she began experimenting with recipes while cooking for family and friends. After high school, Malcolm moved to Jamaica and supported herself by working in a restaurant.
With her culinary experience, Malcolm ended up in Fayetteville for a job in food services at the Cape Fear Valley Health System in 1999. When she was laid off in 2001, she enrolled at Methodist to pursue a degree in Health Care Administration. However, once Environmental and Occupational Management was offered as a program in 2003, Malcolm made the switch. The program was a great match for her experience in the food industry along with her passion for helping others. Malcolm initially planned to become a food industry health inspector after graduation.
Although she was confident in her abilities and ambition, Malcolm's college life was challenging. As a single mother raising two children, she continued catering and even worked as a substitute math and science teacher at Seventy First High School to make ends meet. Malcolm remembers the tough times and teary episodes while she juggled it all to complete the rigorous program. At the 2005 graduation, Malcolm, Debra McHargue '05, and the late Carrie Horne '05 were the first three people to earn a B.S. in Environmental and Occupational Management at Methodist University.
After graduation, Malcolm moved close to her family in Georgia. She quickly landed a job in 2006 with the U.S. Environmental Protection Agency (EPA). During her eight years with the EPA, Malcolm worked as an inorganic chemist, organic chemist, and later as an environmental scientist traveling throughout the Southeastern United States to monitor samples of water, soil, and air. During this time already busy time, Malcolm also got married and completed a master's in Justice Administration at the University of Phoenix.
In 2013, a workplace injury forced Malcolm to rest and to reconsider what truly makes her happy – serving others. After realizing she wouldn't return to the EPA, and after many discussions with her husband, Malcolm took a big leap.
"I did what any normal person would do and took my life savings and opened a restaurant," Malcolm said.
It's no surprise that starting a restaurant is difficult. While Malcolm admits to being stubborn enough to make it work, she also credits her Methodist education and Legal Studies Director, Wendy Vonnegut, for teaching her the importance of doing research for big projects like opening a restaurant.
In 2014, after completing a six-week course at the University of Georgia Small Business Development Center, Malcolm and her husband opened Rashe's Cuisine in Athens. The restaurant specializes in Jamaican cuisine inspired by her family roots and was successful in its first critical year. Malcolm then embarked on the complex process of adding food truck operations to her restaurant. Her degrees, once again, proved to be fruitful as she had to complete multiple steps for health, safety, and mobile food-vending permits.
During the food truck permitting process in 2017, the restaurant experienced catastrophes of epic proportions: there was a gas leak, a subsequent fire, and then a flood which caused the roof to collapse – all within three months. Despite these setbacks, Malcolm and her husband were determined to rebuild the restaurant. Malcolm was forced to rely on research so she could get the food truck on the road to earn revenue.
"Methodist taught me research, research, research. I couldn't have been the only one this happened to, not the only one who was going through this," Malcolm added.
She recalls looking up old public records, talking to people in multiple city and county departments, and navigating the labyrinth of health, safety, and permitting requirements to get her food truck running. Eventually, the restaurant reopened.
Through this work, Malcolm earned a local reputation for perseverance and leadership in Athens. Entrepreneurs came to her for advice on starting and expanding their businesses. She's been more than happy to share what she knows.
Starting in 2017, the Rashe's Cuisine food truck was parked at a new market, street corner, or community park every day – helping Malcolm better understand the nutritional needs of limited-income residents in Athens and Clarke County. She especially noticed the neighborhoods without convenient access to fresh produce, meats, and dairy found in grocery stores. These food deserts, as Malcolm calls them, are often forgotten about since they have convenience stores. But Malcolm mentioned the food sold in these stores is processed and packed with sodium and sugar rather than the fresh nutrients that people need to be healthy.
Malcolm noticed weekly community markets can provide fresh goods where grocery stores do not, but typical markets are only offered in the spring, summer, and fall. This schedule leaves many residents without fresh options for three months of the year. On the other side of the booth, local vendors who rely on weekly markets to start up their customer base are left with a three-month gap in revenue and product exposure.
Seeing this clear gap in the local food ecosystem, Rashe spent the next three years building again. In 2018, she started the Culinary Kitchen of Athens (CKA), which hosts weekly, year-round shared market spaces in the community. Then in 2020, with COVID-recovery grant funding, Malcolm founded Farm to Neighborhood, which provides fresh, pre-packaged, healthy, and affordable mobile meals for limited-income residents in the area. These USDA-approved meals use fresh ingredients from local producers and are sold at weekly CKA markets all year.
Malcolm's influence across the region continues to grow, but she is not in it for the recognition.
"It was never about Rashe. It was about people having better opportunities and opening doors for others," she said.
With her four ventures running smoothly, Malcolm hopes to have a quiet season in her life. Her husband and three children have taken on more operations for Rashe's Cuisine so she can focus more on serving food entrepreneurs and disenfranchised Clarke County residents. Malcolm is already planning her next move, which includes teaching children about the many career opportunities in the food industry.