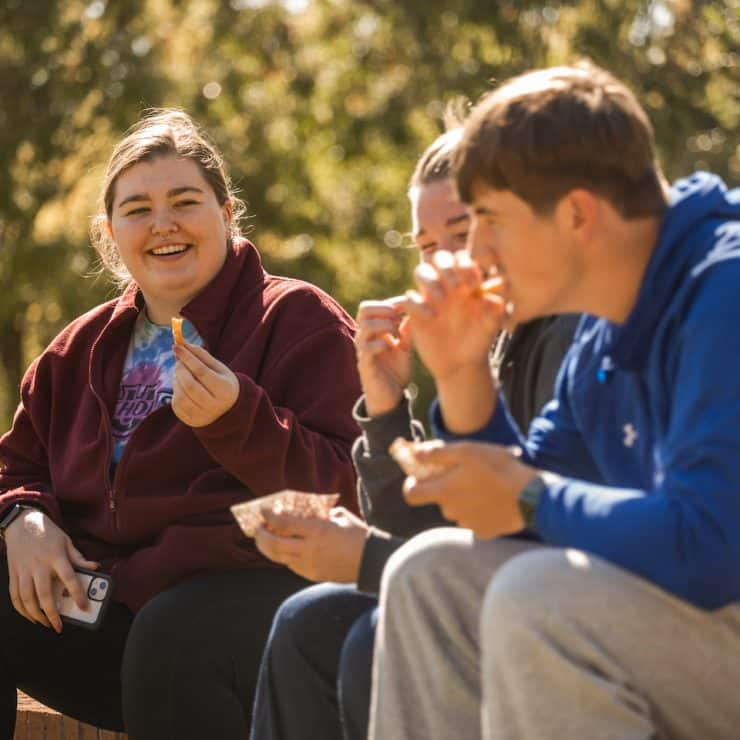 The Campus Engagement Office is home to many student organizations. A recognized organization can be defined as a group of students who have come together in the pursuit of a common co-curricular purpose that engages and supports the mission of Methodist University. Student organizations are supported through Campus Engagement by overseeing the application process for new clubs and organizations, collecting membership rosters, and more. Campus Engagement is also the one-stop of all registered clubs and organizations' officer and advisor contact information.
Methodist University has a robust student organization population. Many organizations can fall within multiple categories.
Academic & Professional – To further knowledge and enhance commitment to future study through affiliation with an academic department, major, or professional organization. To provide a network for students with similar professional interests to learn about future career fields and support students in career and internship aspirations.
Cultural – To educate students on cultures different from their own to enhance their global perspective. To celebrate different cultures' histories and traditions.
Fine Arts – To create and promote the use of creative arts including music, performance, dance, talent, and creative skills.
Government – To promote open-minded public discussion of relevant issues and focus on social support in hopes of providing real-life solutions to topics of interest.
Fraternities and Sororities – To foster the development of their members by promoting the pillars of leadership, service, brotherhood/sisterhood, and academics. Fraternity and sororities promote lifetime relationship bonds of brotherhood and sisterhood.
Programming – To provide activities and entertainment for the campus and community. Sponsored Programs and activities include social, educational, information, or developmental events that contribute to the development of students.
Spirituality – To offer support and educate students about particular spiritual and/or religious practices, philosophies, and/or beliefs through fully student-led organizations.
The Campus Engagement Office is eager and excited to get you involved. Stop by the office in Berns Student Center, or email the Director of the Campus Engagement Office, Aly Magras at amagras@methodist.edu
---
How to start a new club, organization or honor society
If students wish to organize a new club, organization, or honor society, they should talk with the Director of the Campus Engagement Office. Clubs and organizations must meet the following criteria for approval:
Have a written constitution.
Have a membership of ten or more students.
Have a designated Methodist University employee as an advisor.
Register with the Campus Engagement Office by filling out the SOC Application.
Establish a SOC account with accounting for appropriate funding purposes. (This will be done once the SOC Application is complete.)
Students wishing to organize a new club or organization can find the appropriate forms and templates below:
Contact
Director, Campus Engagement