Student Government Association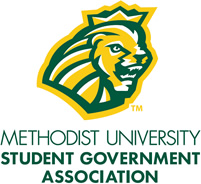 The Student Government Association (SGA) is the voice of the students at Methodist. The Student Government Association has an Executive Board of six student leaders, and a student senate of 22 senators. Senators are elected each Fall and serve a vital role in the SGA. Senators work on initiatives from safety, student engagement, facility updates and more.
Students who are interested in learning more about the Student Government Association are invited to visit the SGA office located inside the Campus Engagement Office in Berns Student Center or email an executive board member with any questions.
Purpose
The purpose of SGA is to serve as elected leaders who uphold the privileges, rights, and responsibilities of the student body, while governing serving as a liaison between the student body and admin at Methodist University.
Vision
We strive to create a campus of engaged students who are empowered to take initiative in enriching their MU Journey.
Officers
President: Josie Samuelian
Vice President: Emily Kuch
Treasurer: Rebekah Haigler
Chief Justice: Ziyanda Khathwane
Speaker of the House: Caroline Stubblefield
Secretary: Brice Herring
Contact
Director, Campus Engagement