Main Services
This number may be used to request emergency assistance or report suspicious or criminal activity at any time. The Telecommunicator who answers will direct the appropriate responders to callers as quickly as possible, but will also ask for critical information. Please answer all questions as accurately as possible and remain on the line until the Telecommunicator advises you it's OK to end the call. If you accidentally dial the emergency number, it's not a problem. Simply explain what happened to the Telecommunicator before ending the conversation.
(Monday – Friday, 8 a.m. to 5 p.m.)
This number may be used to contact the Public Safety Business Office, the Director/Chief of Police, the three Lieutenants (of Police Services, Security Services, and Safety and Support Services) and the Office Manager during regular business hours. Please use this number for information regarding
Campus Parking and Vehicle Registration
University Identification Cards
Lost and Found
You may also ask to be connected to the Police Services Section to obtain a copy of a police report or to speak with a Police Officer concerning an investigation. The Police Office may also be reached directly by dialing 910.630.7661 for these services.
(24 Hours)
This number reaches the Welcome Center, which is staffed at all times. Non-emergency information and assistance may be obtained from the Welcome Center. Community members and guests may request an on-campus security escort at any time. To avoid delays, resident students who are expecting visitors should pre-register their guest(s) at the Welcome Center.
(24 Hours)
This number reaches the Campus Crime Stoppers Hotline. Crime Stoppers callers are able to remain anonymous by calling the hotline number and recording their "tip". Should the caller desire a monetary reward, they must call back during business hours. Callers will then receive a unique code number that will be used as an identifier, thus maintaining anonymity throughout the investigation.
Silent Witness Program
Like Crime Stoppers, Silent Witness provides yet another channel for a person to anonymously report a crime or provide information to help solve a crime. Simply click on the link for the Silent Witness, fill out the form and submit.
Emergency Call Boxes
There are a total of 21 emergency call boxes located throughout the campus (view the map). The emergency call boxes are identified by distinctive blue signs. Call boxes located outside also have a blue light displayed above them. Each emergency call box has two call buttons. Press the BLACK button for non-emergency assistance. Press the RED button for emergency assistance only. Officers will respond to you immediately.
Additional Services
Want to get the scoop on additional services the Methodist University Department of Public Safety offers to the campus community? Well, you've come to the right place! Most services offered are free of charge to students, faculty or staff.
(S.N.A.P.) Student Needs and Assistance Program
Arrangements may need to be coordinated in advance for some circumstances. If the student is injured and needs a ride to and from class, a security officer will be dispatched.  If students need a buddy to walk with them to or from any location or event or campus, a security or police officer will be dispatched.
Vehicle Assistance
University Police Officers are equipped to "jump-start" dead batteries. Vehicle unlocks are only provided in an emergency situation. NOTE: The vehicle's owner or operator must sign a liability waiver prior to assistance being provided.
Lost and Found
The Public Safety Office serves as the primary clearinghouse for lost and found items on campus. Call or stop by our office during business hours (8 a.m. – 5 p.m. Monday – Friday) to inquire about any items you may have lost. Items not claimed within thirty days are donated to local non-profit organizations or destroyed.
Crime Prevention Services
A highly-trained Crime Prevention Officer is on staff to provide safety advice, instruction. and support to the campus community. The Crime Prevention Officer is also responsible for all campus crime prevention programs. (including Operation ID, Student Escorts, Community Crime Prevention Classes, Personal Safety Classes, and the Crime Stoppers Program). The Crime Prevention Office is located in the lobby area of Garber Hall.  The Crime Prevention Officer is available to work with community organizations, RC's and RA's to assist them in programs that are conducive to the health and security of the MU community members. The Crime Prevention Officer will assist all MU community members with tips and training on how to keep your personal belongings secure.  There will be on going classes concerning alcohol awareness, Drug Awareness, Crime Prevention strategies, and Personal Safety awareness.
Fire Safety
The Campus Safety Officer is responsible for all campus fire equipment and inspections thereof. Additional responsibilities include, but are not limited to, fire safety plans/procedures and proper compliance with all local and state fire codes and regulations.
Parking Stickers & ID Card Services
Student, faculty, and staff parking stickers and ID cards are issued at the Public Safety Office Monday – Friday from 8:00 am – 5:00 pm.
University Vehicle/Driver Authorization Program
By utilizing classroom instruction and practical exercises, the University Vehicle/Driver Authorization Program acquaints individuals with some effective defensive and emergency driving techniques. This program is required of all community members/volunteers that are at least 21 years of age and desires to operate a Methodist University vehicle. See full policy.
Operation ID/Report It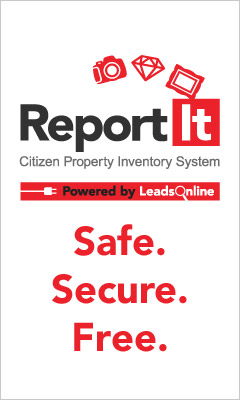 This is a Crime Prevention service offered across the country by numerous law enforcement agencies. The Methodist University Crime Prevention officer is willing to assist students, staff and faculty in logging onto this site if needed.
All items with a serial number can be entered. If those items are ever stolen, law enforcement can obtain the serial number(s) for entry into the NCIC database. This will assist law enforcement nationwide with positive identification of your items should they be found or sold. Go to reportit.leadsonline.com to register your property.
Public Safety Bulletins & Crime Alerts
The Department of Public Safety periodically posts flyers on campus and bulletins via campus e-mail regarding issues of concern, such as theft, suspicious persons or other potential threats to the Methodist University community. These bulletins and alerts are intended to enhance the community's awareness of important issues. Register for MUPAWS.