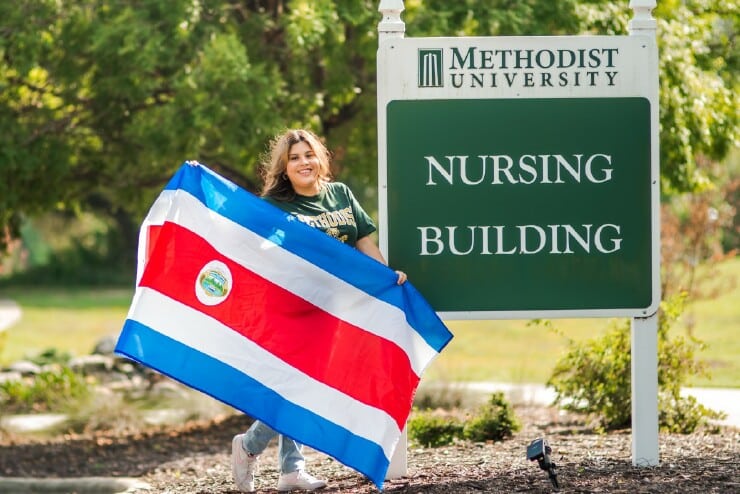 As Methodist University – ranked the "Most Diverse University in North Carolina*" with students representing more than 50 countries – celebrates Hispanic/Latinx Heritage on and off campus, please enjoy this profile and note the DEI event Sept. 20 on campus (details at the end of this feature).
Methodist University senior Carolina Castro entered the world fighting for every second of her life, but that fight is the exact reason she is poised to make a difference in it.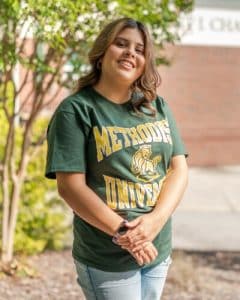 The San José, Costa Rica native was born prematurely at 26 weeks, immediately sending her to the neonatal intensive care unit for several months.
"There was almost no chance of me living," Castro said. "At the time, Costa Rica's medical system wasn't completely prepared for premature deliveries. My parents were scared because they didn't know anyone who had gone through that experience, but their emotional support was the NICU nurses. Thanks to them, I survived."
Castro went onto succeed in the classroom as a child, propelling her interest in education. She earned a spot at the United World College's International Baccalaureate program in Costa Rica – a two-year educational program primarily geared towards teenage international students. From there, she decided to pursue a career in nursing and immediately set her sights on college in the United States.
Castro made the decision to attend Methodist University and it didn't take long for her to make Fayetteville her second home. She quickly got involved with a number of student organizations including Methodist University's National Student Nurses Association, the University's International Club, Alpha Sigma Alpha, Special Olympics, and Rotaract.
She also served as a student worker for the Nursing Department and Housing & Residence Life before working as a Spanish and Nursing tutor for Methodist University's One Stop.
However, Castro's biggest growth came from her education with Methodist University's Nursing program – a department that features five programs for various nursing careers.
"The entire program, including the professors, has been an absolute blessing," she added. "My education here is shaping me to be the best nurse I can possibly be. I haven't only learned how to be a nurse, but how to talk to peers and fellow nurses. On top of that, I've been able to work with Hispanic patients during my clinicals, which has been extremely rewarding to me as a fellow Hispanic."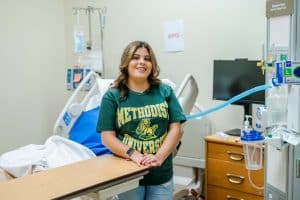 As highly as Castro speaks about MU's Nursing program, the faculty's impact on her as a student is even more noteworthy.
"Carolina is a wonderful student who understands what it takes to be a great nurse," said Dr. Tom Johnston, associate professor of Nursing at MU. "Carolina will make a difference in the nursing profession. Her interest in medical interpreters for patients with limited English is very impressive."
This coming May, Castro is set to earn her bachelor's degree in Nursing with minors in Health Care Administration and Psychology, a crowning achievement she looks forward to because of the connections she has made with the community on campus.
"From my perspective, Methodist University is not just a college, it's become a family the past four years," said Castro.
Following graduation, she plans on staying in the United States as a nurse and hopes to eventually earn a NICU residency – a moment that would certainly bring her life full circle.
"As someone that went through a premature birth firsthand, I feel like I can give back to families and provide that emotional support to parents," she said. "Not only do I want to take care of patients, but I also want to provide hope and comfort to any families who are struggling in that situation."
Celebrating National Hispanic Heritage/Latinx Heritage Month
With National Hispanic/Latinx Heritage Month now underway, Castro is also proud of her heritage as a Costa Rican.
"It's important to always go back to where you were born," said Castro. "I'm excited to represent not just myself, but my country.  Here at Methodist University, it's important to show other people that Latin America is a big part of this world and our culture. I'm proud to be from Costa Rica."
Celebrated through Oct. 15, the next month is designed to recognize the contributions made by people of Hispanic/Latinx descent and to celebrate Hispanic/Latinx culture. The celebration starts on Sept. 15 because that is the anniversary of five Latin American countries' Independence Day: Costa Rica, El Salvador, Guatemala, Honduras, and Nicaragua.
To learn more about the celebration, the entire MU community is invited to the University's Diversity, Equity & Inclusion Lunch and Learn titled "Hispanic/Latinx: The History of Hispanic/Latinx Month from 1968-Present". Students will discuss the history of Latin culture in the U.S. and celebrate the food, music, and overall culture of Latin Americans. The hour-long event, a part of MU's weekly CIRCUIT, will take place on Wednesday, Sept. 20 at 11 a.m. in the Alumni Dining Room.
*Niche College Rankings & Reviews