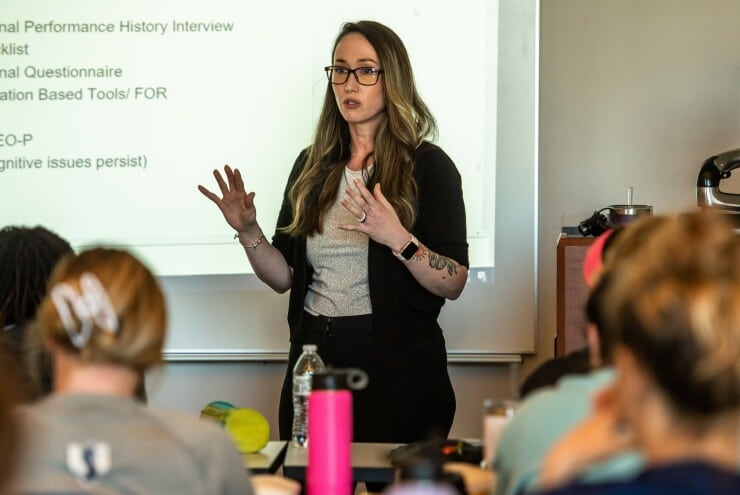 One Methodist University alumna's journey came full circle recently – once again proving that being a Monarch is a lifelong experience.
One Methodist University alumna's journey came full circle recently – once again proving that being a Monarch is a lifelong experience.
After high school, Sam Mitchell '21D served in the U.S. Army Chemical, Biological, Radiological, and Nuclear Specialists unit for 11 years, which included two combat tours to Afghanistan. During one of her tours, Mitchell suffered a shoulder injury – a moment that would end up drastically changing the trajectory of her future.
"I went to physical therapy to treat my shoulder and saw a sign that mentioned occupational therapy. I was so curious about what it was," Mitchell said. "Afterwards, I went home and started researching occupational therapy and I thought it was the coolest way to combine both science and medicine. That's the moment I doubled down and decided I wanted to work in occupational therapy."
After leaving the U.S. Army in 2017, Mitchell added a bachelor's degree to an already-earned associate degree in Biology. She then immediately pivoted to graduate school in 2018, joining Methodist University's inaugural cohort for Doctor of Occupational Therapy (OTD) – a program that has since successfully graduated dozens of students, helping them become experts in illness and disability recovery while improving the health and well-being of people.
For the New Jersey native, the University's OTD program was a match made in heaven.
"I really loved the atmosphere. It was challenging, and to be honest, I felt like there were times I wasn't going to make it," she said. "But I am so thankful for all of the support both the faculty and my classmates provided to help me get to this point."
During her time at MU, Mitchell quickly made an impact. She was the treasurer of the Students of Occupational Therapy Association (SOTA) for three years and later won the OTD Enrichment Award, which awards the student who demonstrates exemplary performances in research.
Mitchell originally considered a return to the U.S. Army after graduating with her doctorate from Methodist University in 2021. But after a series of physicals never panned out, she searched for an alternate direction and was later hired as an occupational therapist at a Hope Mills (N.C.) assisted living facility.
"Everything works out for a reason, and with the job, it had incredibly flexible hours, which opened some other doors for me," added Mitchell.
One of the doors included a teaching opportunity at the same institution that helped Mitchell develop her skills as an occupational therapist – Methodist University. In 2022, she applied for an open adjunct faculty position and earned a gig with the program. Over the course of the 2022-23 academic year, Mitchell devoted some of her time as an adjunct lab assistant and instructor, teaching in some of the same classrooms where she was a student just a few years prior.
"I know firsthand how difficult this program can be, so I know which concepts the students are struggling with the most. It helped me explain solutions in a way that not only worked for me, but also worked for them. I love being able to prepare the next generation of occupational therapists to impact of the lives of other people," Mitchell said.
Mitchell recently accepted a position as an occupational therapist for the U.S. Army's Health and Holistic Fitness program at Fort Liberty. There, she will lead an effort to optimize the performance of soldiers by studying their sleep and mental health.
Although the new role will scale back Mitchell's role at Methodist University, she hopes to return from time to time as a guest lecturer.
"Methodist University has changed my life. I've made strong connections with the faculty, my classmates, and even the current students," she said. "I love how flexible this program is and how they embrace people for who they are. The OTD program also prioritizes diversity because research shows that having a more diverse, healthy, and professional population improves the outcomes of patients. I love this place."
Down the line, Mitchell hopes to earn a doctorate degree in neuroanatomy of human anatomy. In the meantime, she is enjoying her new role with the U.S. Army while spending time with her husband, Eric, and two daughters, 14-year-old Oktober and 10-year-old Haley.