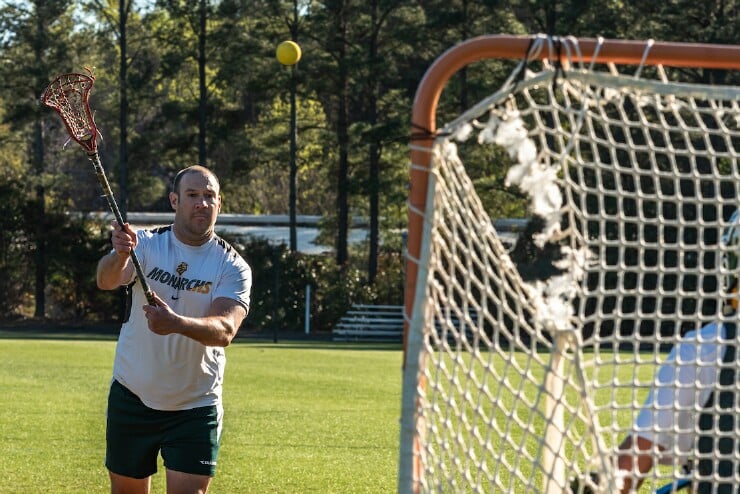 It doesn't take long before you take notice Dr. Cameron Dodworth on Methodist University's campus. It has very little to do with his 6-foot-3-inch frame and a lot to do with his large impact on students' lives.
It doesn't take long before you take notice Dr. Cameron Dodworth on Methodist University's campus. It has very little to do with his 6-foot-3-inch frame and a lot to do with his large impact on students' lives.
Most commonly, Dodworth is known as a professor of English and director for the Center of Research and Creativity at Methodist University. But he wears a variety of other hats at MU including Administrative Cabinet faculty representative, B.F. Stone Lyceum organizer, Sigma Tau Delta advisor, General Shelton Leadership Camp instructor and faculty representative for the women's lacrosse team.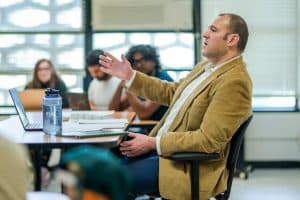 "I obviously like to stay busy," chuckled Dodworth. "But more importantly, I want Methodist University to be successful. I enjoy the students and the people I work with. I simply want to do my part to improve retention and graduation rates so we can be a healthy and strong community at MU."
Specializing in 19th century British literature, Dodworth also relishes the opportunity to teach Gothicism, 19th century art and literature, adaptation studies and food studies in literature. However, he is most proud of his work in making English more relatable to the students.
"I want to meet students where they are, find out what they're interested in and figure out a way to present our material in a way that's going to connect with them," he said. "My classes are discussion-based. Of course, there are times in which a lecture is needed, but I try my best to have conversations with my students and get them involved. I constantly ask myself: How can I make publications that are 200 years or older more interesting and significant?"
For example, for his Victorian Literature class in the fall semester, Dodworth spent a class making Victorian street food and a plum pudding with students – bringing the time period's culture to life. He also utilizes films that can culturally relate to the books students are required to read for class.
"Dr. Dodworth's Literature of Jane Austen and Reading Circle classes are very engaging with plenty of discussions," said junior Madison Hagler, a Biology major. "His classes have helped me step out of my comfort zone and become more involved with my peers while becoming more engaged in the curriculum."
Although Dodworth has been teaching at Methodist University only since 2015, he has seen his students go onto impressive next steps as professional writers, research historians and graduate students.
Most of his time is spent in the classroom, but Dodworth also enjoys his other roles at the University, including directing the 12th annual Center of Research and Creativity Symposium on April 10-14. The week-long event challenges students to apply their knowledge to real-world situations by presenting on a collaborative, interactive project.
"Not only is this a great event for the University, but it allows our students to work hard on something they can use long after they graduate. When it is time to look for a job down the line, they can show a valuable research sample," Dodworth said.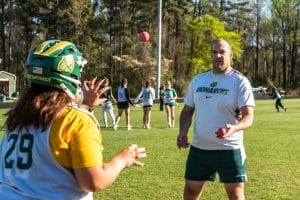 Students also can occasionally find Dodworth at Monarch Stadium, where he supports many of MU's athletic programs – including women's lacrosse. Dodworth volunteers as a faculty representative for women's lacrosse under the University's Faculty Athlete Network, which encourages faculty to build relationships with student athletes by attending some of their practices and games.
"Dr. Dodworth has been a recurring light for us on the women's lacrosse team," said senior Keegan Foyles, a Music Performance (Voice) major. "He's non-judgmental, and his encouraging presence has been wonderful across the last two years. He makes us feel like we have a connection to the broader campus community."
Dodworth also some time for hobbies outside of academic life. He is a proud Nebraska Cornhuskers football and basketball fan, and appreciates traveling, culture and the arts.
But interestingly, Dodworth developed a fiery passion for cooking – working at family restaurants, pizza joints, country club kitchens and hotel restaurant kitchens in his earlier years. In 2020, he earned an associate degree in Culinary Arts from Fayetteville Technical Community College. Now, he cooks up international cuisines in his free time, and even finds time to help out at his wife's restaurant in Raleigh, Lunch Box Deli.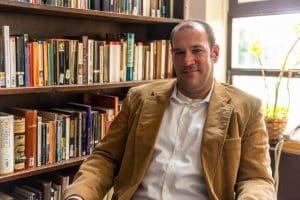 "I enjoy cooking because it's challenging, and it's been a huge constant in my life," he said. "It's fun, thrilling, gut-wrenching and hilarious – and sometimes, all at the same time."
Whether it's cooking or academics, Dodworth's dedication is undeniable – helping him find solace in his role at Methodist University.
Dodworth said, "My job is so much fun. Essentially, I get the chance to talk with young students for an hour each day. There are parts of the job that can be difficult, but teaching is fun as can be."
Anyone interested in Methodist University's English program, may apply today or learn more.