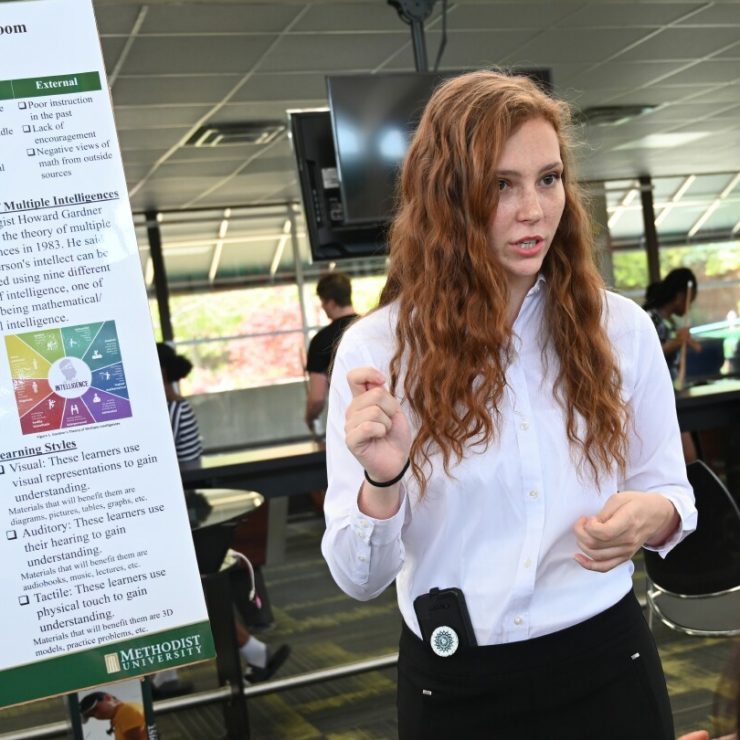 Center for Research & Creativity
Welcome

As an undergraduate at a small, private liberal arts university, I majored in English, history, and French, and I minored in art. In my graduate and postgraduate teaching and research, I have focused on projects in the areas of art, literature, history, film, television, food, adaptations, and the Gothic. Obviously, I am therefore a very strong proponent of interdisciplinary study. I am fascinated by the work of others in disciplines beyond my own primary discipline of English literature, and particularly by those that also incorporate multiple disciplines into their research and studies. Therefore, I am proud to be the Director of Methodist University's Center for Research and Creativity, and I value the opportunities that the CRC can present to our students in their respective areas of study and interdisciplinary study.
The aim of the CRC is to therefore promote research and creativity in all disciplines across our campus, whether that be through our annual Symposium, or through funding creative and research-related pursuits for Methodist University undergraduate students, graduate students, and faculty alike. The CRC will also maintain its focus and emphasis on experiential learning, as well as on collaborative creativity, research, and learning amongst the members of our campus and community.
Dr. Cameron Dodworth
Professor of English
Director of the Center for Research & Creativity
910.480.8571
cdodworth@methodist.edu
12th Annual CRC Symposium
The 12th Annual CRC Symposium will take place April 11-15, 2023 on the Methodist University campus. Follow the link below for more information!
Mission Statement
The mission of the Methodist University Center for Research and Creativity (CRC) is to establish educational opportunities that are collaborative and inquiry-based with the intention that every Methodist University student has access to exploratory learning across the curriculum.
What We Do
Methodist University's Center for Research and Creativity was established to provide its students with the opportunity to participate with faculty members through collaborative projects. Participation in these interactive projects allows for improved student learning as the students apply the concepts introduced in the classroom with real-world application in an academic area of the student's interest. Furthermore, the students will get to interact more closely with their instructors and obtain more one-on-one contact with their project faculty mentor.
Methodist University holds its Undergraduate Research and Creativity Symposium each April. This Symposium allows students to share their research and created projects with their peers, the rest of the MU Community, as well as the surrounding community. The Center also supports students wishing to present their research beyond Methodist, including at the State of North Carolina Undergraduate Research and Creativity Symposium (SNCURCS) and other discipline-specific or professional conferences.
For more information regarding undergraduate research and funding opportunities, please contact Dr. Dodworth at cdodworth@methodist.edu.
Contact the Director
Professor of English; Director, Center for Research & Creativity