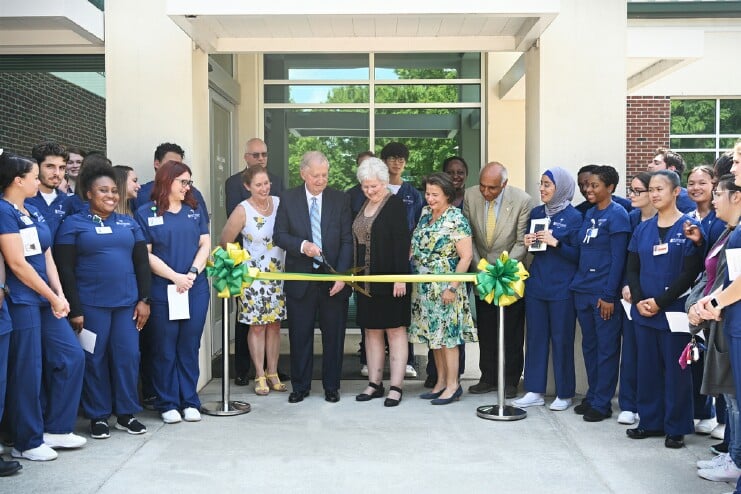 The impact of the Chaffin family on the North Carolina community can be traced back for centuries, and now, their legacy will continue to live throughout Methodist University's campus for years to come.
The impact of the Chaffin family on the North Carolina community can be traced back for centuries, and now, their legacy will continue to live throughout Methodist University's campus for years to come.
On Friday afternoon, Sept. 16, Methodist University held an official ribbon-cutting ceremony that unveiled the new name of its state-of-the art nursing facility at the center of campus, now known as the Robert J. Chaffin Building.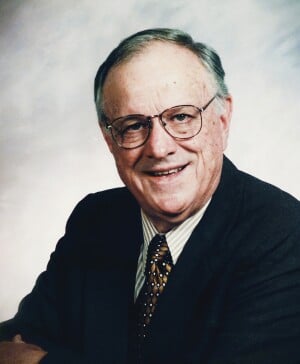 It comes on the heels of a record-setting gift of more than $14 million from the estate of Robert J. Chaffin (pictured at right) following his passing in 2021. More than $12 million of the gift will go directly to student scholarships – with a portion going directly to nursing students – with another $1.5 million designated to name the facility that houses the renowned nursing program.
During the ceremony, Methodist University President Stanley T. Wearden demonstrated his gratitude for the Chaffin family as Chaffin's nephew, Sam Byrd, and his niece, Valerie Chaffin, sat in attendance.
"I want to express my deep appreciation to Robert Chaffin and his family," said Wearden. "This is a once-in-a-career type of gift. It changes the University for the better and will have a lasting impact. This is a very special moment for Methodist University and the Chaffin family."
A few dozen students from MU's Nursing program attended the ceremony and lined up underneath the new building sign that bears Chaffin's name – an unforgettable moment for the Chaffin family.
"I truly didn't understand the impact [Robert Chaffin] had until I got here and saw the building with the nursing students," said Valerie Chaffin. "It's helping me realize his legacy and how important education and scholarships are, especially for nursing students. He made great plans for this gift, and now we're just carrying it out."
"It's important that Bob's legacy continue forward because of his interest in helping young people," said Byrd. "He lived to be 93 and part of that was because he surrounded himself with younger people and the fact that he had a bright, jovial attitude. If he were here, he would say this was beautiful and exactly what he wanted."
Chaffin grew up in the Piedmont Region of North Carolina, where his family has lived since the early 1800s. His great grandfather, W. S. Chaffin, was a circuit preacher and clergyman at Camp Ground UMC in Fayetteville, a place of worship where the Chaffin family has continued to preach, attend, and serve since the 1830s.
He served in U.S. Navy at the end of World War II and later in the U.S. Army. Chaffin would go onto a professional career with savings and loan businesses across Fayetteville, where he also served on multiple boards including Camp Ground UMC.
Chaffin's transformative gift will undoubtedly leave a huge impact on the nursing program, which has an incredible history of preparing students for a career in nursing. On top of an outstanding group of faculty, and a low student-to-faculty ratio, the program's Robert J. Chaffin Building includes a 10,000-square-foot general simulation hospital that includes a discharge area, pharmacy, skills lab, nurse stations, private hospital rooms, triage suit, simulated patients, and much more.
"This gift is incredible for our students and the University," said Dr. Rakesh Gupta, chair of the MU Board of Trustees. "An endowment keeps the cost of education down and changes the trajectory of the University in the short and long term. We will always remember Robert Chaffin."
"Our students know what this means for them in the sense that it gives them the ability to pursue an education at MU," said MU Provost Suzanne Blum Malley. "A donation like this is truly the gift that keeps on giving. We want to give a sincere thank you to the Chaffin family."
Madeline Wilson, one the MU nursing students benefitting from Chaffin's gift, said her dreams are made possible because of his generosity.
"When I joined the nursing program, I had to quit my night job, and The Robert J. Chaffin Endowed Nursing Scholarship will allow me to graduate with my RN-to-BSN this year," said Wilson. "When I see the name Robert J. Chaffin on the nursing building, I will forever remember his impact on me and other students."
---
Photo: During a ceremony on Friday for Methodist University's newly-named Robert J. Chaffin building, Chaffin's nephew Sam Byrd (center left) and niece Valerie Chaffin (center right) are surrounded by students, faculty, and staff as they cut a ribbon to officially signify the naming of the building.