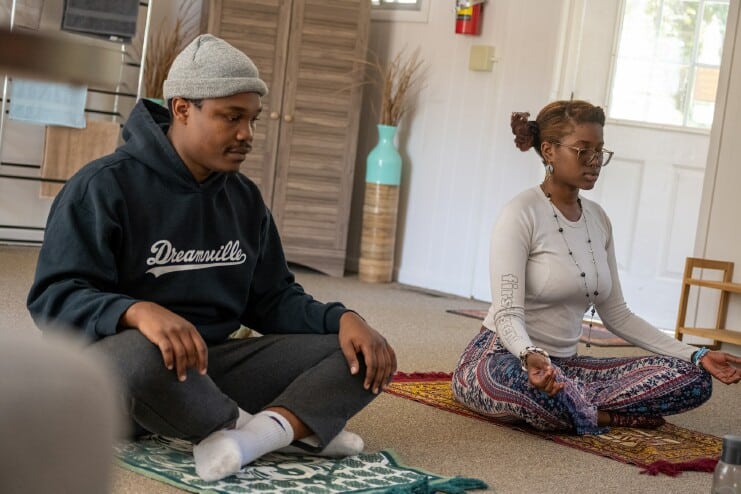 In the midst of the hustle and bustle on Methodist University's campus, sometimes, you just need a place of relaxation and peace – a place to "get away" for a few moments.
In the midst of the hustle and bustle on Methodist University's campus, sometimes, you just need a place of relaxation and peace – a place to "get away" for a few moments.
But there's a chance you don't know about a perfect spot of bliss that's right here on campus. Now, the secret is out: Still Point is one of MU's hidden gems.
Located at Chris' House – across the road from the Cape Fear Commons as you head to the lower athletic fields/golf course – Still Point is a dedicated, neutral, sacred space available for prayer, meditation and relaxation. The space is open 7 a.m. – midnight to the campus community and can't be reserved.
"Whether you've had a tough day, you have a hard decision to make or you simply don't want to be distracted, this is the place for you," said Rev. Kelli Taylor, vice president of mission integration and student well-being and chaplain at MU. "There's not a lot of places like this on campus. I think having this space is important and this space is for you, students."
While not many students are aware of the space yet, there a few who have found Still Point to be a quaint escape from the rest of campus.
"There are times when I need a moment to myself in a place that is quiet, safe and comfortable," said senior Karma Choki, a Nursing major. "Still Point is exactly that place. It's a getaway within the campus, and everyone should use the space more."
Although the space can be used as a place of rest, it's also available to anyone who needs a private space for religious practices. Still Point offers a variety of features including a shoe rack, washing bowl, prayer rugs, storage space, singing bowl, kneeling pillows, furniture, towels, and a wudu for washing.
"As a practicing Muslim, finding a space to pray in between class times is difficult," said sophomore Iqbal Ismaciil, a Nursing major. "The Still Point room allows me to have a space where I can go without being worried about missing any of my daily prayers. I am grateful for it and I highly recommend other students to take advantage of the quietness it provides."
Part of the reason Still Point flies under the radar is the fact it has only been around for a few years. The section of Chris' House that now holds Still Point used to be a hangout area for the Student Activities Committee, which included couches and a student-run coffee shop. Once many of the student activities moved to the center of campus near Berns Student Center, the room transitioned to a place for campus ministry events.
During the 2016-17 academic year, MU saw an influx of 45-50 Muslim students from Saudi Arabia. When they approached Taylor about a place to pray that was devoid of any religious symbols, the University didn't waste any time.
By the fall of 2017, the University opened Still Point in Chris' House. Thanks to Dr. Rakesh Gupta, now chair of the MU Board of Trustees, and the Cumberland Community Foundation, many of the additions you see today were added to the room.
"The [Muslim] students were appreciative of the effort. They really met us halfway without either of us feeling like we compromised in what we believe," Taylor said. "It sparked a lot of conversations that needed to happen. This was one of the conversations that helped spark the name change within our department from Campus Ministry and Interfaith Initiatives to Religious Life."
For more information about Religious Life and other sacred spaces around campus, visit here.