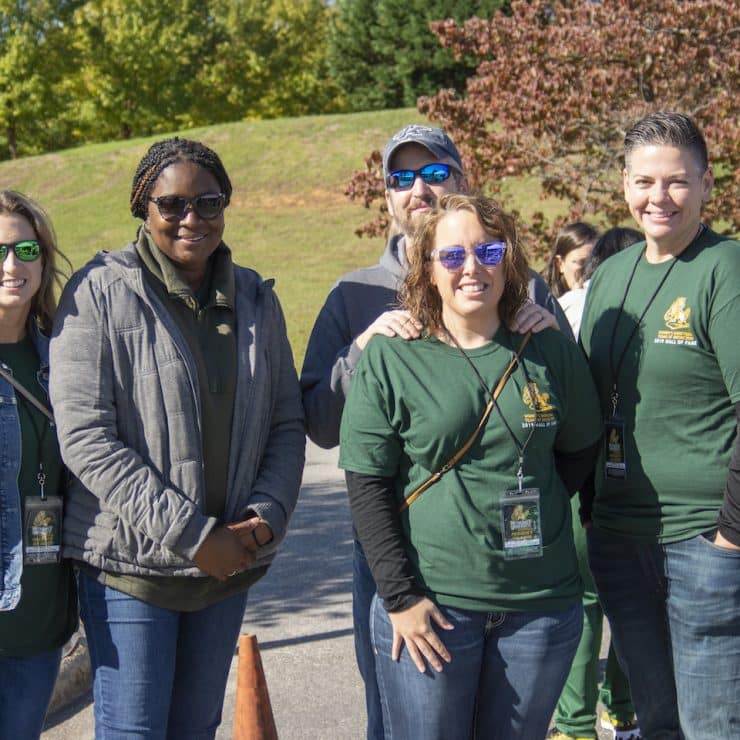 Once a Monarch, always a Monarch. If you're a Methodist University alumni, you have access to a number of benefits. To learn more about each benefit, click the plus sign for the associated benefit.
As an MU graduate, you automatically become a member of the MU Alumni Association. As a member of the Alumni Association, you are represented by a Board of Directors. The Board meets quarterly to identify and implement ways to keep alumni informed and involved. All alumni are eligible to serve on Board committees and as members of the Board.
Make sure we always have your current e-mail address, and you will receive the monthly alumni e-newsletter. The e-newsletter is filled with timely news and useful links to keep you connected to your teams, organizations, faculty, and friends at Methodist!
You can get an alumni parking sticker for your car so you may return to campus anytime you like. All you have to do is come by the Alumni Relations Office in the Mallett-Rogers House Monday-Friday between 8 a.m. and 5 p.m. Please bring your license plate number to fill out the registration form.
As a Methodist University alum, you can give one Greatest Gift Scholarship (GGS) each year to a full-time incoming freshman or transfer student. The Greatest Gift Alumni Scholarship is worth $500 per year and is fully renewable each year provided the student maintains eligibility and renewal requirements.
GGS applications must be received by the Office of Advancement and Alumni Relations by August 1 for fall admission, and by January 2 for spring admission.
Your GGS is a wonderful way for you to share your Methodist University experience with others, so please take advantage of it. All it costs you is 15 minutes of your time to fill out the form! Contact the Alumni Relations Office to give your Greatest Gift!
As an MU alumni, you have on-campus access to Davis Memorial Library and all of its resources for one year following your graduation.
The Methodist University Career Services Office is available to you for life. If you visit Career Services on the MU website, you will find a special area for alumni where you can upload your resume, search for opportunities, and track your job search. As an employer, you may also use the website and Career Services to hire Methodist interns and graduates.
As an alum, you will receive the Methodist University semi-annual magazine, MU Today, which will keep you up-to-date on alumni and campus events. When you find that first job, get engaged, or have children, we invite you to submit a "Class Note" for publication in the magazine to keep your classmates current on all your news. E-mail class notes to alumnioffice@methodist.edu. If you are not receiving the magazine please call us at 910.630.7200.
The Office of Alumni Relations sponsors a number of special alumni events throughout the year, including Homecoming, a golf weekend, the Alumni/Ministers Luncheon at the N.C. Conference of the United Methodist Church Annual Conference in June, and others. We also coordinate alumni participation in service opportunities with your alma mater, including career mentoring of other alumni and MU students, serving as host families to international students, and Monarch Movers.
A new, free benefit for Methodist alumni enables you to become an Alumni Member of the Nimocks Fitness Center. Fill out an application to become a member by clicking on the link below. Dedicated in fall 2007, the Fitness Center offers state-of-the-art aerobic and strength training equipment (with flat-screen HD TVs to watch while you work out), a basketball court, an indoor multi-level running track, men's and women's locker rooms, and a lounge area.
Please fax your application to 910.630.7683 or scan and e-mail it to alumnioffice@methodist.edu.
Between managing your career and juggling the educational needs of your family, you need one less thing to worry about this year.  Whether you want to sign your youngest up for some homework help or dive into a new professional certification program, Varsity Tutors has you covered. Start with a complimentary academic needs consultation and then take 20% off when you sign up for the option that fits you best.
More Information
For more information on any of our alumni benefits please call us at 910.630.7485 or 800.488.7110 ext. 7485, or e-mail alumnioffice@methodist.edu. Feel free to drop by the Alumni Relations Office in the Mallett-Rogers House on campus to pick up your applications, stickers, and other information about MU alumni benefits any time between 8:00 a.m. and 5:00 p.m., Monday through Friday.