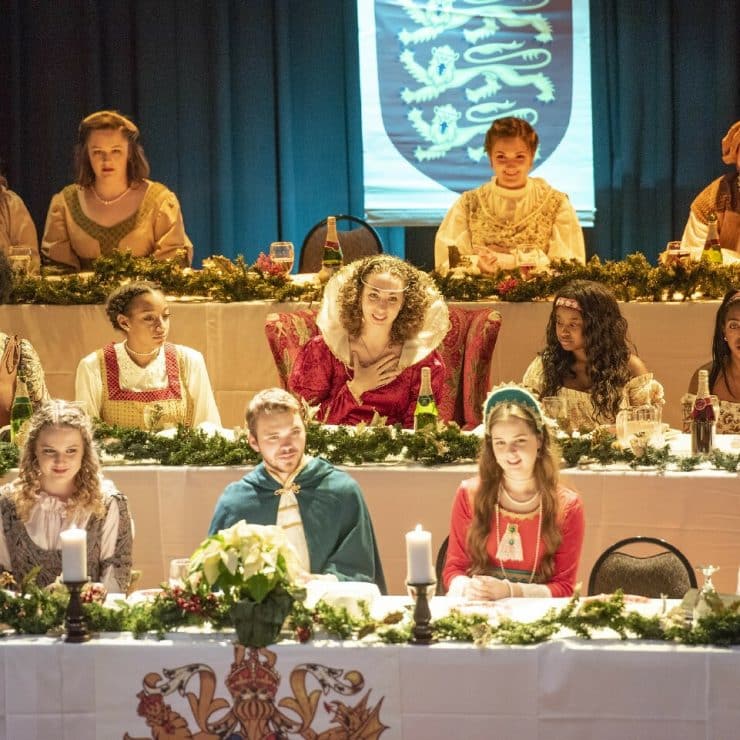 Yuletide Feaste
Please join us for the 10th annual Yuletide Feaste!
History
The history of our Feaste celebration began in 2011 when Dr. Michael Martin wanted to re-create the Feaste celebrations he celebrated at Kent State University. Working with permissions secured by Kent's former director, Dr. C.M. Shearer, the event was able to take place in December, 2011. Costumes were created and coordinated with the help of Ruth Minor and the Gilbert Theater. With a blast of the herald trumpet, Methodist University began their own Feaste celebration!
Now in its 10th season, it is a joint venture between Friends of Music at Methodist and the Methodist University Music Department, with support from Haymount United Methodist Church. Taking its participants and audience back to the time of Queen Elizabeth I, the Yuletide Feaste is a Renaissance-style dinner engagement featuring an elegant four-course meal, a festive banquet hall setting, a large cast of costumed characters straight out of Tudor England, and MU students singing carols appropriate for the Christmas season.
The Court
This season represents our 10th season presenting Feaste with each year becoming more special and diverse. This year will feature:
Queen Elizabeth's court (The Methodist University Chorale)
The Methodist University Chamber Singers
Trumpet Fanfares
Early music provided by our partnership with the Greensleeves Consort
The Evening's Festivities
Pre-Concert
Guests will be treated to preset Centerpieces of Charcuterie boards with small salad plates to self-serve Fresh Fruit & Hard Cheeses, Savory Cured Meats, Marinated Nibbles, Roasted Vegetables, Olives, various types of bread and spreads.

Chamber Singers
Greensleeves Concert
The Greeting
Herald / Steward
The Procession of the Court
Song: "Masters In The Hall"
Herald/Steward
The Procession of the Queen
Steward / Queen Elizabeth I
The Wassail
Song: "The Wassail Song"
Toast to the Queen
Beverages are water, iced tea, and coffee.
The Feaste
Song: "Lord, for Thy Tender Mercy's Sake"
Wassail Bowl Processional
Song: "The Boar's Head Carol"
The entrée will be Grilled Chicken over wilted Spinach with Smoked Gouda and Sun-dried Tomatoes Cream Sauce. The vegetarian option is Grilled Portobello Mushrooms (served upon request – advance notice is needed) with Haricot Verts and Roasted Root Veggies.
The Dessert
Song: "We Wish You a Merry Christmas"
Of course, what Feaste would be complete without a service of Wassail and Flaming Figgy Pudding with custard sauce?
The Post-Feaste Toasts
Courtiers present toasts
The Entertainment
MU Chamber Singers
The Conclusion
Queen Elizabeth
"My Friends We Must Now Leave Thee"
The Queen invites guests to stand and sing the last two verses of "Silent Night."
The Feaste
Our meal is coordinated through Aramark Catering services:
Dates: December 2-3, 2022
Show: 7:30 pm – doors open at 7 pm
Place: Haymount United Methodist Church, 1700 Fort Bragg Rd, Fayetteville, NC 28303
Price: Tickets are $35.00 per person
Tickets
Persons wishing to attend should:
send a physical copy of the

 

registration form and check payable to Friends of Music at Methodist University, writing December 2 or December 3 on the memo/for

 

line to indicate the preferred evening. If you have any difficulties with the online reservation, please use this registration form.
NOTE: The ACTIVE platform offers a type of "refund insurance" before purchasing your tickets. For this event, it is 

optional.

 

Refunds can be processed by request through the Friends of Music by downloading a Form W-9.
In the event of a sellout, the checks of those for whom no seats are available will be promptly returned.
Notices for Guests
Deadline for registration is November 22, 2022 so that food for the event can be ordered.
Please indicate any parties other than your own that you would like to sit with on your order form. We will do our very best to accommodate you.
In keeping with the policies of Methodist University, no alcohol will be served.
Dress is semi-formal. Period clothing is ALWAYS encouraged!
Doors open at 7:00 p.m. and the meal and entertainment will begin promptly at 7:30 p.m. and conclude at 9:00 p.m.
Food is not gluten-free. As with any medical allergies, we ask guests to know their medical conditions and participate appropriately.
Parking at the church is ample with the entrance to the event on the Pearl Street side of the church.
REFUNDS

Should patrons want a refund of their reservation prior to Nov. 21, patrons will need to supply a

 

Form W-9 to the University before receiving their refund.
No refunds are possible after Nov. 22, 2022.