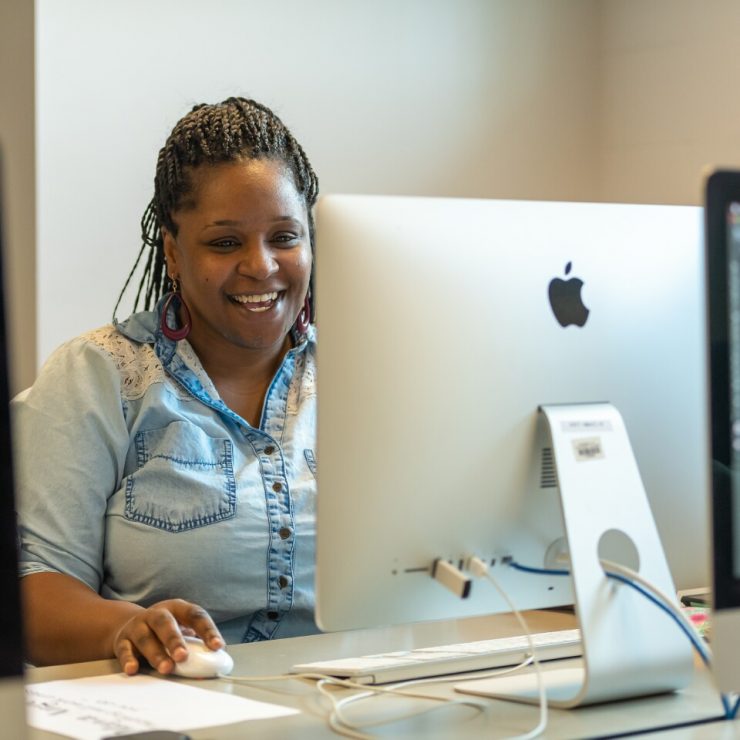 If you have ever tried to persuade someone or explain something in a visual way, you were working with some form of graphic design. Are you intrigued by posters, billboards, menus, … even t-shirts? You may enjoy gaining the creative methods, processes, and talents involved in creating effective graphic design. Class projects in your portfolio will include logo designs, stationery systems, newsletter and magazine layouts, book covers, posters, film and video graphics, package designs, advertising designs, websites, and more. Typography, layout, illustration, and photography will become technical and creative skills. You will choose which skills are appropriate to produce successful solutions for each project. Some projects will help real clients gain attention. Other projects may gain the attention of prospective employers.
Common Salary Ranges for Graduates
The U.S. Bureau of Labor Statistics reports the average annual salary for graphic designers in North Carolina in 2021 to be $53,770.
Average Tuition Cost
The average cost for an incoming residential freshman to attend MU is less than $18,000 – similar to the cost of attending one of the big-box public schools, but with the enhanced value of a highly-regarded private school with a 12:1 student-to-faculty ratio.
While tuition varies, depending on a student's financial aid package, it's important to know that the average financial award for an incoming residential freshman at MU is more than $34,000.
Financial Aid & Scholarships
More than 97% of MU students receive some form of financial aid, with the University offering more than $24 million annually to students for scholarships. If a student is active military, family of active military, or a veteran, they may also qualify for MU's military education benefits.
Interested in Methodist University's Graphic Design program?
If you have questions, see the FAQ below or reach out to Professor Vilas Tonape via his contact info at the bottom of the page. If you're ready to apply today, click the button below!
Program Goals
To meld liberal arts studies from the MU core with art and design history, providing the context for stimulating intellectual and creative inquiry.
To provide foundations and upper-level studio coursework which will develop the students' capacities for all stages of graphic design from conceptualization and aesthetics through craftsmanship of final projects. The coursework will develop the their creativity and time- and project-management skills.
To provide critiques and discussion—with input from both professors and peers—within each studio course. The expectation is that constructive input is received openly and considered within project revisions, as designers have an enormous curiosity about learning different things.
To impart a working knowledge of current industry-standard graphic design software and hardware for production skills and efficiency upon graduates' employment.
To provide professional work experience in the design industry through internships, and/or coursework for off-campus clientele. This will refine the students' portfolios while enhancing their design vocabulary and communication skills.
Frequently Asked Questions
Graphic designers are professional visual communicators who assemble together images, typography, and motion graphics to create a piece of design. Graphic designers often craft visuals for websites, print ads, flyers, social media, graphics, and plenty more.
There are multiple paths in graphic design. Here are some of the position titles:
Graphic designer
Art director
Creative director
Illustrator
Multimedia developer
UX designer
Web/app designer
Photographer
Type designer
Exhibition designer
Environmental designer
It's not expected that entering students are artists … but the interest helps! There are two required drawing courses in the program. Some graduating graphic designers are excellent with drawing. Some are excellent in photography. Some are excellent with typography. The point is Methodist University instills a great foundation in all of these areas. The students' interests and skills then drive their individual focus for developing their graduating portfolios.
Many choices here, directed by your interest. Choose minors based on what excites you the most, then find employment that would have excitement about those same skills … you will have a happier career for it! Here are some good choices:
Marketing
Computer Science
Mass Communications
Foreign Language (Spanish recommended)
English (emphasis on writing)
Psychology
Definitely! A recent survey by Glassdoor, Inc. stated that 81% of graphic design employers look for applicants with at least one year of experience. Summer internships are a great help! Many graphic design majors look in their hometown areas or other metro spots for summer opportunities. Methodist University can help you to find positions!
The MU catalog requires graphic design majors to purchase MacBook Pros and also to subscribe to Adobe's Creative Cloud. Both have student discount pricing available and both are required during your sophomore year … although the sooner the better! Two other requirements: an external portable drive (1-2 TB) and a digital (DSLR) camera of at least 10 megapixel resolution. The camera is required for a fall course in your junior year. Students have purchased both used and new cameras. Faculty can help you with all of these decisions when you are ready.
Contact
Assistant Professor of Graphic Design