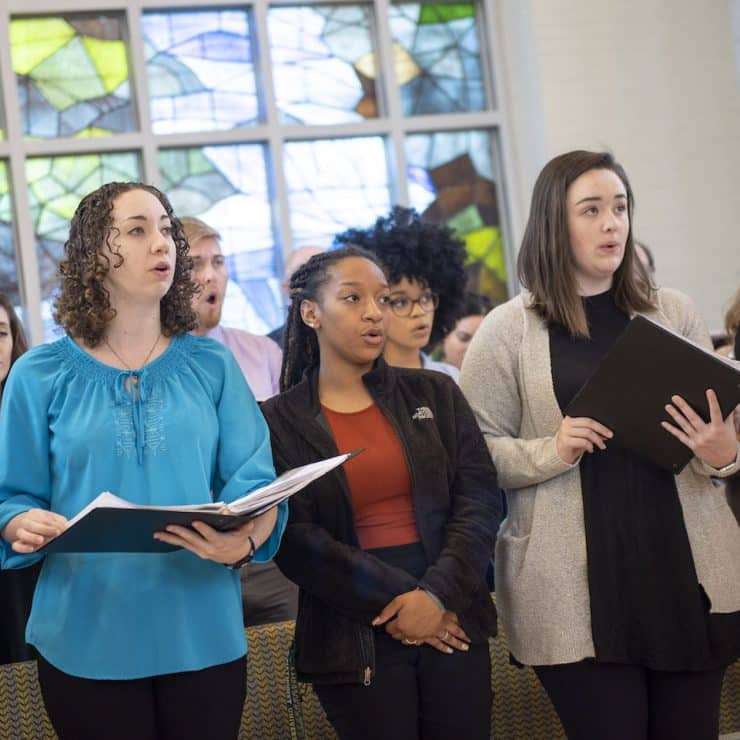 The Church Leadership minor prepares students for lay positions within established churches, mission organizations, para-church ministries, camps, youth ministries, and other ministries.
Common Career Paths
Some of the top jobs for those with a Church Leadership educational background include religious director, religious worker, philosophy and religion teacher, missions executive, and so much more.
Common Salary Ranges for Graduates
As mentioned above, there's a long list of career opportunities for those with a Church Leadership educational background. But, the U.S. Bureau of Labor Statistics reports the average annual salary for the following positions (which may require additional education) in North Carolina in 2021:
Religious activities and education director: $78,690

Religious worker: $33,680
Philosophy and religion teacher: $82,720
Average Tuition Cost
The average cost for an incoming residential freshman to attend MU is less than $18,000 – similar to the cost of attending one of the big-box public schools, but with the enhanced value of a highly-regarded private school with a 12:1 student-to-faculty ratio.
While tuition varies, depending on a student's financial aid package, it's important to know that the average financial award for an incoming residential freshman at MU is more than $34,000.
Financial Aid & Scholarships
More than 97% of MU students receive some form of financial aid, with the University offering more than $24 million annually to students for scholarships. If a student is active military, family of active military, or a veteran, they may also qualify for MU's military education benefits.
Interested in Methodist University's Church Leadership minor?
If you have questions, reach out to Dr. Andrew Ziegler using the contact info at the bottom of the page. If you're ready to apply today, visit the link below!
Frequently Asked Question
Yes, Methodist University continually has women in the Church Leadership program. Methodist University does not discriminate on the basis of age, race, gender, national or ethic region, religion, sexual orientation or disabilities in its programs and activities.
Minor Requirements
The minor in Church Leadership consists of 18 s.h. distributed as follows:
Required Core Courses
LSS 3000 Principles of Leadership (3 s.h.)
LSS 3500 Youth Ministry Leadership (3 s.h.)
LSS 4600 Church Leadership (3 s.h.)
LSS 4700 Senior Internship (3 s.h.)
Religion Course
Select 3 s.h. from the following:
REL 2010 Survey of the Hebrew Bible (3 s.h.)
REL 2020 Survey of the New Testament (3 s.h.)
Interdisciplinary Electives
Select 3 s.h. from the following:
ACL 3600 Exploring Cross-Cultural Communication (3 s.h.)
ACL 3900 Collaborative Conflict Management (3 s.h.)
LSS 3250 Theories and Techniques of Leadership (3 s.h.)
LSS 3400 Issues in Contemporary Leadership (3 s.h.)
LSS 3750 Future-Oriented Leadership (3 s.h.)
LSS 4850 Special Topics (or LSS 2850) (3 s.h.)
SWK 3150 Helping Processes (3 s.h.)
Total: 18 s.h.
With the approval of the program director appropriate courses may be substituted.
Contact
Professor of Political Science; Director, Tally Center for Leadership; Lura S. Tally Professor of Leadership