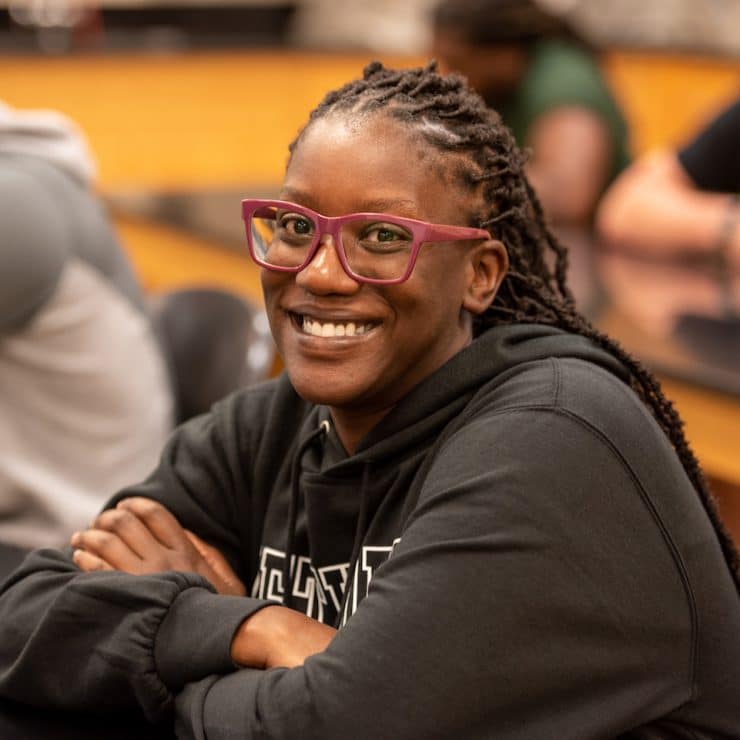 Curriculum Plans
Three different plans based on a student's incoming freshman math course are provided below. These plans are only examples as there are many paths a student may take to complete the degree and do not substitute for the semester-by-semester advising appointments with an engineering faculty member.
---
Major Requirements
Engineering Core
Required Engineering (EGR) Courses
EGR 1100 Introduction to Engineering I (3 credits)
EGR 1200 Introduction to Engineering II (3 credits)
EGR 2100 Engineering Mechanics (3 credits)
EGR 2300 Materials (3 credits)
EGR 3100 Engineering Economy (3 credits)
EGR 3200 Electrical Engineering Principles (3 credits)
EGR 3310 Engineering Probability and Statistics I (3 credits)
EGR 3320 Engineering Probability and Statistics II (3 credits)
EGR 4900 Engineering and Society (3 credits) (writing intensive course)
Senior Capstone Experience* (3 credits)
* The Capstone Experience course is based on a student's major(s):
Engineering majors (no double major):  EGR 4910
Engineering and Mathematics double majors: MAT 4800
Engineering and CSC/CIT double majors: CSC 4900
Other double majors: Consult the Department of Engineering for the appropriate course.
Required Mathematics Courses
MAT 2310 Calculus I (3 credits)
MAT 2320 Calculus II (3 credits)
MAT 3090 Calculus III (3 credits)
MAT 3100 Calculus IV (3 credits)
Required Science Courses
CHE 1510 General Chemistry I (4 credits)
PHY 2510 General Physics I-Calculus Based (4 credits)
PHY 2520 General Physics II-Calculus Based (4 credits)
Required Economics Course
Select one course from the following:
ECO 1510 Principles of Macroeconomics (3 credits)
ECO 1520 Principles of Microeconomics (3 credits)
Other Major Requirements
ENG 3210 Technical Writing (3 credits)
Industrial & Systems Engineering Concentration
Required Industrial & Systems Engineering Courses
ISE 3200 Work Analysis and Design (3 credits) (writing intensive course)
ISE 3300 Operations Research (3 credits)
ISE 3500 Ergonomics and Safety (3 credits)
ISE 4200 Product Engineering (3 credits)
ISE 4310 Engineering Management (3 credits)
ISE 4320 Systems Engineering (3 credits)
Engineering Elective (choose a minimum of 3 credits)
CSC 2010 Introduction to Computer Science (3 credits)
CSC 2020 Introduction to Programming (3 credits)
EGR 4850 Engineering Special Topics (3 credits)
EGR 4990 Independent Study in Engineering (1-4 credits)
ISE 4400 Design of Experiments (3 credits)
ISE 4850 Industrial & Systems Engineering Special Topics (3 credits)
EGR 4990 Independent Study in Industrial & Systems Engineering (1-4 credits)
Required Mathematics Course
MAT 3120 Linear Algebra (3 credits)
Mathematics/Sciences Elective
Choose a minimum of one mathematics/science course for a minimum of 3 credits (see

 

academic catalogue

 

for list of previously approved courses)
Additional General Education Requirements
Interdisciplinary Studies
MUJ 1100, 2200, 3300 MU Journey
IDS 2100 Reading Circle
Computer Competency
CSC 1000 Computer Literacy
Communications
ENG 1010 Composition
ENG 1040 Composition and Rhetoric
ACL 1500, 1510, 3540, or 3600
Global Perspective Elective
Choose any 3 semester hour course from the

 

approved list

 

in the

 

academic catalog
Humanities
Any literature (ENG) course 2000 or higher except ENG 3610 or 3620
History (HIS) course
Religion (REL) course
Fine Arts Appreciation (choose one option)
Wellness (choose one option)
Library Competency
Completed in MUJ 1100 or by signing up for a workshop in the library (no credit, but required for graduation)