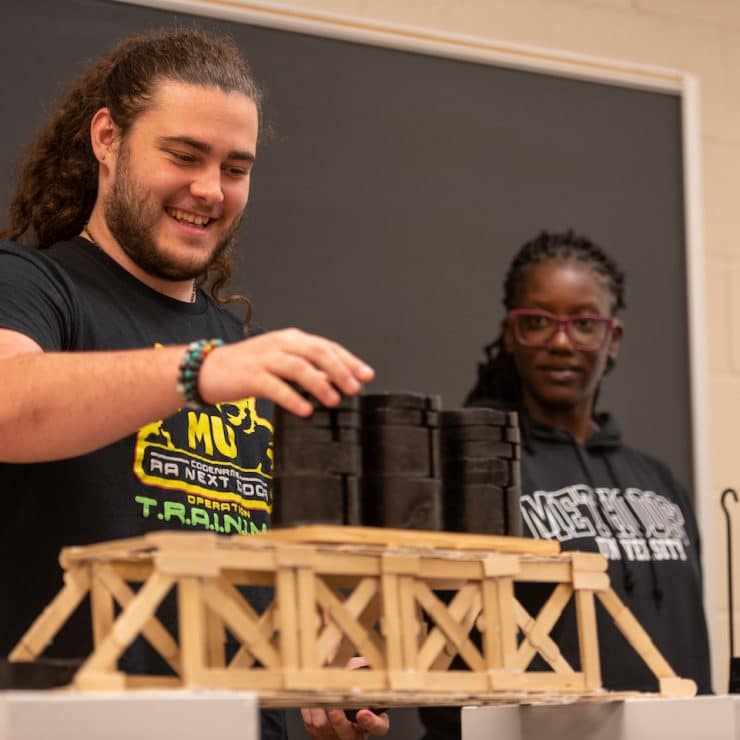 Engineering is an exciting and versatile profession that is involved in almost every aspect of our daily lives and has a great impact on humanity. Through Methodist University's Engineering program, students can become a well-rounded, sought-after engineer by both traditional and non-traditional employers.
As a small, private liberal arts university, Methodist University is the perfect place to study engineering. The department is committed to maintain Methodist's low student to faculty ratio, which results in individualized learning, tailored mentoring, and closer connections with fellow classmates. Methodist's Department of Engineering also embraces a community-learning environment where students work closely together as well as experience one-on-one contact with the engineering faculty in and out of the classroom.
Common Salary Ranges for Graduates
There's a long list of career opportunities for those with Engineering degrees. The U.S. Bureau of Labor Statistics reports the average annual salary for the following positions (which may require additional education) in 2021:
Industrial engineer (pipeline transportation of crude oil): $187,050
Industrial engineer (securities, commodity contracts, and other financial investments and related activities): $149,010
Industrial engineer (aerospace product and parts manufacturing): $106,040
Engineer (scientific research and development services): $121,330
Engineer (architectural, engineering, and related services): $97,630
Average Tuition Cost
The average cost for an incoming residential freshman to attend MU is less than $18,000 – similar to the cost of attending one of the big-box public schools, but with the enhanced value of a highly-regarded private school with a 12:1 student-to-faculty ratio.
While tuition varies, depending on a student's financial aid package, it's important to know that the average financial award for an incoming residential freshman at MU is more than $34,000.
Financial Aid & Scholarships
More than 97% of MU students receive some form of financial aid, with the University offering more than $24 million annually to students for scholarships. If a student is active military, family of active military, or a veteran, they may also qualify for MU's military education benefits.
Interested in Methodist University's Engineering program?
If you have questions, see the FAQ below or reach out to Dr. Denise Bauer at her contact info at the bottom of the page. If you're ready to apply today, click the button below!
Frequently Asked Questions
An engineering degree puts you in good stead in the jobs marketplace. Not only can you find employment as an engineer in your type of engineering, you can also find other jobs that take advantage of your training and skill set. These can include technical writer, machinist, IT consultant, and electronics technician.
Smaller class sizes means more individualized learning
Direct contact with the engineering faculty in and out of the classroom
Close connections with your classmates
Interaction with students, faculty, and organizations from across campus
Local service-learning projects
Internships at local, national, or international companies
Curriculum allows each student to focus on their own interests within the major
You should take all math classes that you can and be sure to take a math class your senior year (preferably Calculus if you are able). This is also true if you are interested in any science, technology, engineering, and math (STEM) area. Chemistry and physics are also courses that will help prepare you for engineering.
No. If you are admitted to Methodist University, you can immediately declare engineering as your major. It is beneficial for you to decide on majoring in engineering early as many courses have prerequisites that you must take in order.
Yes. Many of the current engineering students are athletes. We work with you to have your heavier load semester in the off-season. The coaches are also aware that you will be required to take lab courses. Majoring in engineering is also like playing a team sport – you all are working together on projects, understanding material, and getting to graduation.
The Department of Engineering and the Department of Mathematics allow certain courses to go toward both the engineering requirements and mathematics requirements so that a student may complete the engineering and mathematics degrees (Bachelor of Science in Engineering and Bachelor of Science in Mathematics) with minimal extra course requirements. If you are interested in a double major in Engineering and Mathematics, please contact either department for more information and a complete list of course requirements in both majors.
No, presently, we do not offer online or night classes.
Yes, Methodist University requires a laptop for all students. The recommended specifications are listed here (computer list site). While there are engineering computer specifications, if you are not able to purchase a computer with the engineering specifications, there is an engineering computer lab available to all engineering students that contains computers with all necessary software. The software is available to download to your laptop as well (with minimum specifications).
Yes, but not a specific calculator. For engineering classes, you only need a simple scientific calculator like the Casio FX-115 and FX-991 models, TI-30X and -36X models, and HP 33s and 35s models. These models are allowed on the Fundamentals of Engineering exam.
Contact
Head, Division of Engineering & Environmental Studies; Founding Director, Chair & Professor of Engineering