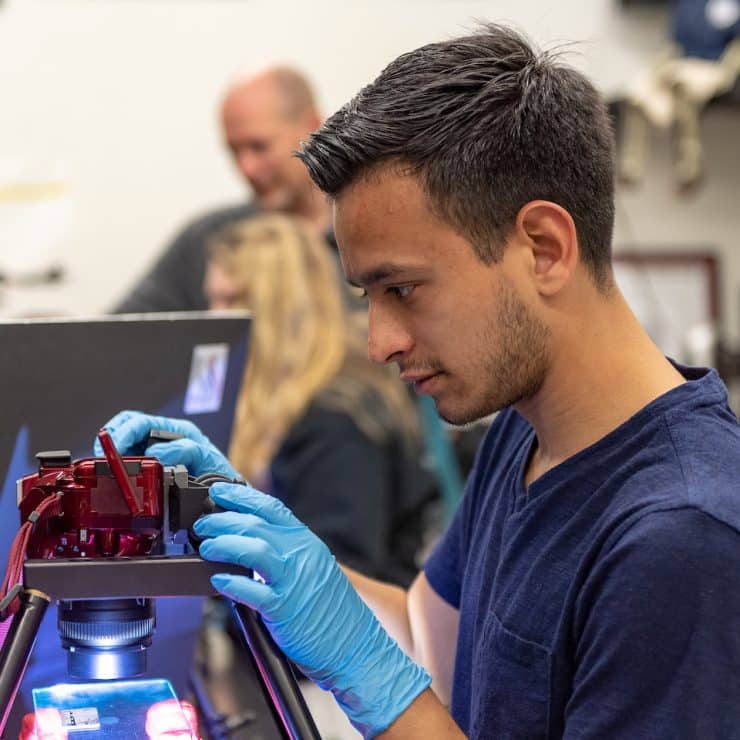 The Forensic Science (CSI) major is part of Methodist University's Justice Studies program, whose purpose is to provide students with a holistic view and understanding of forensic science from the crime scene to the courtroom. The exciting, hands-on program perfectly blends theory and knowledge with the abilities to perform key and essential actions at crime scenes, crime reconstruction scenes, and performing forensic analysis of certain types of physical evidence. Students are trained to work in all aspects of law enforcement, crime scenes, and forensic science.
Common Career Paths
Some of the top jobs for those with Forensic Science (CSI) bachelor degrees include fingerprint technician, crime scene investigator, forensics specialist, crime laboratory analyst, and much more.
Common Salary Ranges for Graduates
As mentioned above, there's a long list of career opportunities for those with Forensic Science (CSI) degrees. But, the U.S. Bureau of Labor Statistics reports the average annual salary for the following positions (which may require additional education) in North Carolina in 2021:
Detective and criminal investigator: $90,370

Forensic science technician: $66,850
Average Tuition Cost
The average cost for an incoming residential freshman to attend MU is less than $18,000 – similar to the cost of attending one of the big-box public schools, but with the enhanced value of a highly-regarded private school with a 12:1 student-to-faculty ratio.
While tuition varies, depending on a student's financial aid package, it's important to know that the average financial award for an incoming residential freshman at MU is more than $34,000.
Financial Aid & Scholarships
More than 97% of MU students receive some form of financial aid, with the University offering more than $24 million annually to students for scholarships. If a student is active military, family of active military, or a veteran, they may also qualify for MU's military education benefits.
Interested in Methodist University's Forensic Science (CSI) program?
If you have questions, see the FAQ below or reach out to Dr. Steve Downs using his contact info at the bottom of the page. If you're ready to apply today, click the button below!
Frequently Asked Questions
Typically, Forensic Scientists need at least a bachelor's degree in a field related to forensic science. Fortunately, Methodist University's program specializes in Forensic Science (CSI), putting you at a distinct advantage compared to other graduates interested in the field.
Many industry experts within the forensic science field say you need at least a bachelor's degree in a related field. However, those who obtain a Forensic Science (CSI) bachelor's degree from Methodist University have a distinct advantage when looking for a success career in forensic science.
Meet a Recent Forensic Science Graduate
Justice Studies Affiliations
Contact
Associate Professor & Director of Forensic Science