At MU, we've created a comprehensive program regarding the complete forensic science process from crime scene to courtroom. Students study law enforcement procedures, crime scene investigation, forensic firearms, behavioral analysis/profiling, forensic photography, and other investigative concepts.  MU provides a solid base of comprehension and understanding of how all of the varied entities and components of the criminal justice and forensic science communities operate jointly to solve our nation's largest crimes and mysteries.  MU instills in its applied forensic science majors the tools to become future leaders of the forensic science and law enforcement professions in our nation.  Many other universities have forensic science programs, but most offer only biology, chemistry, or anthropology degrees. Community colleges often offer fingerprint examiner curricula, but none offer such a well-rounded and comprehensive blend of courses that we offer here at MU.
Class size is limited so that you receive personal attention from professors who have decades of real world experience in law enforcement and forensic science throughout the program to ensure your comprehensive applied forensic science education and training. Last but certainly not least, the applied forensic science program here at MU offers you the opportunity to conduct an internship with an actual police department to review and analyze an actual cold homicide case and at the end of the semester provide your findings and conclusions to the Chief of Police and Chief of Detectives so that they can determine if reopening the cold homicide case is feasible at that time. MU students have assisted several law enforcement agencies in solving their cold cases and other agencies are asking for future assistance in this venue as well.
State-of-the-Art Equipment
The two forensic science labs are fully equipped with high-end forensic science equipment that students utilize during their journey here at MU in the forensic science program.
Off-site Visits
Students visit government and private forensic labs where they receive tours to better understand crime scene products, training requirements, and the application process for a career in forensic science. Students also visit local, state, and federal law enforcement agencies and training facilities including the FBI Academy in Quantico, Va.
Internships
Off-campus visits best prepare the student for applying for internships and begin the professional network for future employment. Students have conducted internships with local police departments and CSI units, at the NC state forensic lab, in Ohio at a lab conducting arson evidence examinations, in Miami with a police department, Las Vegas, and at the Federal Law Enforcement Training Facility in Georgia.  Students have conducted internships with medical examiners and coroner's offices across the nation as well.
Delta Delta Epsilon (ΔΔΕ) Honors Society Pi Chapter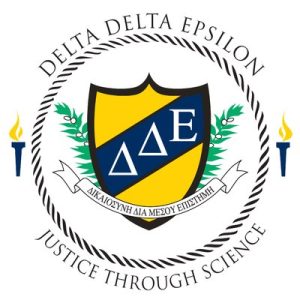 Delta Delta Epsilon, the international forensic science honor society, was founded in 2010 by the Forensic Science Institute at the University of Central Oklahoma. This is second induction ceremony for the Pi chapter at Methodist University. Students invited into the society are studying within the discipline of Forensic Science Program. Membership in the Society is open to qualified candidates including persons with disability, without regard to age, color, gender, national origin, race, religion, and/or sexual orientation.