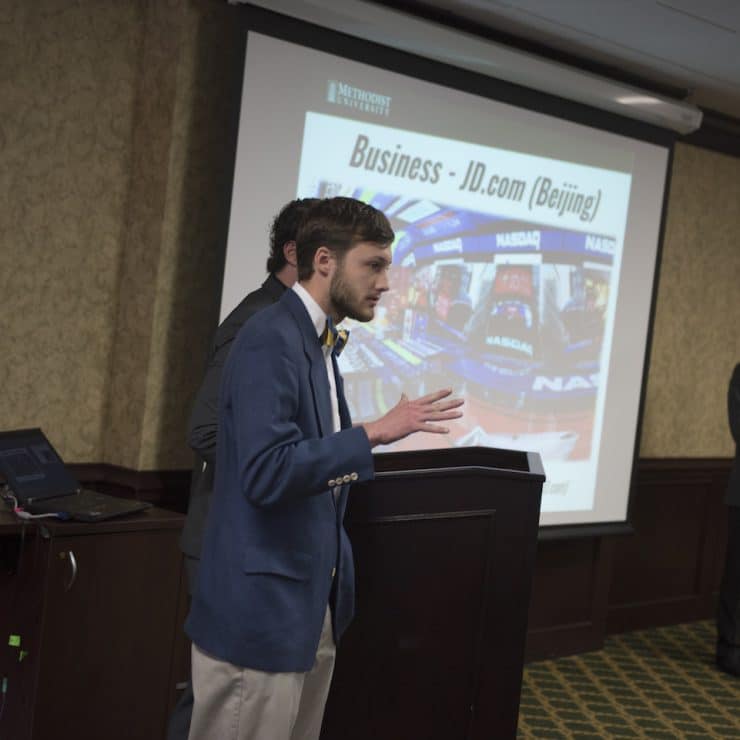 Demand is increasing for people with the knowledge of the international environment within both domestic and foreign businesses. At Methodist University, you can create a professional advantage for yourself by earning a minor in International Business. With it, you'll gain access to language proficiency, cultural sensitivity, and multinational knowledge. Methodist University's International Business minor can be used to strengthen any major.
Common Career Paths
Some of the top jobs for those with an International Business minor include financial analyst, marketing manager, accountant, human resources manager, and much more.
Common Salary Ranges for Graduates
As mentioned above, there's a long list of career opportunities for those with International Business minors. But, the U.S. Bureau of Labor Statistics reports the average annual salary for the following positions (which may require additional education) in North Carolina in 2021:
Financial analyst and advisor: $106,340

Marketing manager: $153,440
Accountant and auditor: $83,980
Human resources manager: $136,590
Average Tuition Cost
The average cost for an incoming residential freshman to attend MU is less than $18,000 – similar to the cost of attending one of the big-box public schools, but with the enhanced value of a highly-regarded private school with a 12:1 student-to-faculty ratio.
While tuition varies, depending on a student's financial aid package, it's important to know that the average financial award for an incoming residential freshman at MU is more than $34,000.
Financial Aid & Scholarships
More than 97% of MU students receive some form of financial aid, with the University offering more than $24 million annually to students for scholarships. If a student is active military, family of active military, or a veteran, they may also qualify for MU's military education benefits.
Interested in Methodist University's International Business minor?
If you have questions, see the FAQ below or reach out to Dr. Matt Dobra using the contact info at the bottom of the page. If you're ready to apply today, visit the link below!
Frequently Asked Question
Adding International Business to your repertoire is a great idea for students. Not only does it give them a broader view of the world as a whole, but it better prepares them for a variety of careers with high salaries and job security.
International Business Requirements
Requirements for the International Business program at Methodist University consists of 18 semester hours across both required courses and electives. With instructor or department chair/school dean approval, courses may be substituted for electives.
Required Courses
Select one course (3 s.h.) from the following:
BUS 3310 Fundamentals in International Business (3 s.h.)

BUS 3330 Fundamentals in International Business (3 s.h.)
Select three courses (9 s.h.) from the following:
ACC 1510 Principles of Financial Accounting (3 s.h.)

ACC 4620 International Accounting (3 s.h.)

BUS 3310 Fundamentals in International Business (3 s.h.)

ECO 1510 Principles of Macroeconomics (3 s.h.)

ECO 4200 Comparative Economic Systems (3 s.h.)

ECO 4520 International Trade and Finance (3 s.h.)

ECO 4650 Economic Growth and Development (3 s.h.)

ENP 3300 International Entrepreneurship (3 s.h.)

MKT 4100 Global Marketing (3 s.h.)

Any course taken as part of a faculty-led RSB Study Abroad, or up to six s.h. of any RSB Internship at a pre-approved International site.
Elective Courses
An additional two courses (6 s.h.) may be chosen from the courses listed above or from the following:
ACL 3600 Intercultural Communication (3 s.h.)

ENM 2510 Caribbean Natural Resources and Law (LAW 2510) (3 s.h.)

GEO 2520 Regional Geography (3 s.h.)

HIS 2170 Race, Ethnicity, and Global Perspective (3 s.h.)

HIS 3010 Modern Asian History (3 s.h.)

HIS 3050 Islam and the Islamic World (3 s.h.)

HIS 3310 Topics in Latin American History (3 s.h.)

HIS 3700 Contemporary World History (3 s.h.)

HIS 4110 Modern Russia (3 s.h.)

IDS 3550 Study Abroad (3 s.h.)

PSC 2270 Comparative Politics (3 s.h.)

PSC 3510 International Relations (3 s.h.)

PSC 4010 European Politics (3 s.h.)

PSC 4020 Middle East Politics (3 s.h.)

PSC 4030 Politics in Africa (3 s.h.)

PSC 4040 Politics in East Asia (3 s.h.)

PSC 4050 Latin American Politics (3 s.h.)

PSC 4060 Advanced Industrial Countries (3 s.h.)

PSC 4070 Politics in Southeast Asia (3 s.h.)

PSC 4080 Politics in Developing Countries (3 s.h.)

SOC 2530 Global Social Problems (3 s.h.)

Any Foreign Language course (3 s.h.)
Contact
Chair, Business Administration, Management & Marketing; Professor of Accounting & Business Administration