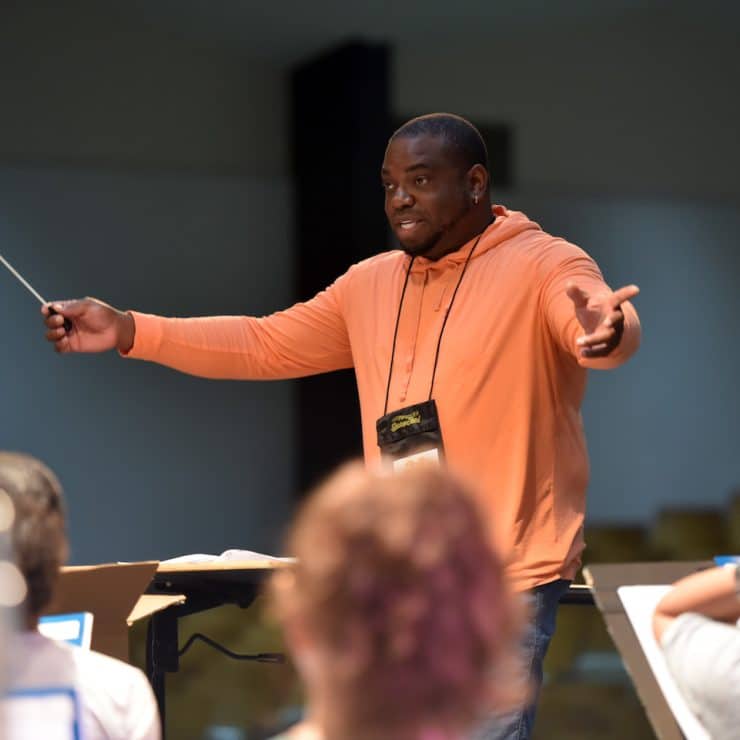 The Music Composition program at Methodist focuses on all of the key aspects of composing at a high level within the music industry.
Common Career Paths
Some of the top jobs for those with a Music Composition bachelor degree include music director, composer, musician, singer, musical instrument repairer and tuner, and music teacher.
Common Salary Ranges for Graduates
As mentioned above, there's a long list of career opportunities for those with a Music Composition degree. But, the U.S. Bureau of Labor Statistics reports the average annual salary for the following positions (which may require additional education) in North Carolina in 2021:
Music director and composer: $52,550
Music teacher (postsecondary): $71,760
Musical instrument repairer and tuner
Average Tuition Cost
The average cost for an incoming residential freshman to attend MU is less than $18,000 – similar to the cost of attending one of the big-box public schools, but with the enhanced value of a highly-regarded private school with a 12:1 student-to-faculty ratio.
While tuition varies, depending on a student's financial aid package, it's important to know that the average financial award for an incoming residential freshman at MU is more than $34,000.
Financial Aid & Scholarships
More than 97% of MU students receive some form of financial aid, with the University offering more than $24 million annually to students for scholarships. If a student is active military, family of active military, or a veteran, they may also qualify for MU's military education benefits.
Interested in Methodist University's Music Composition program?
If you have questions, reach out to Dr. Susan Durham-Lozaw using the contact info at the bottom of the page. If you're ready to apply today, click the button below!
Frequently Asked Questions
No, Methodist University's Music Composition degree is offered on campus.
No, Methodist University offers a bachelor's degree in Music Composition.
Major Requirements
The Music Composition major consists of 71-87 s.h. distributed as follows:
B.A. Requirement
One foreign language through the 1020 level (German, French, or Italian recommended).
Required Core Courses for All Majors
MUS 1600 Music Fundamentals (Required if student does not pass the diagnostic exam) (3 s.h.)
MUS 1610 Music Theory I (3 s.h.)
MUS 1620 Music Theory II (3 s.h.)
MUS 1070 Aural Skills I (1 s.h.)
MUS 1080 Aural Skills II (1 s.h.)
MUS 2070 Aural Skills III (1 s.h.)
MUS 2080 Aural Skills IV (1 s.h.)
MUS 2610 Music Theory III (3 s.h.)
MUS 2620 Music Theory IV (3 s.h.)
MUS 2600 Survey of Music Literature (1 s.h.)
MUS 3110 Music History: Ancient Through Baroque (3 s.h.)
MUS 3130 Music History: Classic Through Romantic (3 s.h.)
MUS 3610 Conducting (3 s.h.)
MUS 4190 20th-21st Century and Non-Western Musical Styles (2 s.h.)
Choose two of the following:
MUS 4640 Orchestration (3 s.h.)
MUS 4650 Introduction to Composition and Arranging (3 s.h.)
MUS 4660 Form and Analysis (3 s.h.)
Students may take one applied composition semester in place of MUS 4650
Required Tech Courses
MUS 3010 String Techniques (1 s.h.)
MUS 3030 Woodwind Techniques (1 s.h.)
MUS 3040 Brass Techniques (1 s.h.)
MUS 3070 Percussion Techniques (1 s.h.)
Required Applied Courses
MUS 0710 Concert Attendance (no credit)
(must be taken concurrently and passed with applied lessons for 8 semesters; pass/fail)
MUS 1140-4810 (12-16 s.h.)
(see list of applied music courses)
MUS 1270-4270 Applied Composition (4 semesters, 8 s.h.)
MUS 1750-4750 (0-4 s.h.)
(Students take the piano proficiency sequence until piano proficiency exam is passed/piano majors exempt from this requirement)
MUS 3370 Applications of Piano Literature (piano majors only) (2 s.h.)
Required Ensemble Courses (8 s.h.)
MUS 3480/3490 Concert Band
MUS 3280/3290 Noblemen
MUS 3860/3870 Grace Notes
Additional Requirements
String majors may enroll in an approved orchestra or string ensemble. Guitar majors must enroll in one of these ensembles (MUS 3480/3490, MUS 3280/3290, or MUS 3860./3870)
All students receiving a Bachelor of Arts in Music Composition are required to complete at least 12 semester hours on one instrument or voice. Therefore, continuous enrollment in the major instrument is required until a minimum of 16 continuous semester hours of applied lessons (C or higher) is completed. Percussionists must complete no fewer than 12 semester hours of applied lessons, with at least 10 semester hours in applied orchestral percussion.
A half recital in the major instrument or voice is required for graduation.
A half composition recital is required for graduation. Applied composition lessons do not take the place of applied instrument or voice. Applied instrumental or voice recital cannot take place in the same semester as the composition recital. It is recommended that the applied voice or instrumental recital take place in the junior year for composition majors.
Enrollment in upper 3000-4000 level courses is predicated on successful completion of 1000-2000 level classes.
Instrumental majors (wind, brass, and percussion) are required to participate in Marching Band for no fewer than two years. Qualified piano majors may be asked to accompany one of the choirs to fulfill requirement. String majors must be involved in an equivalent instrumental activity, e.g., International Youth Symphony.
Contact
Head, Fine & Performing Arts Division; Professor of Music; Coordinator, Voice