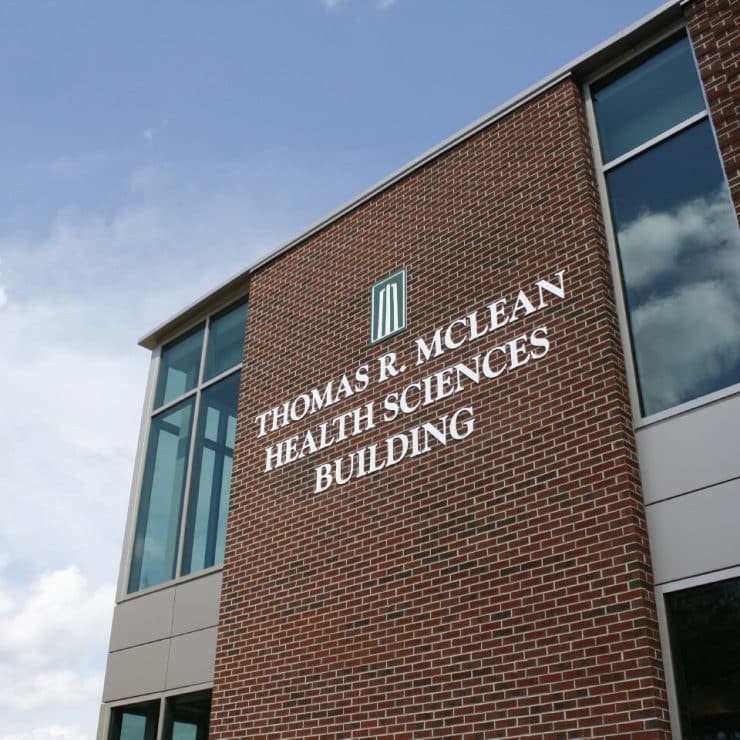 Occupational Therapy Department Facilities
Thomas R. McLean Health Sciences Building
The new Thomas R. McLean Health Sciences Building, is a 38,800 sq. ft. facility that houses the Doctor of Physical Therapy and Doctor of Occupational Therapy programs and three undergraduate programs (Athletic Training, Health Care Administration, and Kinesiology). The building is located in proximity to the existing health sciences facilities (the buildings of the University's Physician Assistant Program and Nursing Program) and serves as an important "gateway" to the Methodist University campus main entry. The two-story glass entrance faces Ramsey Street to welcome students, faculty, guests, and alumni to the campus.
The Thomas R. McLean Health Sciences Building was designed with the intention of providing innovative, collaborative, and inviting learning spaces to meet the needs of all of the health science programs housed in the facility. In addition to the educational and community areas designed to facilitate interdisciplinary interaction across the health sciences programs; the DPT Program has designated classrooms, laboratories, and office space in the building.
DPT/OTD Program Facilities Video Tour
The Activities of Daily Living Laboratory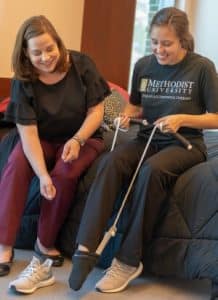 The Activities of Daily Living (ADL) Laboratory is an active learning classroom space that includes a functional kitchen, bedroom, bathroom, living room, and laundry.  It allows students to seamlessly apply knowledge and skills into practice.  These instructional spaces are designed to replicate a typical home and not be fully ADA compliant; however a full-range of home modification and adaptive equipment are available for students to implement and utilize, as they would with clients. Flooring is distinctly designed to mimic glare, thresholds, contrast, and pile that may present barriers or safety risks for clients with mobility, cognitive, or visual limitations. The laboratory space includes a garage space and a separate space to mimic a community grocery store.
This functional apartment suite is fully compatible with our cutting-edge motion capture technology that offers comprehensive analysis of motor control and biomechanical function of upper extremity, lower extremity, head, and trunk motions with a portable 12 sensor Polhemus G-4 electromagnetic system.
The Motor Control & Pediatric Laboratory
The Motor Control and Pediatric Laboratory is equipped to support both classroom and faculty research agendas across Health Sciences programs.  This space is a specialized area to teach motor control and sensory processing strategies necessary for the management of pediatric and adult patients with developmental and neurological deficits.  From a research perspective, the equipment will provide the resources to examine balance and motor control issues for neurologic dysfunctions across the life-span.  The equipment in this space includes gait training equipment, adult/pediatric adjustable height parallel bars, and a curb and ramp training set.  This space also includes equipment designed to challenge balance and sensory processing, such as two ceiling mounts for various suspended swings, numerous scooters, pediatric balance boards, and integrated play equipment.
Mobility Courtyard
We have designed an outdoor lab space with a variety of terrain and surfaces and other unique features including a vehicle station that includes a stationary automobile to provide students with the tools and opportunity to teach and practice getting in and out of a car, loading/unloading the trunk of a car, manipulating driving controls, and other components of driving rehabilitation training.
Clinical Skills Lab
The Clinical Skills Lab features traditional equipment found in a clinical setting including high-low tables; traction tables; therapeutic exercise equipment; and traditional clinical modality equipment such as fluidotherapy, electrical stimulation, laser/light therapy machines, and therapeutic ultrasound.
In addition to these learning spaces, the Thomas R. McLean Health Sciences Building also houses the following interdisciplinary educational and research spaces:
The Human Performance Laboratory
The Human Performance Laboratory (HPL) will provide the faculty, students, and local community with the benefits of state-of–the-art research and education testing facilities for the purpose of promoting health, fitness, and improved functional performance. The HPL is equipped to facilitate interdisciplinary education and faculty research agendas across Health Sciences programs pertaining to cardiovascular, metabolic, muscular, and respiratory system responses to exercise and adaptations to exercise training. Equipment that will be available for use in the HPL includes: SwimEx Aquatic Therapy Pool with V-Groove Treadmill, Quark CPET Metabolic Testing System, Quark C12x 12-lead ECG, COSMED Ergobike Ergometer, Trackmaster Treadmill, BodPod™ whole body plethysmograph, Biodex System 4 Pro Orthopaedic Testing and Rehabilitation System, Biodex Balance System, heart rate monitors, Nonin pulse oximeters, and handheld dynamometer.
The Motion Analysis Laboratory
The Motion Analysis Lab is a state-of-the-art facility for the collection, analysis, and interpretation of human movement data on individuals of all ages with orthopedic and neurological diagnoses. This space allows students and faculty to capture and analyze the complex human movements such as walking, running, throwing, and other athletic movements. Equipment for this space includes:
Fully integrated, turn-key,

 

Motion Montior stationary base station

 

package that incorporates, 14 Vicon Bonita 10 cameras, 16 channel Delsys wireless EMG, 4 Bertec non-conductive forceplates, 1 Basler ACE camera with 120 fps, and C3D model builder plug-in.
A

 

Motion Monitor portable Base Station

 

that includes 12 sensor Polhemus G4 system with 4 hubs and 2 transmitters, A plug-in, Forceplate plug-in and 1 Basler ACE camera with 120 fps. The advantage of having this system is its portability, which provides the faculty with the flexibility to capture motions indoors and out.
Protokinetics instrumented walkway.

 

This is a portable device to measure and analyze temporal/spatial gait parameters.