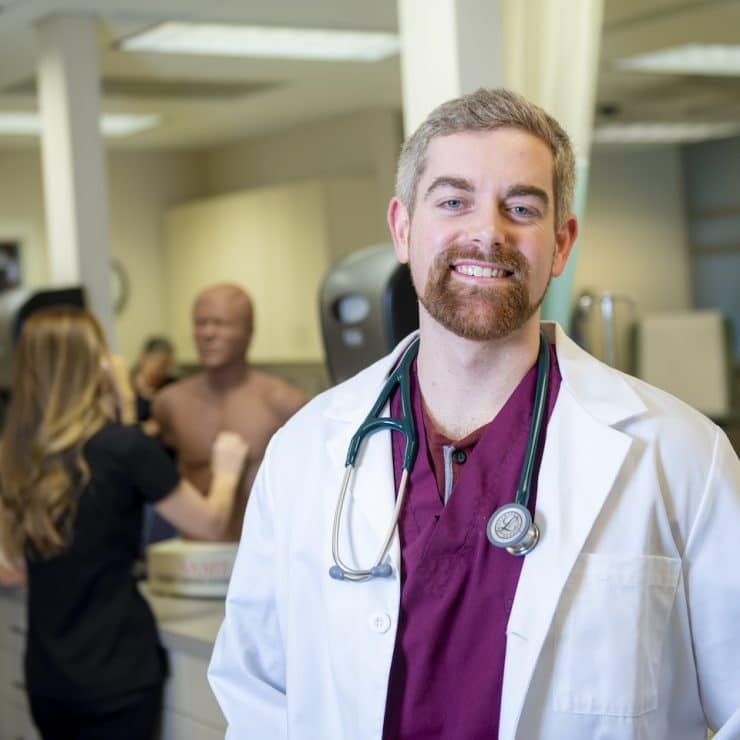 Physician Assistant Program Tuition & Fees
Tuition and fees for students matriculating in Fall 2022 (Class of 2024) are:
Year 1 (Fall 2022, Spring 2023, Summer 2023)
| | |
| --- | --- |
| TUITION   ($14,100 Per Semester) | $42,300 |
| ENROLLMENT FEE (non-refundable) | $1,000 |
| GENERAL STUDENT FEE ($1,000 Per Semester; Combines Lab Fees & Activity Fees) | $3,000 |
| GRADUATION FEE (charged in Year 3) | $150 |
| AUTO REGISTRATION – YEAR | $45 |
| AUTO REGISTRATION – SEMESTER (charged in Year 3) | $25 |
Note: Year 2 (Fall 2023, Spring 2024, Summer 2024) and Year 3 (Fall 2024) tuition and fees will increase from Year 1 costs.
Estimated Additional Expenses
Last Updated: February 2020

Additional Expenses
Major additional costs for the program will vary from student to student and may include, but are not limited to: textbooks, medical supplies, clothing, computers, lodging, utilities, gas, and professional memberships. Below are averages for common expenses associated with attending the program.
Lodging: $685/month
Utilities: $204/month
Gas: $120/month (may increase during clinical year)
Medical Supplies*: $1,052
Laptop*: $1,205
Books*: $368/semester (This amount is relevant to the didactic phase of the program. Students are known to purchase textbooks and/or e-versions of textbooks.)
ACLS/BLS Certification*: $115, which includes the certification and book. ACLS/BLS certification will take place in the Fall II didactic semester.
PPD series (two series) and Flu shot*. Typically covered by most health insurance plans.
Miscellaneous: $363/month
*Required purchases
Miscellaneous expenses could include:
Dress code: Professional dress is expected on occasion during the didactic year. Students should have professional and/or business casual attire available. Professional and/or business casual dress is required during the clinical year.
Scrubs: Scrubs are required for Anatomy lab and other courses (e.g. History and Physical Exam, Clinical Skills, and some clinical rotations [Emergency Medicine, Surgery]). Students should plan to purchase new scrubs or have additional scrubs available outside of the lab experience for these other courses.
Childcare: Childcare may well exceed the amount averaged above.
Student membership fee (i.e. AAPA student membership is $75)
Travel expenses for conferences such as the AAPA conference or international rotations. Attendance at the AAPA conference and completing an international rotation are strictly optional.
Financing Your Education and Additional Expenses
Student Loans: The majority of students finance all expenses through student loans. Students who plan to finance everything using student loans must complete the Free Application for Federal Student Aid (FAFSFA) after January 1 of the year they are planning to enter. Students are then eligible for most federal and/or alternative loans once the FAFSA form has been submitted.
Federal Loans available:
Unsubsidized Loan: $20,500 maximum per year (not-credit based)
Grad PLUS Loan: $49,135 maximum per year (credit-based)
Alternative Loans: More information about alternative loans may be found by clicking here.
Scholarships:
Students pursuing careers in primary care can receive scholarships for serving communities in need upon graduation and completion of training.
College Foundation of NC Forgivable Loans for Service
NC Residents Only
Refund/Repayment Policy on Withdrawals from the Physician Assistant Program
Students withdrawing from the Physician Assistant Program will be responsible for payment of tuition as follows: Time of Withdrawal (15 week semester)
Week: Refund Amount
1 – 4: 90%
5 – 8: 60%
7 – 12: 30%
>12: 0%
Students withdrawing from the University or those reducing their course load below a certain level will be subject to a reduction or cancellation of their financial aid. Withdrawing students are subject to refunding of financial aid monies to the sources from which the funding was received, according to the provisions of the Higher Education Amendments of 1998 for calculating the return of unearned Title IV funds. Any remaining funds are returned to the student. For details, contact the Office of Financial Aid. This policy may be found in the Methodist University Graduate Academic Catalogue.