Political Science Learning Experiences
In addition to its academic program of study, the Political Science Department and Methodist University offers extracurricular experience outside the classroom setting. Methodist University financial aid is available to assist students with the costs of traveling abroad. The Department also strongly encourages Political Science majors to participate in one of the four student journeys unique to Methodist University. Campus-based experiences include:
Internships
Students majoring in Political Science are encouraged to begin planning for life after graduation the freshman year of study and participant in an internship experience during the junior or senior year of study. The Political Science Program has internship connections with a number of public organizations within the Fayetteville community to include the following organizations.
Students are also encouraged to seek internships at the national and international level.
Joint Simulation Exercises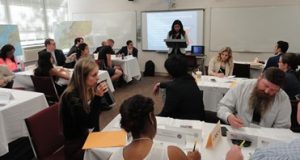 Each spring semester the Political Science department conducts a role-playing exercise involving multiple classes over a three-day period. During the simulation, students from each class take on roles charged with various responsibilities to produce multiple products, assessments, statements, and decisions. One class takes on responsibilities of the American teams, while other classes are the Middle Eastern, European, and United Nations teams.  The teams are further organized with students given their responsibilities within their teams for specific roles such as:  National Security Advisor, Intelligence Director, Foreign Minister, Speaker of the House, etc. All classes participate simultaneously as the simulation takes place during regular class time. On the first day, students meet throughout the day to develop their team's internal operation procedures and assess the initial situation. Tuesday, students deliver written advice to their executives and make public statements as they try to determine key information. On the final day of the simulation, teams deliver their final recommendations, decisions, and statements and hopefully resolve the crisis within the simulation.
North Carolina Political Science Association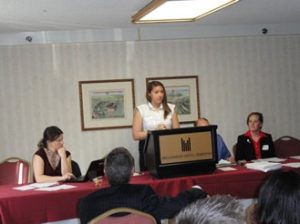 The Department of Political Science at Methodist University is an institutional member of the North Carolina Political Science Association.  MU faculty have served in various executive leadership positions within the NCPSA, including Dr. Frank Trapp, who is a past president of the association.
Students in the department attend conferences and participate in best research paper competitions sponsored by the NCPSA. In fact, two former MU Political Science students won the Troutman-Rainy Award for Best Undergraduate Research Paper.
Pi Sigma Alpha Honor Society

Pi Sigma Alpha was founded at the University of Texas in 1920 for the purpose of bringing together students and faculty interested in the study of government and politics. The success of the honor society prompted other institutions to apply for chapters. Growth accelerated after World War II, and today there are over 600 chapters. There is at least one college or university with a ΠΣΑ chapter in every state and the District of Columbia and Guam.
The main purpose of Pi Sigma Alpha is "to stimulate scholarship and interest in political science." The society functions at the national level, headquartered in Washington DC with the American Political Science Association, and at the chapter level. Various programs enrich members and the wider community in the study of government and issues of public concern.
Membership in an honor society is a worthy distinction in itself, and as a measure of academic achievement can provide a tangible advantage in a competitive world. All ΠΣΑ members are enrolled in the society's membership rolls maintained by the National Office. Upon request, the National Office will provide letters verifying membership to prospective employers or graduate schools.
Because ΠΣΑ is part of the Association of College Honor Societies, the US Office of Personnel Management allows its members to apply for federal government positions at a higher entry level grade than non-member candidates.
Members are entitled to wear the ΠΣΑ lapel pin or key at any time and the medallion with cap and gown at graduation.
Methodist University's Omega Chi chapter has been active since 2001 and has inducted more than 100 members.
Study Abroad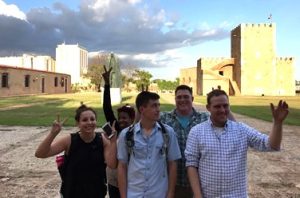 MU Political Science students have taken Study Abroad trips to Guatemala, Nicaragua, and the Dominican Republic.  We visit local historical and cultural sites while immersing ourselves in the local political scene. These opportunities take place over Spring Break in odd numbered years.
Trips include language training, discussions with local political officials, and visits to government institutions. Students receive academic credit by registering for a PSC area studies course.  For instance, recent trips have been run through PSC 4050 Politics of Latin America. Future trips are planned through European Politics and Chinese Politics courses.  Area studies courses like these count toward the Political Science degree as part of the International Relations Concentration and as PSC electives.
Washington, D.C. Connection
Political Science majors at MU get many opportunities to visit, intern, and work in Washington, D.C. Some of these opportunities have developed into lifetime careers for graduates. In even-numbered years, the department organizes a trip to visit lawmakers, the Capitol, the White House, and various cultural events in the nation's capital.