Monarch Review, Vol. 2 (2015)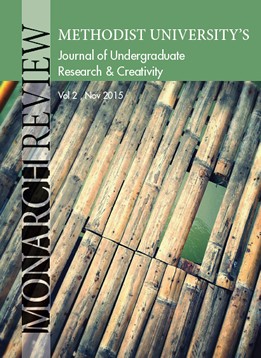 The Monarch Review was founded with growth in mind. Our aim was not only to recognize outstanding undergraduate work, both academic and creative, but also to stretch our students' limits. The papers and artwork presented here demonstrate what our students can accomplish.
From the market dimensions of permanent residency permits in the U.S. and United Kingdom to the Medieval romance of The Green Knight, from the life of a midwife on the American frontier (when Maine was the frontier!) to the pitfalls of tax policy in an era of global mobility, the research presented in volume 2 covers a wide terrain. Moreover, our first "research news report" describes an original psychology experiment, conducted by MU students, on ways to influence college students' drinking behavior.
We again offer an impressive array of 2D images from both amateurs and trained artists, working in print-making and painting, as well as photography. And we are pleased to announce the inclusion of a musical performance and an original musical composition in this volume, with video and audio files available in our online edition. It is clear our students' talents exceed the boundaries of the printed form.
As I plan to graduate from Methodist University in May, I find myself reflecting on how privileged I am to have had a pivotal role in launching this journal, a journal that will, I hope, be an enduring forum to celebrate and challenge MU undergraduates in their creative and scholarly undertakings.
Of course, this feat would not have been possible without the contributions of many people, including visionaries such as MU's President Ben Hancock and Executive Vice President Delmas Crisp, and program directors Dr. Clay Britton (CURC) and Prof. Robin Greene (Writing Center), who threw their support behind the concept; Dr. Kelly Walter Carney for her guidance in the early stages; the students who bravely submitted their work; the faculty members and students who provided critical reviews; and the contributors themselves, many of whom showed great dedication as they revised their work in response to feedback from the journal. Most especially, I extend my thanks to the student staff members, past and present, as well as to Baylor Hicks, the coordinator of the Monarch Review. Baylor and I met in the spring of my freshman year and, in our three and a half years of collaboration, have developed a close working relationship and deep friendship.
I hope the Monarch Review enriches your years at Methodist. It has certainly enriched mine. The journal is about looking forward, about seeking ways to improve and grow. So, rather than harp on a bittersweet goodbye, I'll just say . . . Happy reading!
Miranda Jade Friel
Senior Student Editor
---
Peer-Reviewed Research
The Commoditization of Permanent Residency Permits under Immigrant Investor Programs in the United States and the United Kingdom (government studies)
Fernando Tevez-Rosales
The Effects of Case Management on Frequent Emergency Department Users (health care administration)
Shiva Sharma
A Discourse of Power: The Manipulation of Stereotypes in Octavia Butler's Kindred (American literature)
Cheri Molter
A Year in the Life of Martha Ballard: An Exploration of Her "Enclosed Garden" (history)
Cheri Molter
Restrictive Free Speech Zones and Student Speech Codes in Public Universities (business law)
Mary Madison Kizer
Common and Noteworthy Instruments from 1750-1800s' Eastern USA (music)
Emory Jacobs
Not Going Green: The Effect of U.S. Public Discourse on Millennials (discourse and literature)
Miranda Jade Friel
Public Finance Policies and Externalities: A Survey of Tax Policy in the Global Economy (finance)
Alexander Demitraszek
The Green Knight as Saracen and Mentor (English literature)
Lin Baumeister
---
Research News Report
"Textsperimenting": A Norms-Based Intervention for College Binge Drinking (psychology)
Chelsea Smith
---
Performing Arts
Flute Performance, J.S. Bach's Sonata in Eb Major BWV 1031, Movement I. Allegro Moderato—Artist's Statement
Katlin Harris
Emerson's "The American Scholar": From Words to Instruments—Artist's Statement, sheet music
Emory Jacobs
---
Juried Artwork
Artists' Statements—Michele Jesus da Costa, Tracy Raupp, and Kyonghwa Bouriaque
Artists' Statements—Bethany L. Little, Leslie Lingo, and Heather Swenson
---
---
Front and Back Matter & Full Journal
About the Student Contributors