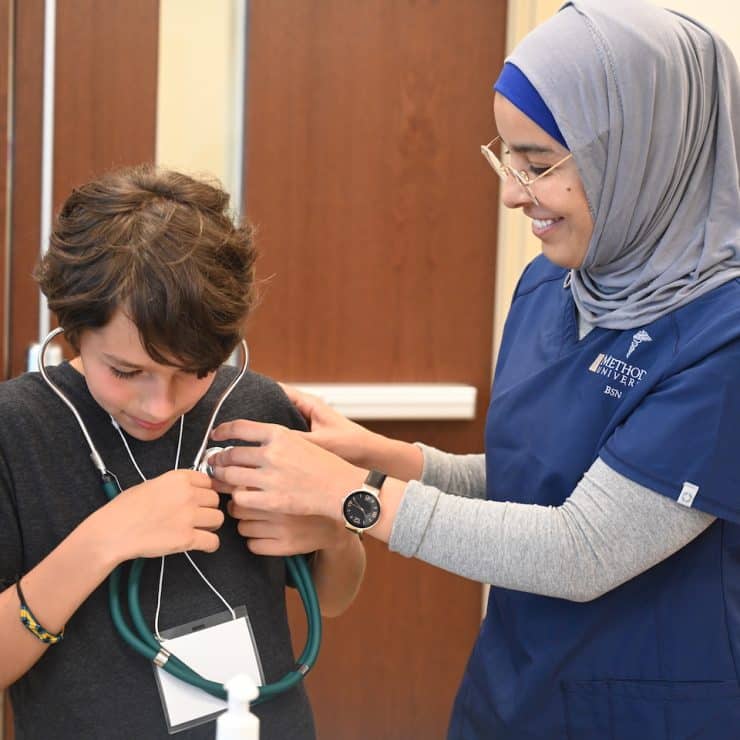 Community Health Education
Community Health Educators inform people about healthy choices in behaviors and help them achieve the goal of making those behaviors into habits. Methodist University's Community Health Education program will help students be able to inform the public about healthy behaviors such as nutrition, exercise, disease prevention, and how to access needed health care. Since students may want to direct their career path in a variety of directions, this comprehensive program allows them to obtain a degree while keeping their options open.
Major Requirements and Prerequisites
The Community Health Education major at Methodist University involves at least 51 semester hours with 40 to 41 of those involving courses within the Community Health Education Core and four courses of 11+ semester hours done within general Community Health Education electives. At least three courses in the general Community Health Education electives must be at the 3000 level or above or include four courses of 11 + hours in a concentration.
Common Career Paths
Some of the top jobs for those with Community Health Education bachelor degrees include community health organizer, health administrator, family services specialist, healthcare social worker, health education specialist, and so much more.
Common Salary Ranges for Graduates
As mentioned above, there's a long list of career opportunities for those with Community Health Education degrees. But, the U.S. Bureau of Labor Statistics reports the average annual salary for the following positions (which may require additional education) in North Carolina in 2021:
Community health worker: $47,780
Healthcare social worker: $62,310
Health education specialist: $64,930
Average Tuition Cost
Tuition varies, depending on the type of graduate program in which a student is enrolled. On average, MU students receive more than $31,000 in aid to pay for tuition.
Scholarships & Financial Aid
Methodist University offers more than $24 million annually to students in scholarships. 97% of students receive some form of financial aid. If a student or a family member is in the military or a veteran, they may qualify for MU's military education benefits.
Interested in Methodist University's Community Health Education program?
If you have questions, see the FAQ below or reach out to us using the contact info at the bottom of the page. If you're ready to apply today, click the button below!
Contact
Chair, Kinesiology; Assistant Professor of Physical Education & Exercise Science