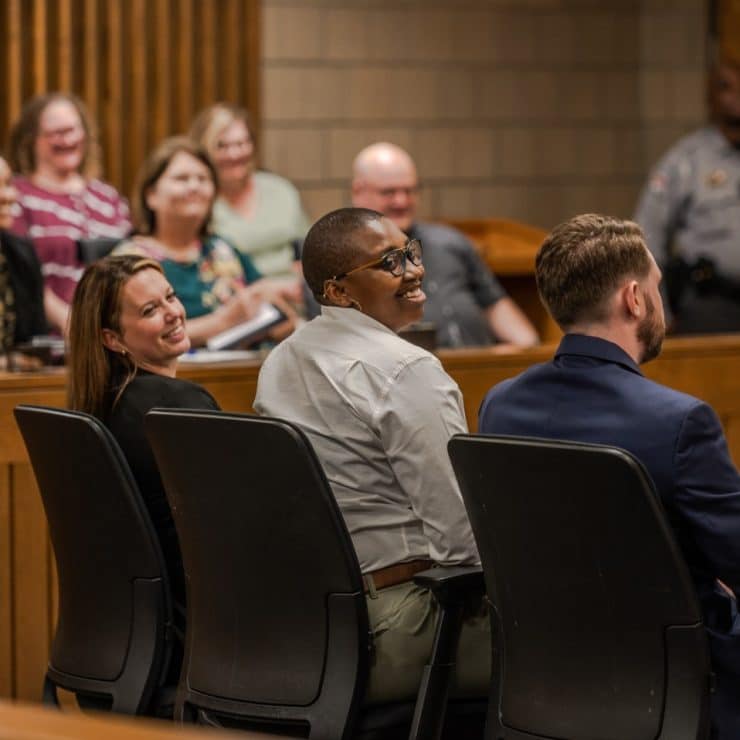 Paralegal work is a fast growing field which is increasingly using college graduates. The field is expanding because lawyers use paralegals as a cost effective way of providing excellent services to their clients. With an interest in law or simply wanting to help others, a legal studies minor can do wonders. The 21-semester hour Legal Studies minor at Methodist University is a program designed to prepare students to enter the legal profession. The program provides a working knowledge of the legal system in the United States. The program serves as preparation for students who wish to take the national certification examination (offered by the National Association of Legal Assistants) to become a legal assistant. The program prepares students to enter the legal profession as paralegals.
The Legal Studies minor provides valuable preparation for aspiring law school students. A quick overview of the curriculum shows that the minor offers courses that are reflective of the first year of law school. With a firm foundation, students are able to enter law school with proven skills that are critical to one's performance.
The Legal Studies Program is Approved by the American Bar Association, and Students who graduate from the Legal Studies program are eligible to take the North Carolina Bar Association Paralegal Certification Exam.
Interested in law school?
Take advantage of Methodist University's 3+3 program, which allows undergraduate students to pursue both a bachelor's degree and Juris Doctor in six years – saving you time and tuition.
Common Career Paths
Some of the top jobs for those with a Legal Studies educational background include legal assistant, court reporter, paralegal, human resources specialist, mediator, and so much more.
Common Salary Ranges for Graduates
As mentioned above, there's a long list of career opportunities for those with a Legal Studies educational background. But, the U.S. Bureau of Labor Statistics reports the average annual salary for the following positions (which may require additional education) in North Carolina in 2021:
Paralegal and legal assistant: $49,470
Arbitrator, mediator, and conciliator: $59,890
Average Tuition Cost
The average cost for an incoming residential freshman to attend MU is less than $18,000 – similar to the cost of attending one of the big-box public schools, but with the enhanced value of a highly-regarded private school with a 12:1 student-to-faculty ratio.
While tuition varies, depending on a student's financial aid package, it's important to know that the average financial award for an incoming residential freshman at MU is more than $34,000.
Financial Aid & Scholarships
More than 97% of MU students receive some form of financial aid, with the University offering more than $24 million annually to students for scholarships. If a student is active military, family of active military, or a veteran, they may also qualify for MU's military education benefits.
Interested in Methodist University's Legal Studies minor?
If you have questions, see the FAQ below or reach out to Wendy Vonnegut using the contact info at the bottom of the page. If you're ready to apply today, visit the link below!
Mission
To prepare students in the Legal Studies program for careers in the legal profession.
Goals
To substantially improve students' knowledge about the law and the legal system.
To ensure students demonstrate the skills and abilities needed to enter the workforce as a paralegal professional.
Frequently Asked Questions
No, Methodist University does not offer a master's degree in Legal Studies. However, the University does offer a minor in Legal Studies.
Some of the top jobs for those with a Legal Studies educational background include legal assistant, court reporter, paralegal, human resources specialist, mediator, and so much more.
Take the Legal Studies courses along with the others in your degree program, beginning with LAW 200, Introduction to Legal Studies. Generally, students would take this in the fall semester of the Sophomore year. It is expected that a student could complete the Legal Studies, most majors, and graduate within the four years.
The course work is set up to provide all resources necessary. The Legal Studies program is a set of designed courses that are taught by experienced lawyers. Specialty areas are taught by specialists. Legal resource materials are on-line, and in the law collection at Davis Library. Access to the premier on-line service, Westlaw is provided, along with training. Placement help is provided by Methodist University.
No, current law does not require a license. Paralegals cannot practice law. Paralegals are part of a team effort, with the practicing lawyer, to provide the best legal advice and service to the clients.
Methodist University has many types of financial aid available, including generous scholarships, and guaranteed work-study funds for all students who live on campus. Consult the office of Financial Aid for further information.
Contact
Director, Legal Studies Program; Professor of Legal Studies